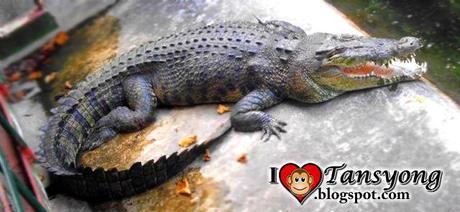 " Walang Buwayang Nagkakape sa Palawan, Buwayang Totoo Meron."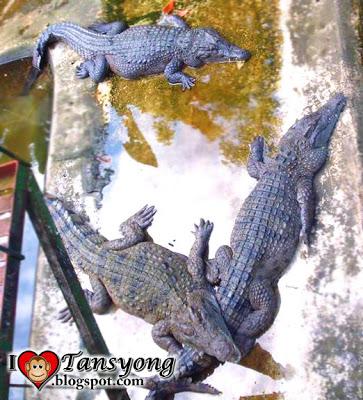 Adult Croco
As the City Tour Continues to absorb my remaining energy, the team ends up in a white bungalow building. Right at the entry point of the Building, you will notice few stalls selling Native Products, aside from Pasalubong that are also available, there is also Crocodiles' collection like crocodile stuffed toys and many more that are  related about  Palawan Wildlife Rescue and Conservation Center formerly known as Crocodile Farming Institute . Because of what we see outside, we can predict what is inside. Simply it's all about Croco.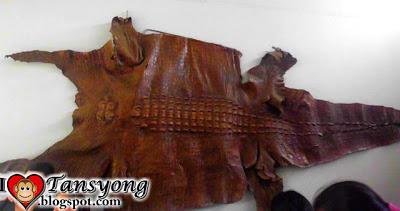 Skin of Crocodile
Palawan Wildlife Rescue and Conservation Center were established aiming for further research towards endangered species like crocodiles. The Building structure is also a Hospital for sick and disabled crocodiles. In connivance of Department of Environment and Natural Resources Protected Areas and Wildlife Bureau (DENR-PAWB 0and Palawan Local Government, they also maintained a micro-zoo with some of Palawan's indigenous animals. The Zoo's visiting hours are from 1:30pm-5:00pm and 9:00 a.m. to 12:00 nn, and 1:00 to 5:00 p.m. Saturdays. Feeding time is every Monday and Thursday afternoon.
The Research Institute is located in National Road, Barangay Irawan, Puerto Princesa City, Palawan which is 30-40 minutes travel from the city proper. One can take a tricycle and get off at Barangay Irawan where the crocodile farm is located. A Jeepney could be hired to get to the place. But if you're on a City Tour Package, no need to worry coz that is part of the destination.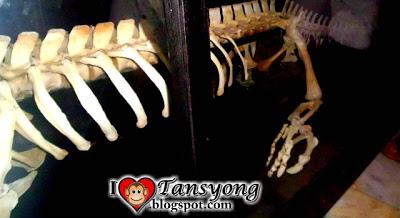 As you proceed, you will see a signage of the "Palawan Wildlife Rescue and Conservation Center". Behind it, is a pond for the Park with a water tank.
At first, you thought that you are in a school for enrollment, the queue, the Tourists, the children and the facilitator, it will reminds you of school enrollment scenario .Kidding aside, A man with a microphone will start to introduce the place, at the lobby where the introduction conducted, a skeleton of a huge sea water crocodile is encased in a glass chest. Adjacent to it is the wall with crocodile's skin hanged. As per the man with a microphone; this crocodile was caught somewhere in island and was killed after it devoured a child. This remains of the crocodile showcases how big salt water crocodiles can grow. The Skin hanged on the wall can't be sold anymore due to its oldness. Near of it is a skeleton of a Sperm Whale is also displayed, the skeleton was retrieved from a dead whale found on the shores of Puerto Princesa. Fossils also displayed in a small museum.

Baby Croco
Meanwhile,  as soon as you are done on the lobby, you are going to proceed at the Crocodile Hatching House, there crocodiles are taken cared by the conservation center and are segregated into different levels of maturity from egg to a few months old. You are allowed to pass at the area where in you can see upclose the baby Crocodile. However you are not allowed to extend you body parts into the basins where the baby Crocodiles were nurtured.
 Moreover, your Travel Tour is not complete with seeing the Adult one Next on the line is the Building for the Adult Crocodiles. Above the crocodile den is a metal path walk where guests may walk over the dens to the other end. The den is divided into sections where some sections contain the huge salt water crocodiles that are already growing moss on their backs. Then, there are two larger sections that contain dozens of smaller adult crocodiles.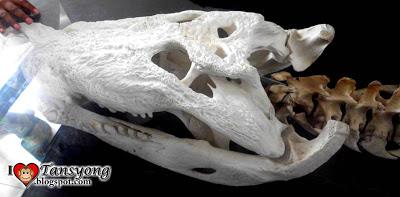 There are pens for ostriches, cages for Philippine cockatoos and bearcats that are also available for viewing; those are the Palawan's endemic animals that are rescued and conserved.
Visitors are also treated to an opportunity to have pictures taken with the baby crocodiles that the center is conserving which is amounting to PHP50 and if you're going to ask a hard copy then you will need to pay PHP150. So I advise you to bring your own Camera.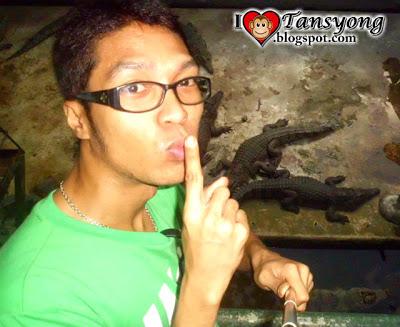 Just a Heads up, if you're going to take a picture with the bearcat another PHP50 is needed, I recommend you to take picture of it coz the bearcat is very cute, and you can hug it or place it on your neck during picture. Watta cute remembrance, right?
As you completely finish the entire Croco tour, you'll realize how rich the
palaweños
are, because they really value of what they ha. Unlike us, we will only realize the value of a thing when it's lost at all.