This Crock Pot Beer Chicken Taco Salad With Cilantro Vinaigrette is an easy, fresh and delicious dinner! Perfect for those days when you don't want to turn on your oven.
We are huge fans of the classic Taco Salad, and for meal prep, these Turkey Taco Lunch Bowls are my go-to. For those days you want something just a little different, this beer chicken taco salad (with herby cilantro lime vinaigrette) is absolutely perfect!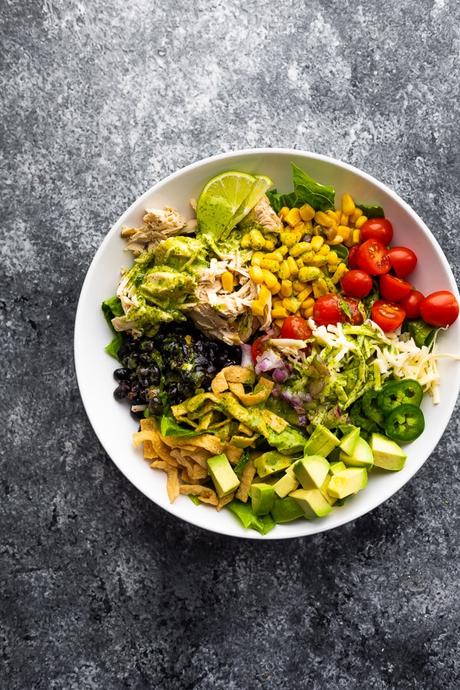 This is ever so slightly different from a classic taco salad; we are swapping taco meat for slow cooker beer chicken, and the salsa for a light and tangy cilantro lime vinaigrette. It's a subtle but delicious change!
Load it up with the taco regulars: cheese, avocado, black beans, tortilla chips and more!
And this recipe is absolutely perfect for the summer as there is no need to turn on the oven; let the slow cooker do all the hard work!
Reasons you'll love this beer chicken taco salad:
there's no oven required, so it's perfect for summer
it's light, fresh, and incredibly delicious
super easy to customize with your favorite toppings
Recipe video
Wondering how this beer chicken taco salad recipe comes together? Watch this 1-minute video to see how easy it is to prep! You can find more recipes on my YouTube channel.
Don't forget to pin this post and save it for later!
Continue reading:Crock Pot Beer Chicken Taco Salad With Cilantro Vinaigrette