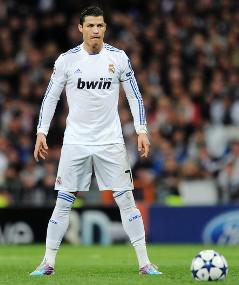 It's incredible how Cristiano Ronaldo has settled so well at Real Madrid since his mega deal transfer from Manchester United in 2009.
Talk about CR7 as a diver or as a big match flop. Talk about him as World Football's most entertaining winger or as the prettiest player. Talk about Cristiano Ronaldo anyhow you like. Either way, at Simply Futbol today, we'll talk about the ex-Red Devil star as a record maker.
In case you didn't get updates about Real Madrid's latest friendly match which occurred against Hertha Berlin, note that Los Blancos ran away with a 3-1 victory at the delight of their fans. Jose Mourinho's men are in fact enjoy a great summer having recorded nothing but wins so far as the two-legged Spanish Super Cup tie against Barcelona approaches.
Another thing to note in Real Madrid's 3-1 triumph against Hertha Berlin earlier this week is that Portuguese superstar Cristiano Ronaldo netted his 13th free-kick since landing at the Santiago Bernabeu two years ago. The 26-year-old play maker has indeed developed in one of World Football's free-kick masters alongside former soccer king Ronaldinho.
Roll back the months and years to re-live Cristiano Ronaldo's first free-kick as a Real Madrid player which happened in a Champions League match against Zurich. That match saw Ronaldo produce two free-kicks in 90 minutes of football. Since then, the Portuguese hasn't lost his touch in set pieces.
French giants Marseille, Spanish teams Getafe, Villarreal, Valladolid, Athletic Bilbao and Real Zaragoza as well as Italian champions AC Milan have all been victims of Ronaldo's set piece rockets. Although his balls sometimes find the wall or the crowd, Cristiano Ronaldo still knows very well how to tease goalkeepers from distance.
The Real Madrid number 7 jersey wearer seems fired up ahead of the 2011/2012 season. Having scored 4 goals at the 2011 World Football Challenge, Cristiano Ronaldo is showing no signs of goal drought. Wouldn't it be normal for anyone to predict another Pichichi Trophy triumph for the star winger who broke records last season by becoming the first player to score as much as 40 La Liga goals?