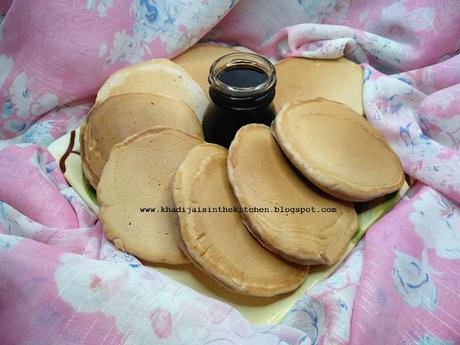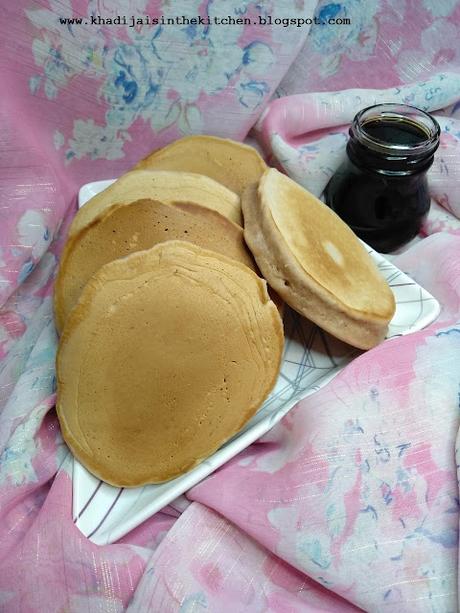 RECETTE / RECIPE / RECETA  / الوصفة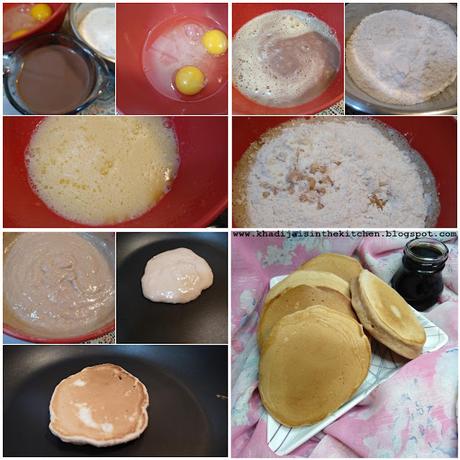 CRÊPES AMÉRICAINES À LA BOISSON AUX AMANDES AU CHOCOLAT
INGRÉDIENTS :
275 g de farine tout usage
2 ½ cuillères à café de poudre à pâte (levure chimique)
¼ cuillère à café de sel
65 g de sucre semoule
2 œufs
3 cuillères à soupe d'huile végétale
225 ml de boisson aux amandes au chocolat
Sirop d'érable (ou miel)
MÉTHODE DE PRÉPARATION :
1- Dans un bol, tamiser ensemble la farine, la levure chimique, le sel, puis mélanger. Mettre de côté.
2- Dans un autre bol, battre les œufs avec le sucre et l'huile. Ajouter la boisson aux amandes et battre encore.
3- Ajouter les ingrédients secs aux ingrédients humides et Remuer délicatement.
4- Faire chauffer une poêle. Quand elle est bien chaude, la badigeonner avec un peu d'huile puis y verser un ¼ de tasse de la pâte. Cuire chaque crêpe des deux côtés jusqu'à ce qu'elle ait une couleur dorée. Répéter l'opération jusqu'à épuisement de la pâte.
5- Servir avec du sirop d'érable ou du miel.
***********************************
CHOCOLATE ALMOND BEVERAGE PANCAKES
 
INGREDIENTS:
275 g all-purpose flour
2 ½ teaspoons baking powder
¼ teaspoon of salt
65 g caster sugar
2 eggs
225 ml chocolate almond beverage
Maple syrup (or honey)
HOW TO:
1- In a bowl, sift together flour, baking powder, salt and mix. Set aside.
2- In another bowl, beat the eggs with the sugar and oil. Add the chocolate almond beverage and beat again.
3- Add the dry ingredients to the wet ingredients and stir gently.
4- Heat a pan. When it is hot, brush it with a little oil and pour in a ¼ cup of the batter. Cook each pancake on both sides until golden brown. Repeat the operation until the batter is used up.
5- Serve with maple syrup or honey.
*************************************

PANQUEQUES CON BEBIDA DE ALMENDRAS SABOR CHOCOLATE
INGREDIENTES:
275 g de harina común
2 ½ cucharaditas de polvo para hornear
¼ de cucharadita de sal
65 g de azúcar en polvo
2 huevos
225 ml de bebida de almendras sabor chocolate
Jarabe de arce (o miel)
ELABORACIÓN:
1- En un bol, tamizar la harina, el polvo para hornear y la sal, y mezclar. Dejar a un lado.
2- En otro bol, batir los huevos con el azúcar y el aceite. Añadir la bebida de almendras sabor chocolate y volver a batir.
3- Añadir los ingredientes secos a los húmedos y remover suavemente.
4- Calentar una sartén. Cuando esté caliente, untarla con un poco de aceite y verter un ¼ de taza de la masa. Cocinar cada panqueque por ambos lados hasta que se dore. Repetir la operación hasta acabar con la masa.
5- Servir con jarabe de arce o miel. 
****************************************

فطائر أمريكية بمشروب حليب اللوز بالشوكولاتة
المكونات :
275 غرام دقيق ابيض
ملعقتان صغيرتان و نصف خميرة الحلوى
ربع ملعقة صغيرة ملح
65 غرام سكر ابيض خشن
بيضتان
3 ملاعق كبيرة زيت نباتي
225 مليلتر من مشروب حليب اللوز بالشوكولاتة
شراب القيقب (أو العسل)
طريقة التحضير:
1- في وعاء ، يخلط الدقيق مع خميرة الحلوى والملح ثم يوضعوا جانبا.
2- في وعاء آخر ، يخفق البيض مع السكر والزيت. يضاف مشروب حليب اللوز و يخفق مرة أخرى
3- تضاف المكونات الجافة إلى المكونات الرطبة وتخلط برفق.
4- تسخن مقلاة غير لاصقة على نار متوسطة ، ويدهن قاعها بقليل من الزيت ، ثم يسكب ربع كوب من الخليط. تطهى الكريب على الجهتين. تكرر العملية حتى ينتهي الخليط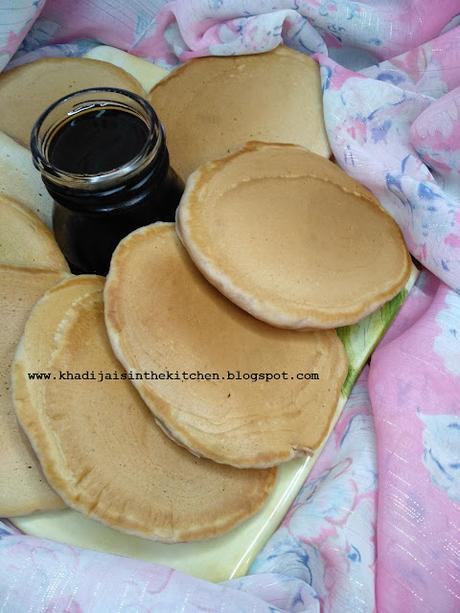 *********************

Hope you'll enjoy!!
*********************
Merci de votre visite / Thank you for your visit / Gracias por
su visita/ شكرا على زيارتكم
Pour d'autres idées de cuisine / For other cooking ideas / Para otras ideas de cocina / من اجل افكار اخرى للطبخ : Facebook, Instagram , Pinterest