So it's been a rough week at home as we are all recovering from a bout of food poisoning. Yup, thankfully we are all feeling better now and hopefully we can get to enjoy the rest of the September holidays.
In this week's Creativity 521, we are sharing with you what we made for Teacher's Day to show our appreciation for these people who have made a difference in the lives of the little ones. Now, as always, I believe in doing something that is easy, simple but handmade as a way to show our sincerity. Yup, sorry teachers, no expensive gifts from us.
Since we still have a stash of toilet rolls at home, we thought it would be nice to make something special for these teachers who are as wise as owls. Yup, here's showing you how we made DIY Toilet Roll Owls. It doesn't sound that aesthetically pleasing, but they do look cute in the end, I can assure you that!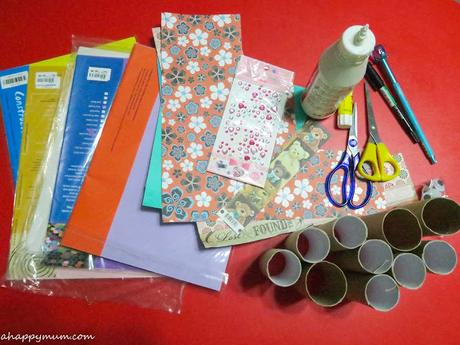 What we used:
1) Toilet rolls
2) Glue/sticky tape
3) Coloured paper
4) Scrapbooking paper
5) Scissors
6) Glue
7) Pencil/Pen/Marker
8) Googly eyes
9) Optional: Message printout, decorative stickers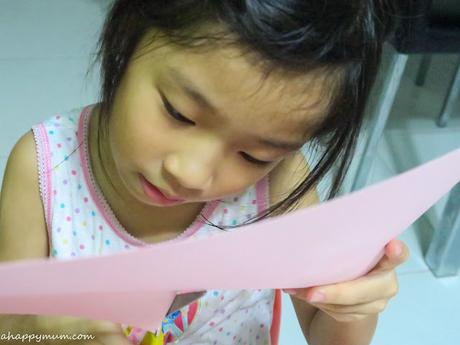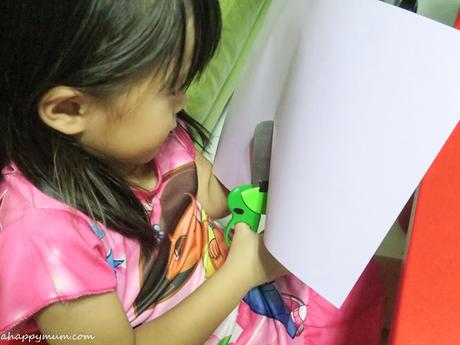 Firstly, cut out rectangular pieces from the coloured paper. This should wrap around the toilet roll nicely with an extra 2-3cm at the top. I must say Ariel is really getting better at cutting these days, which really motivates me to let her try out more!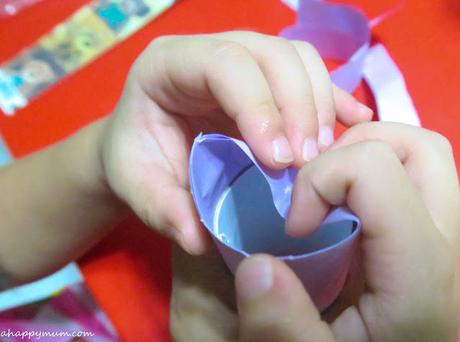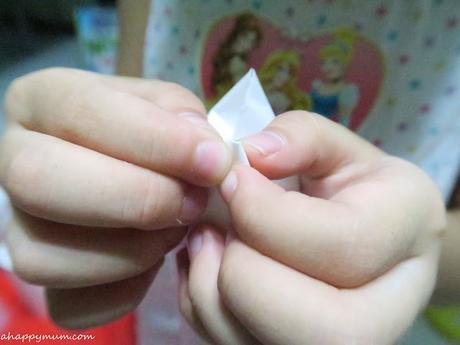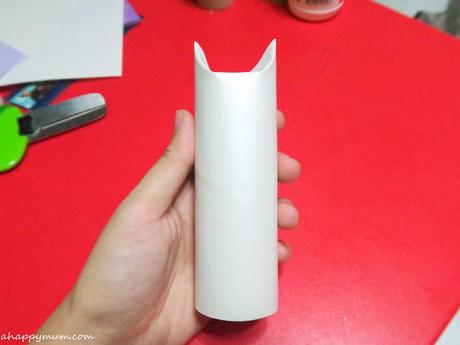 Wrap the paper around the roll and glue it in place. Fold down the extra bit at the top so as to form the two ears as shown above. This doesn't have to be perfectly symmetrical and can be easily done by the kids, so let them do it on their own!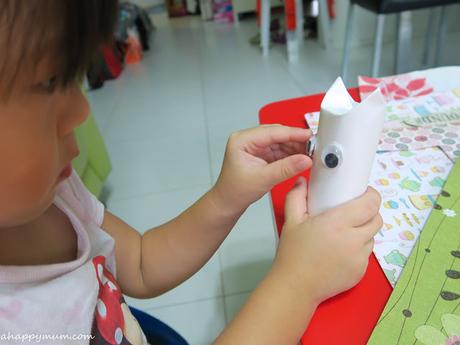 Next, stick on the googly eyes. If you don't have these at home, simply cut out round circles from a white piece of paper and use a black marker to draw a small circle in the middle.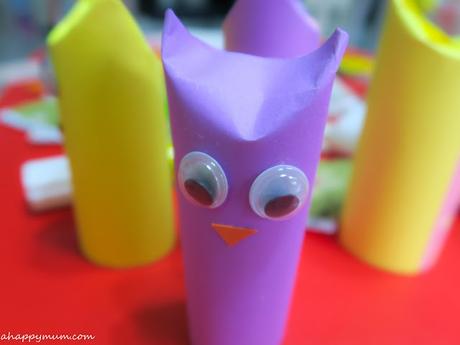 To add on the beak, cut out small triangles from an orange coloured paper and stick it below the eyes. Guess who was solely in charge of this? Yes, Ariel! She did ALL the beaks and even though they came in all shapes and sizes, I'm happy of her achievement!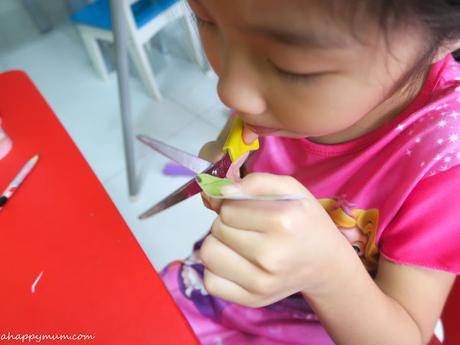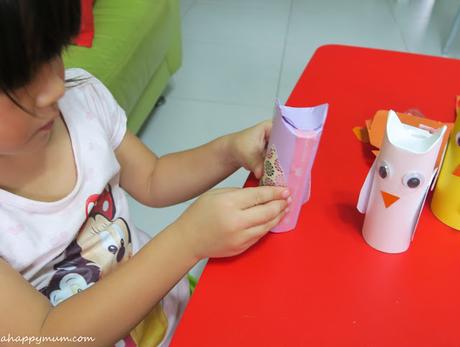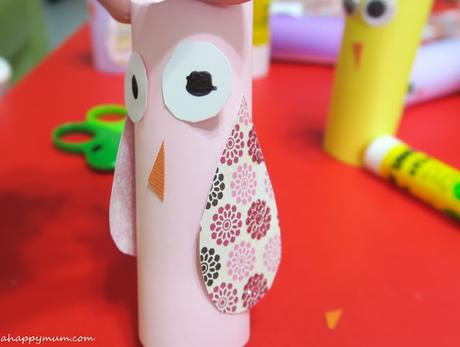 After that, Angel took the lead and helped to draw out tear-shapes from the scrapbooking paper, cut them out and stuck them onto the sides of the owl to form the wings. I love how the patterns create a nice contrast, don't you?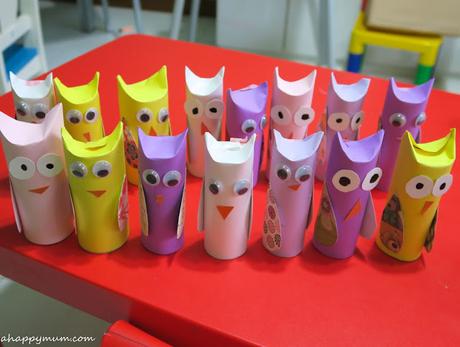 There, we have created over a dozen hours in over an hour! How do they look?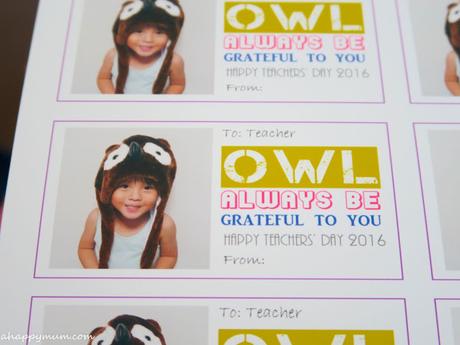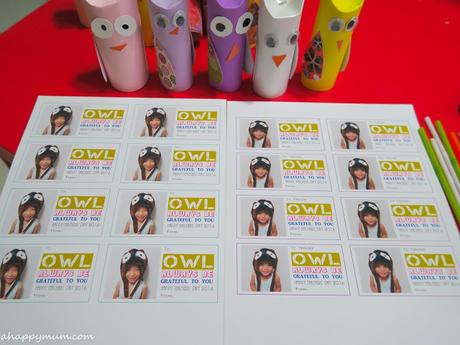 Now, we always like to personalise our kids so we wanted to write the teachers' names as well as the kids' names so that they can remember. To make it extra special, I asked the kids to put on an owl hat (how apt, right?) and printed out pictures of them, along with the text "Owl always be grateful to you. Happy Teacher's Day 2016".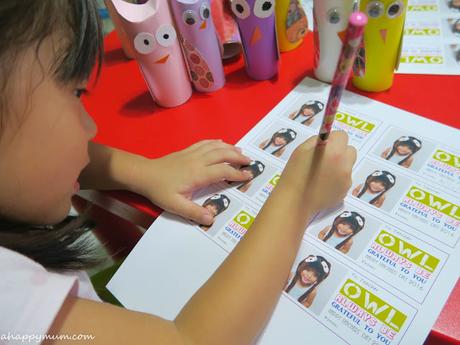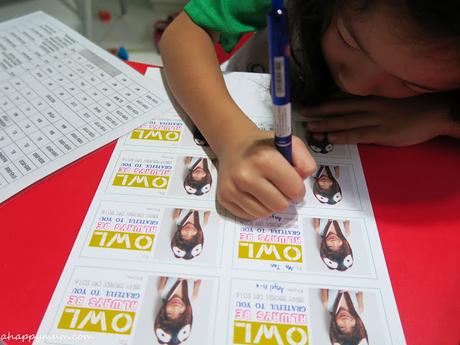 I let the kids write in their own names and the names of the teachers themselves as add to increase the personal touch. This was easy for Angel and Ariel only needed my help for the teachers' names as she can now write her own name already.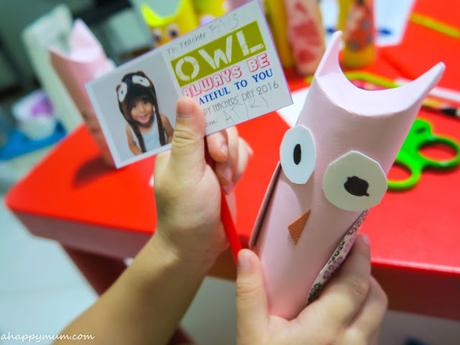 To attach the card, we used sticky tape to secure a straw onto the back of it and stuck it to the back of the owl too so that it juts out nicely from the side. Make sure that the owls are still able to stand upright so that they can be nicely displayed on the teacher's desk!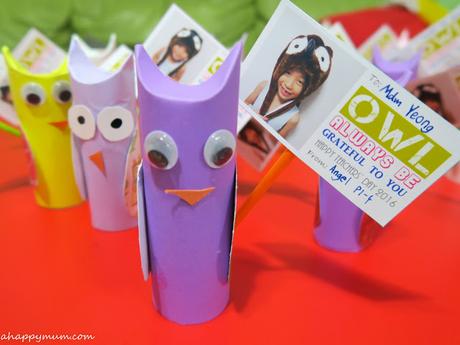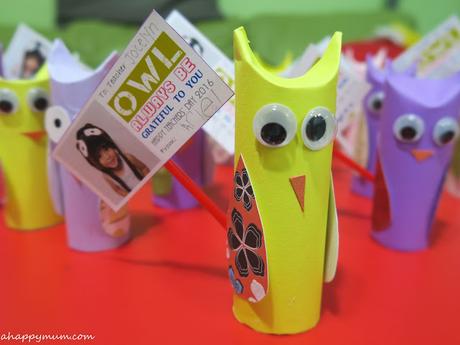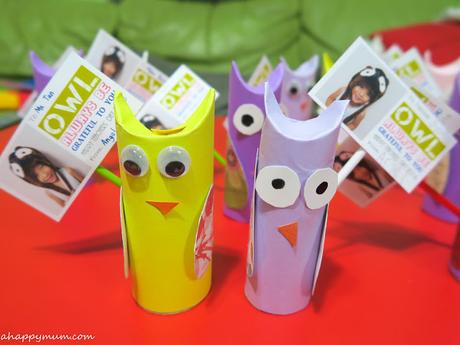 TA-DAH! And we were all done! I really love how these owls look in the end, very simple, very cute, very us. I sure hope that the teachers will love these and feel our heartfelt gratitude!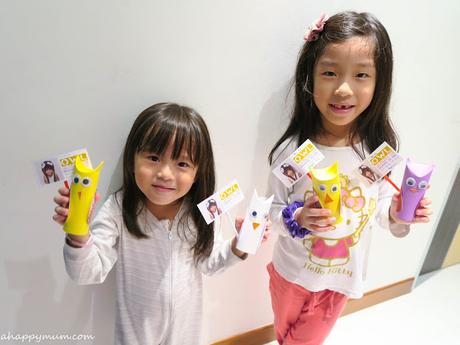 To all the wonderful teachers, thank you for nurturing the little ones and making our future a brighter one. Hope you all had a great Teacher's Day 2016!
For more DIY tutorials and craft inspirations, visit my gallery here.