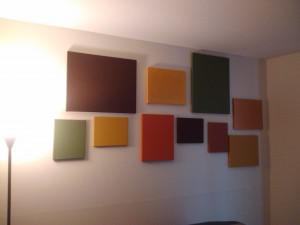 Having just moved into my new, completely bare, first on-my-own apartment, I wanted to decorate right away. However, I don't have much of a decorating eye, and my budget for decorating was almost non-existent. I came to terms with the thought that decorating would be a slow lengthy process, but in turn, it gave me time to find exactly what I wanted.
I started by painting one accent wall in my living room and one in the bedroom. For the living room, I chose a mossy green earth tone, and a dark grey for the bedroom. I planned on decorating my living room in earth tones, and I picked the grey to go along with my black, red, and tan bedding.
My main focus was the living room. This being my first apartment all to myself, I wanted it to have a grown up, but slightly young and modern feel. I browsed blogs and decorating websites looking for ideas, but nothing really jumped out to me. Also, most things I saw required altering of the space, which I couldn't do under a lease, or they were really expensive and took a professional to execute. I came across some pictures of a friend's apartment, and saw that she had taken blank canvases and covered them with leftover fabrics and arranged them on her walls as art. I saw this and thought it was very doable, affordable, and something I could complete over the weekend.
I set off to get my materials, but found that fabric was a little out of my price range. I already had my canvases, so I had to do something with them. Strolling around Hobby Lobby, I got the idea to paint each canvas a different color with acrylic paint. Acrylic paints are super cheap, under $1 for one bottle, and each bottle can paint between two and four canvases, depending on the size. I picked earthy colors- browns, oranges, yellows, greens, golds, and bronzes, and headed home to get started.
Rather than just taking pictures and hanging them on my wall, I really enjoyed that this project actually gave me something to do. I enjoy crafting, so getting to paint each canvas and arrange them by shape and color was fun to me. Each canvas got at least three coats, some got a few more. I let them dry between coats, and let them dry thoroughly overnight before hanging. When it came time to hang, I started in the middle and worked the canvases outward. I didn't measure or plan the canvases in any way, just hung them in an order that looked good.
Overall, I was pretty pleased with how the project turned out. I really liked that it was kind of crafty and I got to paint, and I think the idea is pretty personalized and it's easy for someone to customize this to their own space. Eventually I'd like to add more canvases, or copy this idea in the bedroom.
About The Author: It's not hard to make Maggie happy. During the day, she works at Sunglass Warehouse, mixing organic marketing and fashion, while helping people find the best reading sunglasses. Off the clock, she enjoys experimenting with healthy new recipes, red wine, and absolutely anything to do with orangutans.
twitter: @gret_herself