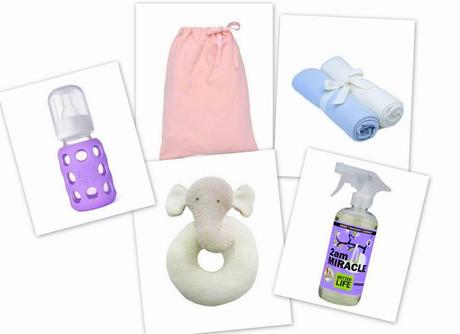 There are so many things to learn when you're a new parent. Beyond all of the baby-care basics, there's the whole world of figuring out what products you need, what items you want in your nursery, how to avoid getting too much "stuff", and how to ensure that everything you buy is safe and non-toxic for your baby (BPA free, free of dyes, etc.) — it can be so confusing!
Here are 5 easy things you can do to make your nursery greener and healthier for your little one (these tips are from my friend Dana Govern at Wild Mint, a company dedicated to providing safer, more eco friendly solutions for families!)
1) Switch to Organic Cotton Bedding: According to the Organic Trade Association (OTA), 25% of the world's insecticide use and more than 10% of the world's pesticides are for cotton crops. These chemicals can be toxic or allergy-inducing for babies. Avoid the risks by using organic cotton which is grown without the use of toxic pesticides or fertilizers, and has a lower environmental impact. Some say that organic cotton is softer and easier on the skin as well!
2) Choose Organic Clothes: For the same reasons as above, look for clothing brands that use 100% organic cotton; in addition look for dyes with low impact, heavy metal-free colors which do not contain harmful chemicals (PVC and phthalate free), don't use chemical bleaches and are formaldehyde free.
3) BPA Free Bottles/Accessories: To help reduce exposure to chemicals found in many plastics, try switching to products made without the toxic chemical Bisphenol-A or "BPA," which can disrupt hormones and may lead to a number of health problems. Switching to BPA free containers for food storage will help keep your baby from digesting chemicals being transferred to their food.
4) BPA/Toxin Free Toys and Teethers: Avoiding plastics overall can sometimes be challenging, so checking the resin code/number is always a good idea. Plastics labeled 1,2, 4, or 5 are considered safer. If you want to completely avoid plastics altogether, choose natural materials like unpainted wooden toys and organic cotton cloth or plush toys. Many toys/teethers made from these safer materials are available to help you stay away from plastic! Also, another tip is when buying painted toys, make sure the paint is non toxic and lead free.
5) Safer Cleaning Products/Detergents: Most conventional cleaning products contain lots of toxic chemicals which would be harmful to anyone and especially a growing child. Try choosing only natural, eco friendly cleaning products (which clean just as well as conventional cleaners without the added toxins).
While we weren't able to find all organic clothes and bedding for Layla, we did buy organic when we had the opportunity, and we absolutely stuck to tips #3-5 for bottles, toys, food storage, and cleaning products! Here are a few pictures of Layla's nursery that I took before she was born