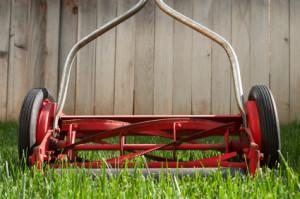 If you love spending time outdoors, create a lush lawn you can love. Dead grass and overgrown weeds don't invite you to play, eat or relax outdoors. Use green lawn care tips to build a welcoming outdoor living space.
Water
Using well or municipal water wastes natural resources and may be impossible during drought conditions. Municipal water includes harmful chemicals as well. Collect rainwater, and conserve resources while giving your lawn the nourishment it needs.
Set up your own rain barrel to collect run off from your rain gutters. Commercial collection barrels include a convenient spigot, or you can use a homemade barrel. Install a screen to keep the water free from debris, and empty the barrel regularly. As you collect and use rainwater on your lawn, you'll enjoy a lush lawn in nearly any weather.
Mow
You have to mow your lawn regularly if you want a lush lawn. The chore can be boring until you see it as an investment in your lawn. Two mowing techniques improve your lawn's appearance and health.
1. Don't cut your lawn super short. Short grass requires more fertilizer and water to grow than longer grass requires. Cutting your lawn too short also stunts the root growth. Deep roots help your grass resist disease. For healthy grass, cut only one-third of the grass's length at a time. That means you'll cut one inch off if your grass is three inches high.
2. Mow the grass when it's dry. When you mow wet grass, you compress the wet soil. The roots can't breathe, the grass dies and you create bald spots. Mow your grass when it's dry, and keep your lawn healthy, green and lush.
Mulch
A layer of mulch eliminates weeds in your flowerbeds and beautifies your landscape. You could buy mulch from a retail store, but most commercial brands include harmful chemicals and dyes. Make your own mulch, and know that you're adding only organic products to your lawn.
Start by collecting a pile of unwanted twigs, tree branches and firewood. With your chipper, create affordable and protective mulch. You can invite your neighbors to participate too. Together, you prevent yard waste from entering the landfill, create eco-friendly mulch and beautify your neighborhood.
Compost
Turn vegetable waste and other household items into nutritious compost for your lawn. While you fuel your lawn, you also reduce waste and lower your trash bill. All you need is a small indoor bin, a large outdoor bin and time.
In your kitchen, collect a variety of biodegradable items in a small coffee tin or milk jug on your counter or under the sink. Vegetable peelings, dryer lint and even cotton balls decompose in your compost pile. Every day, empty the kitchen bin into the larger compost bin outside.
Add carbon from newspapers as well as organic lawn waste like grass clippings and leaves to your outdoor compost bin. Every week, spin the bin or use a sturdy stick to mix the contents together and accelerate decomposition. In a few months, you'll have rich, earthy and natural fertilizer that nourishes your lawn and garden.
Green lawns look nice and invite you to relax in your outdoor living space. When you reuse waste, recycle rainwater, mow correctly and mulch naturally, you create a healthy lawn. Without harming the environment and with a little money and time, create a lush lawn you can enjoy year round.
Holly is an Indianapolis native with a passion for sustainable living. In her spare time, she enjoys baking and blogging on behalf of Sears and other brands she loves.