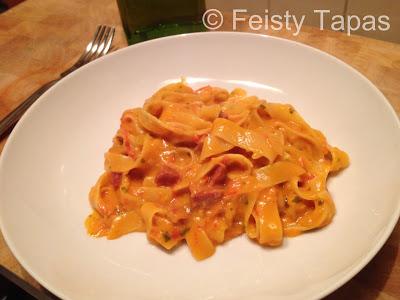 *Spanish version further down / En español más abajo*
I have been playing with this dish for a while and tonight I finally got the Creamy chorizo pasta recipe for the Thermomix. The best part: it's cooked from start to finish in the Thermomix. I had a clean kitchen before the Thermomix's final beep.
y got the perfect
When I first got my Thermomix I discovered a wealth of Australian websites and Facebook pages with TM31 recipes where the acronym EDC kept on coming up. At first I had no idea what it was, until I asked. It stands for Every Day Cookbook, the book that is delivered with the Thermomix as standard down under. Then I kept on hearing about a creamy salami and courgette recipe on it that people raved about, a kind soul passed me the recipe and yes it is good but, as my friend Amanda put it, I cheated on chorizo!
Husband also complained about the salami. What? No chorizo? So I started playing with the recipe but chorizo releases its juices differently to salami and so I had to totally adapt it.
This is the perfect mid-week dish, also perfect for those nights when you want something tasty but are short on time and/or energy. I don't tend to cook many creamy sauces but this one is just so delicious.
It has been a long week for us, even the car broke down, given that I had just started beating my fear of driving, this week deserved to end with an indulgent creamy pasta!
Creamy Chorizo Pasta with the Thermomix
Serves 3-4 (it really depends on their appetite)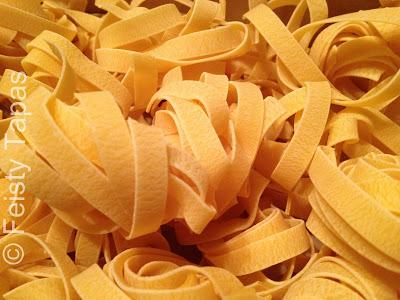 Ingredients
1/2 to 1 onion
1 or 2 garlic cloves
Fresh coriander, to taste really. You can also use parsley.
1/2 to 1 red pepper (what down under they call red capsicum)
110 g courgette (i.e. zucchini), I like to peel courgette
30 g extra virgin olive oil
100 g chorizo, quartered lengthways and then sliced
Half a measuring cup of red wine (optional)
400 g tinned tomatoes
300 g water (it doesn't have to be hot)
200 g single cream
1 tsp vegetable stock (I use powdered)
250 g fettuccine (you could use linguine)
Equipment
Chopping board and knife for vegetables, chopping board and knife for raw meat, Thermomix TM31, spatula.
Method
1. Add the onion, garlic and coriander to the Thermomix bowl: 5 seconds, speed 7.
2. Add the red pepper and courgette: 3 seconds, speed 5.
3. Add the olive oil (30 g): 2 minutes, Varoma, speed 1.
4. Add the chorizo: 4 minutes, Varoma, speed 1. If your chorizo is quite soft it may be a good idea to use reverse for the rest of the recipe. If using red wine, add it once the chorizo has been cooking for about 2 minutes, while the Thermomix keeps running.
5. Add the tomatoes: 5 minutes, Varoma, speed 1.
6. Add the water (300 g), single cream (200 g) and 1 tsp vegetable stock: 10 minutes, 100º, speed 1.
7. Add the fettucine or your choice of pasta: 10 minutes (but start with the minutes stated in your pack and add 2-3 more minutes when it finishes, if necessary), 100º, REVERSE, soft speed (I prefer to call it spoon speed to be honest). Add pepper towards the end if you want.
Serve (immediately) with Spanish flair.
Tip: If, after serving, you have pasta left in the Thermomix, make sure you transfer it to a bowl, container to eat the next day, etc. straight away. It will be easier to get it out while it's still nice, warm and creamy.
It can be reheated and eaten the next day (if you have any left!), it makes a lovely quick lunch. Ah the advantages of working from home.
Español:
Hace algún tiempo empecé a oír hablar de una receta del libro australiano de la Thermomix, Fettuccine cremosos con salami y calabacín, que tiene mucho éxito. Me picó la curiosidad y tuve la gran suerte de que me la pasaron, la probé y nos gustó en casa. Pero mi marido se quejó de la falta de chorizo.
Así que he ido adaptando la receta y hoy por fin quedó perfecta. Os la dejo por si os apetece probarla. Y, si la probais, ya sabeis: volved a contarme qué tal os salió y de paso si cambiasteis algo que me encanta saber qué cambios haceis.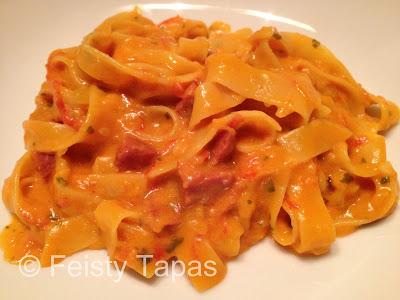 Ingredientes
1/2-1 cebolla
1-2 dientes de ajo
Cilantro o perejil fresco, al gusto
1/2-1 pimiento rojo
110 g calabacín (pelado)
30 g AOVE
100 g chorizo, en rodajitas
Medio cubilete, de la Thermomix, de vino tinto (opcional)
400 g tomates de lata
300 g agua (no hace falta que esté caliente)
200 g nata líquida
1 cucharadita de caldo de verduras (yo lo uso en polvo)
250 g fettuccine (se puede usar linguine)
Utensilios
Tabla de cortar y cuchillo para hortalizas, tabla de cortar y cuchillo para carne cruda, Thermomix TM31, espátula.
Método
1. Pon la cebolla, el ajo y el cilantro en el vaso de la Thermomix: 5 segundos, velocidad 7.
2. Añade el pimiento rojo y el calabacín: 3 segundos, velocidad 5.
3. Añade el aceite de oliva (30 g): 2 minutos, Varoma, velocidad 1.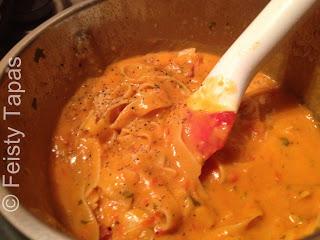 4. Agrega el chorizo: 4 minutos, Varoma, velocidad 1. Si el chorizo es bastante blando, puede que convenga poner el giro a la izquierda para el resto de la receta. Si te apetece echarle vino tinto, levanta el cubilete y échalo cuando el chorizo lleve unos 2 minutos, sin parar la Thermomix.
5. Agrega el tomate: 5 minutos, Varoma, velocidad 1.
6. Añade el agua (300 g), la nata líquida (200 g) y la cucharadita de caldo de verduras: 10 minutos, 100º, velocidad 1.
7. Añade el fettucine o la pasta que hayas elegido: 10 minutos (pero empieza por programar los minutos que indique el paquete y añade 2-3 minutos si es necesario), 100º, GIRO A LA IZQUIERDA, velocidad cuchara. Se puede añadar un poco de pimienta molida hacia el final.
CONSEJO: Si sobra pasta después de servirla lo mejor es pasarla a un recipiente cuanto antes.