One way to organize your refrigerator (produce especially) is make a menu plan that uses the same ingredient in at least three recipes. Also, try to find the ones that most often go on sale, like this week asparagus, mushrooms and artichokes are showcased. Depending on what you will be serving for Easter will also dictate some of your meals for the week.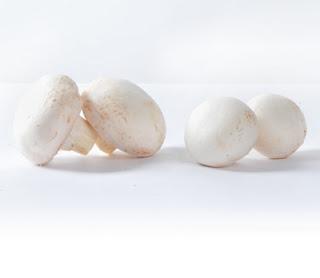 I love those huge stuffing mushrooms that my market sells for a mere $5.99 a 40 oz container (15 cents per ounce) and I always buy two cartons. For Easter appetizers, stuffed mushrooms will make an appearance and during the week, a creamy mushroom soup, a mushroom wine sauce, a frittata and on Saturday, as a break from all my holiday cooking, flat bread pizza made with all my leftovers....yay for the cook!!! Oh, that's me.
Yay for me!!
Nothing went to waste. Since I do all my prep work on Sundays, I sit at my kitchen table with my TV shows on my iPad (the Nudge is always watching sports of some sort on the BIG TV), I got my cutting board, my knives, my mushrooms, three bowls and a cup of coffee, and went to work. First I popped the stems from inside the prettiest mushrooms, into one bowl those went. One dish, done. In the next bowl, I threw those stems and the chopped up ugly mushrooms for the soup (they will be puréed),  and the rest were sliced for both the frittata, the wine sauce and the pizza.
DONE
Each portion went into snack, sandwich and storage bags and those were stashed in a plastic container. Easy grab and go!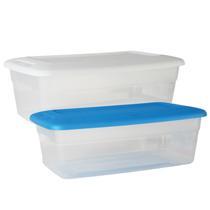 I also will do that with any other vegetables that make a few appearances in the rest of the dishes, like carrots, onions and garlic. Whatever does not get used, will be labeled and placed in another plastic container in my freezer. In a week or two that bin will be emptied in a soup. I do my leeks the same way, and even chop all my scallions. Now, you may think I am wasting plastic bags but I give them a quick rinse and reuse them next Sunday. I also reuse some as garbage bags, to throw away those items that will stink up your garbage before the sanitation crew can haul them away (like those Fancy Feast cans, whew!!). The larger ones line a small garbage bowl on my counter. I have tried using those small plastic Glad containers, but they take up too much room, are hard to see what is in them and, sorry, but less dirty dishes I have to wash (those suckers don't do well in a dishwasher) is another time saver.
My first dish using those 'ugly' mushrooms and stems is this tummy warming soup.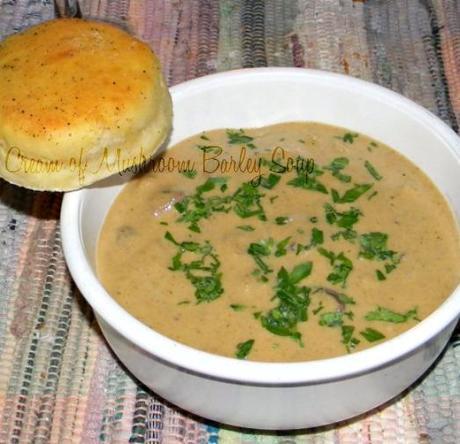 This was so full of mushroom flavor (umami) and I will let you in on how I did it using button mushrooms.
Every once in a while you can find dried mushrooms on sale. Two reasons, pieces that are not whole mushrooms and less desirable and stores reorganizing to make room for more salable ingredients. If you can find them buy all you can afford. They last forever, great to grind and make a powder that will add a flavor to stews, soups, sauces and even homemade pasta. You can also order mushroom powder online at any site that sells spices. My favorite is this one. While you're there buy some tomato powder also, another secret ingredient used in professional kitchens.
When making a soup that requires a puree of the aromatics, make sure the first batch of cooking is with only those vegetables that will be pureed. How many times I have dumped my garnish in with my base and had to fish it out, you do not want to know. When you have kids (and husbands) pulling at your skirt tails, you can forget what order things need to be in and "POOF" there goes the barley......OMG that doesn't go in there yet!!
Cream of Mushroom Barley Soup
makes 4 servings
* 1 tablespoon olive oil + 1 teaspoon for shittakes
* 1/2 leek, white and light green parts, sliced
* 1/2 shallot, minced
* 1/2 cup white button mushrooms, sliced
* 1/3 cup white wine
* 1 tablespoon flour
* 2 cups water
* 1/2 teaspoon dried thyme leaves
* 1 cup beef broth
* 1/2 teaspoon Coleman's mustard
* 1 tablespoon mushroom powder
* 1 tablespoon dehydrated soup greens
* salt & pepper to taste
* 1/2 cup heavy cream
* 1 cup barley, rinsed
* 3 large shiitake mushroom caps, sliced thin
* Italian parsley, chopped (garnish)
1. In a heavy stock pot, heat olive oil and saute leeks, shallots and button mushrooms until soft and starting to color. Add the wine and simmer until it almost evaporates.
2. Meanwhile boil 3 cups salted water in a saucepan and cook the barley for 30 minutes. Remove and drain.
3. In a small fry pan, saute the shiitake mushrooms. Reserve.
4. Add the flour to the stockpot and stir to combine. Add the evaporated milk, the beef broth, thyme leaves, mustard, mushroom powder, soup greens and water. Simmer, uncovered for 40-45 minutes.
5. Using a stand or hand blender, puree the soup until it is completely smooth. Strain through a sieve if needed. Add barley and simmer until the barley is soft, about 15 minutes more. Soup will continue to thicken.
6. Taste for seasonings and adjust. Add cream and sauteed shiitake mushrooms and heat through.
7. Sprinkle with parsley and serve.