0 Flares 0 Flares ×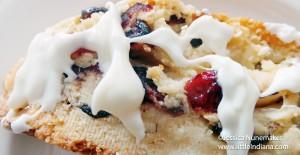 Cranberry and Almond Biscotti with White Chocolate Drizzle Recipe
A new favorite, this Cranberry and Almond Biscotti with White Chocolate Drizzle recipe is so very good, you will make up excuse to make coffee in order to have more!
My husband and I loved it, though he preferred that I drench the white chocolate on my half of the pan of Cranberry and Almond Biscotti. That was certainly alright with me! Even without the extra sweetness of white chocolate, they are still tasty and good.
I offered up the Cranberry and Almond Biscotti with and without the White Chocolate Drizzle and–they went pretty fast! This biscotti recipe is certainly a keeper!
Cranberry and Almond Biscotti with White Chocolate Drizzle Recipe
Print Cranberry and Almond Biscotti with White Chocolate Drizzle Recipe
Rating: 51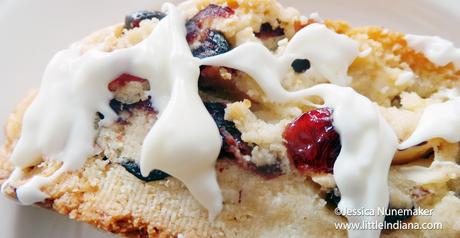 From Food.com
After a friend shared amazing biscotti with me, I decided I needed to try my hand at it. This is wonderful!
Although I love it with the White Chocolate Drizzle, my husband prefers them plain.
Ingredients
2 1/2 Cups Flour
1 teaspoon Baking Powder
1/2 teaspoon Salt
1 1/4 Cups Sugar (Add 1/4 Cup Extra for Sweeter Biscotti)
1/2 Cup Butter, Softened
2 Eggs
1 1/2 teaspoons Almond Extract
1 1/2 Cups Dried Cranberries
1/2-3/4 Cup Almonds (Chopped or Sliced)
1 Egg White
8 Ounces White Chocolate
Instructions
350* Oven.
Place parchment paper on a baking sheet.
In a bowl, combine Flour, Baking Powder, and Salt.
Using an electric mixer beat Butter, Sugar, Eggs, and Almond Extract until well blended.
Add in Flour mixture, then the cranberries and almonds, mix well to combine.
Divide the dough in half and, with floured hands, shape dough into 9 x 2 logs.
Transfer Logs to baking sheet, spacing apart.
In a small bowl, whisk the Egg White until foamy, the brush the Egg White on top and sides of each log.
Bake the logs until golden brown, about 35 minutes.
Cool completely in the baking pan but leave the oven on.
Using a serrated knife, sliced the cooled logs on the diagonal about 1/2" -- 3/4".
Arrange sliced Biscotti on flipped over parchment paper.
Bake for 10 minutes; flip biscotti over, and bake for another 5 minutes, until very lightly browned.
Transfer to a rack to cool.
Glaze
Stir White Chocolate in a double boiler over simmering water until smooth.
Using a fork, drizzle chocolate over cooled Biscotti.
Let stand until chocolate sets (roughly 30 minutes).
Schema/Recipe SEO Data Markup by ZipList Recipe Plugin2.2http://littleindiana.com/2014/01/cranberry-and-almond-biscotti-with-white-chocolate-drizzle-recipe/Photos are the Property of little Indiana. Do Not Use Without Permission.
Small Towns: Destinations, not Drive-Thrus! I'm Jessica Nunemaker and THIS is little Indiana!
Find pictures in Indiana on my Flickr photostream or on the new little Indiana Tumblr blog.
Just don't forget to tell 'em that  little Indiana sent you!
Don't miss a moment. Subscribe to little Indiana and receive instant updates to stay on top of everything "little."
little Indiana: Where to Stay, Play, and Eat in Small Towns in Indiana. Discovering Indiana's best small towns! Now get little Indiana on your Kindle.