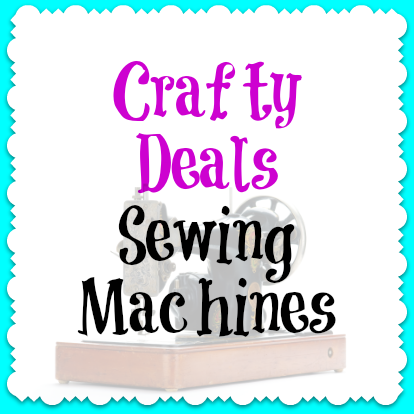 Crafty Deals is my new feature which brings you the best in craft savings from around the net. Some will be USA based and some UK – others will be open to all

So pull up a chair and let's get started.
Today we look at the savings you can make on sewing machines at Hobbycraft UK. Many of these deals will be ending on Monday, so if you are in the market for a new machine it's well worth taking a look at these. There are a range of models and prices available, one to fit every need and budget.
Singer Sewing Machine 1408 White - Save £20 + Free Delivery
Brother Sewing Machine LS14 - Save £10 + Free Delivery
Hobbycraft Miny Sewing Machine - Half Price
Singer Brilliance 6160 Sewing Machine - Save £30 + Free Delivery
Singer Simple 3223 Sewing Machine - Save £30 + Free Delivery
Brother RL425 Sewing Machine - Save $30 + Free Delivery
Janome Sewing Machine CC500 24 Stitch - Save £50 + Free Delivery