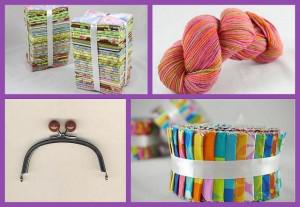 While the Craftsy website is primarily known for its classes and workshops, a new Craftsy Deals section now offers discounted items that will help creative people make even better crafts. One of Craftsy's main focuses is supporting independent designers and artists, and the Deals section helps accomplish just that. Craft lovers will find discounted yarn, fabrics, jewelry findings, and more in the Deals section.
The current categories in the Craftsy Deals section include Crocheting, Knitting, Quilting and Sewing. As the site continues to grow, no doubt the deals section will grow along with it. Craftsy's commitment to provide excellent tips, information, instruction and products to craft lovers around the world is evident in their expansion of new services.
On Crafty's homepage, craft lovers will find a number of options for learning new crafts or perfecting their crafting skills. Craftsy was designed as a community for people that love to get hands-on and make new and exciting things, and then share with and inspire one another to keep pushing the limits with crafts. If you're new to crafting, the Classes and Workshops sections are great places to start. And, of course, you can pick up some much-needed materials in the Deals section.
In addition to the Classes, Workshops and Deals pages, Craftsy also runs the Craftsy blog where visitors can go to get new ideas, inspiration, updates on the site, and tips and resources for crafting. The Patterns page also recently debuted and features an interactive patterns market where independent designers can easily upload and sell their original patterns to buyers around the world. So, if you wanted to buy a quilting pattern from the Pattern page, you could easily download the pattern and use the quilting supplies you buy from the Deals page to make your vision come to life!
With the trends in fashion turning towards handmade and vintage, now is the best time to get involved with crafting and explore the amazing world of handmade goods. Websites like Craftsy help crafters learn and make everything from jewelry to sweaters, so it's easy to find a craft you want to pursue and get involved with learning the steps to make beautiful, unique items. Visit the Craftsy Deals page regularly to take advantage of discounted craft supplies to help you make your crafting dreams come true or sign up for a free Craftsy account to be kept up to date.