Hello!
Crabtree & Evelyn's Ultra-Moisturising Hand Therapy Collection recently had a makeover – the packaging and fragrance range has been updated and here's a look at the new range.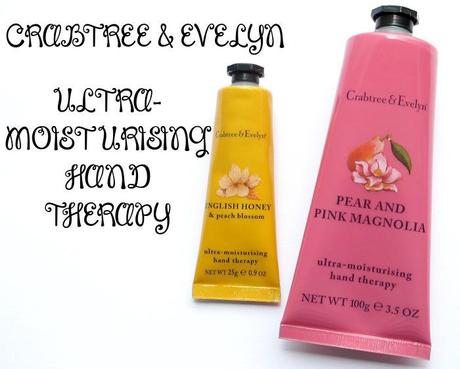 The Ultra-Moisturising Hand Therapy now comes in 16 different fragrances – the collection is truly extensive and it can be rather hard to choose just one. For years, one of my favorite Hand Therapy fragrances was Rosewater – that would be the first fragrance I'd choose for myself.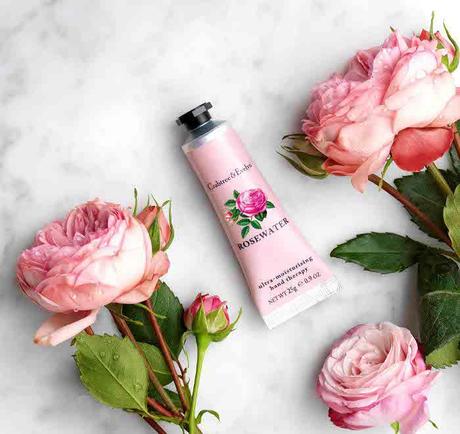 This time, at the store, I wanted something a little different but it's not easy to choose! The range now includes newer fragrances like English Honey & Peach Blossom, Somerset Meadow and the latest fragrance, Pear & Pink Magnolia.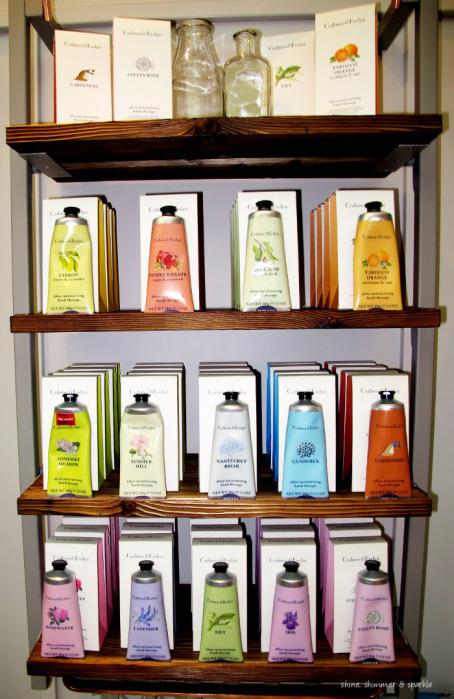 Apart from the myriad of fragrances to choose from, the one thing I appreciate most about the updated collection is the packaging.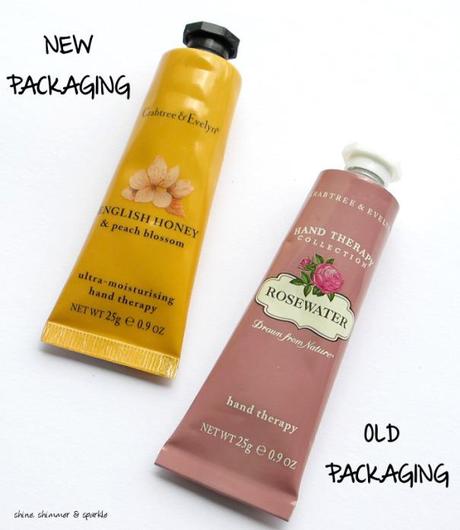 I really wasn't a fan of the older packaging – it wasn't the easiest to squeeze out every last bit of the hand cream from the metal tubes and the one thing I disliked the most was how messed up and dented the tube would look, even with the most genteel handling. Pop one into your handbag or makeup pouch and you'd almost be embarrassed to take out the battered looking tube in public (in my jam-packed makeup pouch, my Hand Therapy tubes looked like they'd been under a truck).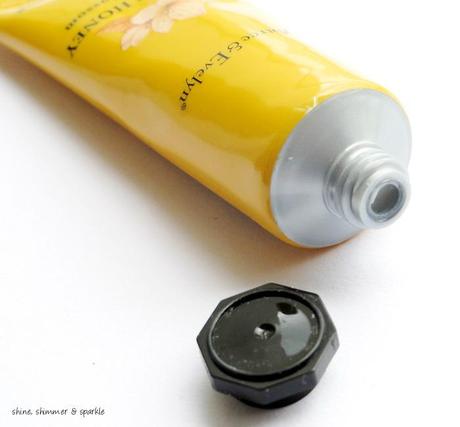 The new packaging features a handy, soft-squeezy tube – this makes dispensing the cream much easier and the tube looks far more presentable even after continuous usage. I also really like the colours chosen for the packaging – the bright pop colours are very cheery-looking and also makes them easy to spot in a crowded bag or pouch. That said, I prefer the more elegant artwork on the older tubes.
I am currently using the English Honey& Peach Blossom fragrance – it is one of the newer fragrances under the Fruits and Botanicals range in Crabtree & Evelyn. The scent is really rather strong – the peachy-floral notes are subtle and the honey is the dominant fragrance. It is not very common and I know it sounds really odd but the scent makes me think of it as "nourishing".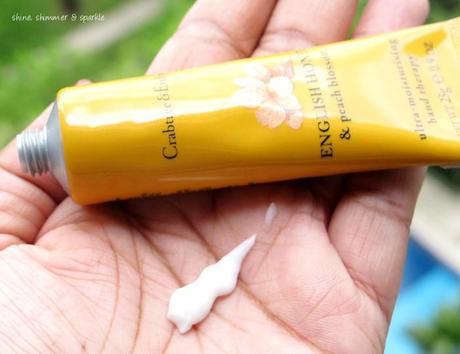 Texture-wise, the Ultra-Moisturising Hand Therapy is silky and emollient – it is rich without feeling greasy and heavy and sinks into thirsty skin very fast. I liked that my palms felt supple and soft but there wasn't any residue. That's one of my peeves with heavy hand creams – once you've got some one, you can't touch your face or adjust your hair lest some of the "moisturiser" transfers  - with fine hair like mine, the last I need is added grease. I also noticed that my hands still felt soft and moisturised after a couple of hand-washes, leaving me to think that it penetrates and conditions not just the surface. I now use it on my feet too :)
The star ingredients of the Ultra-Moisturising Hand Therapy is Shea Butter and Macadamia Nut Oil to moisturise and soften hands while Myrrh helps condition cuticles and nails.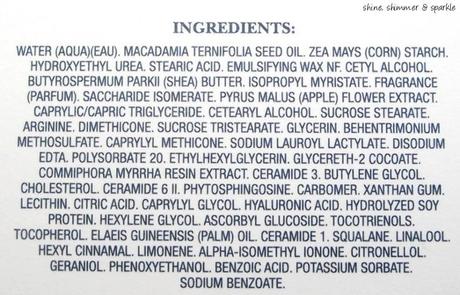 The award-winning Ultra-Moisturising Hand Therapy bagged another 2 awards this year – it was the unanimous choice for best hand treatment voted by both readers and editors at the Her World Beauty Awards 2014.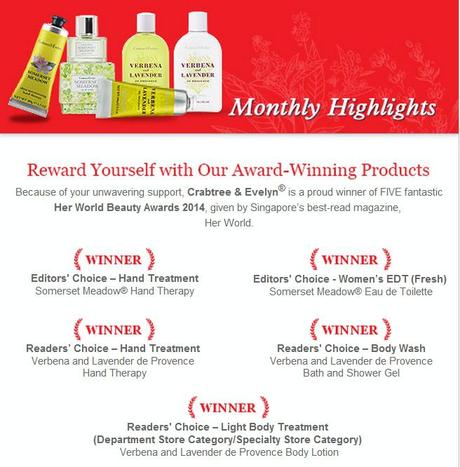 Crabtree & Evelyn's Ultra-Moisturising Hand Therapy is available in 3 sizes:
S$13.00 (25g)
S$33.00 (100g)
S$65.00 (250g pump bottles) - available in Rosewater, Lavender, Iris, Lily, Summer Hill, Citron Honey & Coriander, Pomegranate Argan & Grapeseed, Gardener's and La Source.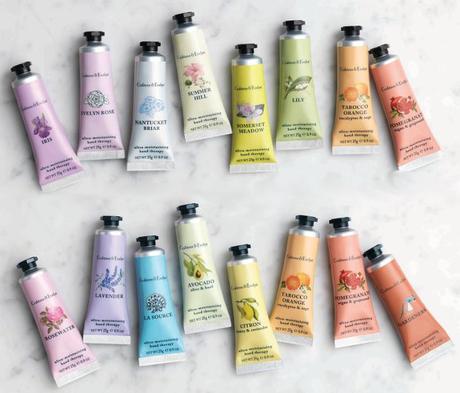 With so many fragrance choices, pretty and convenient packaging and an award-winning formula, you know you are in good hands (I need at least one pun, yes?) with the Crabtree & Evelyn Ultra Moisturising Hand Therapy. The petite 25gm tubes are convenient to pop into your handbags and pouches and at S$13, they make great stocking-stuffers and "just because" gifts for girlfriends and moms. They're really hard not to like.
Thanks for stopping by. Take care and have a lovely week ahead!