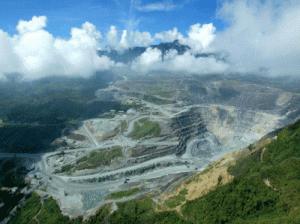 Porgera mine site
It has been a bad week for Canada-based gold mining corporation, Barrick Gold.
In London, a High Court injunction against the tactic known as the "Tanzanian Torpedo" was upheld, preventing African Barrick Gold and its subsidiary from pre-emptively suing victims of violence perpetrated by the company's security and local police.
ABG is being charged with excessive violence by the relatives of six men who were killed at an mine-site and one who is now paraplegic. The suit relates to numerous incidents spanning three years—particularly one in which five men were shot and killed.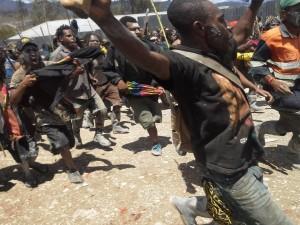 Riot in Porgera
In one telling exchange last week, Baroness Kinnock of Holyhead asked Lord Ahmed of Wimbledon if the Government is "aware that African Barrick Gold, which is a British company, has continued to rely on the Tanzanian police to provide security at the North Mara goldmine, despite the shocking number of gunshot deaths and injuries to local people".
Barrick Gold Corporation also faces allegations of gang rape and other acts of extreme violence in other mine sites in Africa as well as Papua New Guinea where riots broke out just yesterday.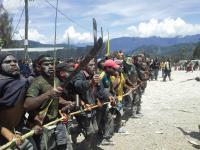 After Barrick security guards shot 5 miners dead, thousands of outraged protestors began rioting at the Porgera mine site. Another person was shot in the head by police, who had halted the riot on a bridge.
Riots are nothing new at Porgera, as human rights violations by Barrick's security guards are infamous. Earlier this year, the UN suggested decisive inquiries into violence against women at the site by the private security force. Barrick, however, has dodged the UN's recommendation, and is currently seeking immunity from charges in cases including gang rape.