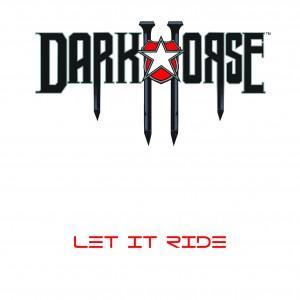 Let it Ride Album Cover
(Vancouver, BC) - Riding high on the success of their explosive first single 'In The Country', Canadian rebel rock country band Darkhorse are set to release their début full-length album 'Let It Ride' on April 29th through Fuel The Jet Records. 
Anthemic, stadium-sized coming of age songs make up the unique sound of the Vancouver-based band, Darkhorse. Country music has never heard anything like this before, with choruses that can rival any arena rock band and musicianship from Nashville music's elite performers, Darkhorse are about to set the world ablaze with their debut album, 'Let It Ride'. Lead singer and frontman Paul Laine (solo artist, producer, songwriter, ex-vocalist for New York's own Danger Danger) alongside Steve Ohe (guitars), Jason Bonnell (bass), John Stoltz (drums) and friends from Nashville (members of Keith Urban, Rascall Flatts, and Brad Paisley's bands), has created an instant classic for the country masses and it wasn't something he had planned on.
"As a songwriter, I never really head out on a path when I am writing for myself rather I let the song take me down the path that it wants to go," said Laine. "It's always been that way for me. Darkhorse was born out of songs I felt were so personal that they didn't really seem to be for anyone else. When Steve Ohe and I started writing together, it was for other people but it seemed like every second song that I worked on would pull me in a new direction of self discovery and a new sound was developing in my head. My best times as a writer always happen when I don't try, when I just let it flow out of me. I realized when I had about four or five of these songs that I better listen to the quiet voice in my heart telling me to forge ahead. I am so glad I listened, it's changed my life. I feel like for the first time, in a long time, I have finally come home." The lead single from 'Let It Ride', 'In The Country', shines a light on co-writers Laine and Ohe's formative years growing up in a small town. It's a feel-good track that perfectly captures the energy of the band and the album. 'In The Country' is currently at Canadian Country Radio and Darkhorse have just finished a Cross-Canada Radio Promo Tour visiting radio stations all across the country, from Vancouver to Halifax! During the promo tour the band not only played acoustic versions of their songs for radio listeners nationwide, they also performed on
CTV Morning Live in Halifax
and were interviewed on
Global TV's Morning Show
in Toronto. 'In The Country' is currently available worldwide as a digital download via
iTunes
 as well as streaming services Spotify, Deezer and Simfy. The performance-based music video was directed by Stephan Berrill of Brass Tacks Films. 'Let It Ride', produced by Paul Laine & Steve Lezetc and mixed by Bruno Ravel, ranges from feel-good songs (The One I Waited For, Heaven Tonight), emotional ballads (Goodbye, Strong, What She Meant to Me), coming of age tracks (I Wouldn't Have Missed It For The World, In The Country) and much more! It's a barn burner of an album with something for everyone. Paul Laine explains: "I got my start in the music industry writing arena rock anthems when I was quite young. I remember the first time I heard Springsteen's 'Born To Run', I knew what I wanted to do right then and there. You never lose that first feeling, that first love that connects your young heart to your emerging musical mind, it stays with you forever. All of my life I have thought about music as a live experience first and I write music that moves me at its most basic level. When you listen to the 'Let It Ride' album, you are going to be able to draw a line from rock to country, to the anthems you like to scream at the top of your lungs when you think nobody is listening. To me it's everything I want out of a record, something that takes me on a journey from the first opening chord to the last musical refrain fading out into oblivion. I've lived every word of the songs I write and have always loved artists who have."
Darkhorse appeals to a cross-genre demographic unlike any other band or artist in country music. Rock, country, and pop music fans will all enjoy Darkhorse's debut album 'Let It Ride' – available on iTunes & other fine digital retailers on April 29th, 2014. CDs and vinyl copies will also be available directly through the Darkhorse online store. Look for Darkhorse on the road across Canada this summer. For the most up-to-date tour schedule, please visit: www.darkhorseofficial.com