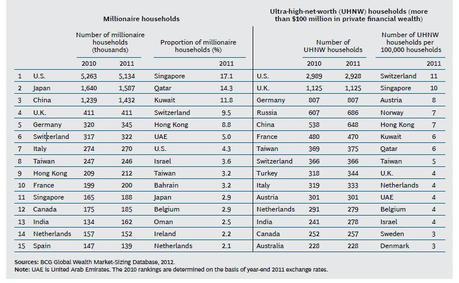 There's been a lot of talk during this election year about money and who's got what. It made me curious about how many millionaire households are in the U.S. and elsewhere, and my search led me to an interesting report issued in May of this year by the Boston Consulting Group. You can read it for yourself by clicking here.
As you'll see from the chart above, the U.S. has more than three times as many millionaire households as its nearest "competitor," Japan. We saw a number of households lose their millionaire status in 2011, but we still had more than 5.1 million.
China appears to be on track to overtake Japan sometime soon, and we almost certainly will see the number of Chinese millionaire households continue to escalate as that country's economy continues to grow.
I always find data to be interesting. I know it's easy to get an adrenaline rush by watching the Internet debates of those you sympathize with and those you can't stand, but I'd urge you to spend more time looking for data. You'll be surprised by what you can find out.