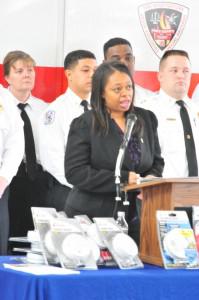 Councilwoman Karen Toles (D-Dist 7) was pulled over on February 22nd by Prince George's County for driving at least 105 miles an hour on the beltway.  It took several police officers to pull her over after she exited the beltway at Branch Avenue.  Toles was reportedly driving so fast that the officers thought the county owned vehicle might be stolen.  The officers approached her vehicle with their guns drawn.  At the end of the encounter, Councilwoman Toles of Suitland was issued a $90 ticket for unsafe lane change, 1 point added to her license and a warning for excessive speed.
You gotta be kidding me? 
According to Assistant Police Chief Kevin Davis, an executive review panel comprised of Inspector General Carlos Acosta, police chiefs in various departments, officers from the legal affairs division and officers from the training division will begin an investigation into this traffic violation early next week.  We all know that this "executive review panel" is only investigating because the public found out about this mess.  The average citizen would have faced fines up to $500 JUST for the speeding.  Toles was sure to mention to the approaching officers that she was a councilwoman, releasing her from the legal trappings of all average citizens and all applicable traffic fines.
No stranger to speeding violations, Karen Toles was cited for an unsafe lane change in March 2010, and driving off a roadway while passing other vehicles in September 2010.  At a public safety forum held at Iverson Mall on Wednesday, Toles said that public safety is a serious matter to her.  *giggle* She then proceeded to dodge the media and any questions related to her traffic violation. 

In a issued statement, Karen Toles said that she is voluntarily taking a driver improvement course and will not drive her county issued vehicle until she has completed the course.  Thanks Karen.  The most recent full statement:
"As I stated earlier, I believe moving violations are serious matters. I  take full responsibility for my actions and I apologize to my constituents, my  County Council colleagues, and Prince George's County. In addition to paying the  appropriate fine, I will not be driving a county owned vehicle until voluntarily  completing a driver improvement course to ensure my safety and the safety of  others."
But not for this mess coming to the public's attention, Karen Toles would be zooming from one meeting to the next with wreckless abandon.  Sadly, that is her official justification for driving that fast.  I'll keep an eye out for that executive review board.