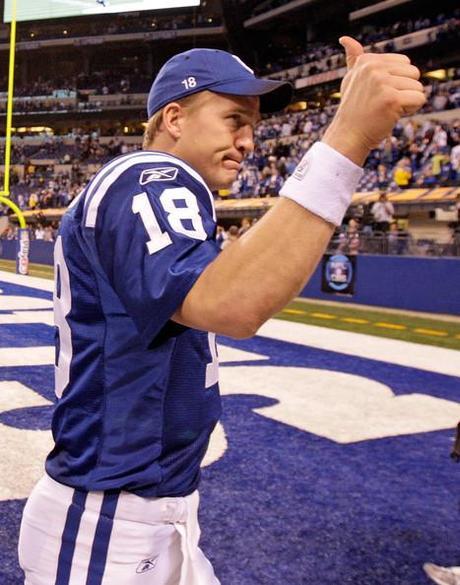 Photo: Andy Lyons/Getty Images
- Adam Parker
Well, it's official. The entire NFL world has been engulfed by 'Manning-Mania'.
ESPN's Chris Mortensen and Adam Schefter have been all aboard the Manning train since he and the Colts announced the end of their mutual relationship after 14 seasons last Wednesday.
Since then, countless teams have been crawling out of the woodwork hoping to land the four-time NFL MVP and get whatever greatness he has left in the tank playing in their colors.
And why wouldn't they?
After all, unless you're a team like the Patriots, Saints, Steelers, Chargers or Giants, you have to follow Manning's every move -- like a crazed fan girl of a hot new boy band -- in the hope that he'll give you a look, right?
If Manning proves to be as healthy as advertised, then absolutely.
We already know about teams at the forefront of the panhandling palooza for Manning's services. The Broncos, Cardinals, and Dolphins seem to be the front-runners after the Jets dropped out and, for better or worse, made a long-term commitment to hopeful franchise quarterback and GQ cover model Mark Sanchez.
The Redskins are also no longer in the hunt after relinquishing a king's ransom to the St. Louis Rams to most likely acquire Heisman Trophy winner Robert Griffin III with the second overall pick in next month's draft.
But here's a dark horse team for you -- what about the Tennessee Titans?
Titans owner Bud Adams wants in on the Peyton Manning sweepstakes and is ready to do whatever it takes to sign the future first-ballot Hall of Famer, The Tennessean reported Sunday.
"
He is the man I want. Period
." Adams told the newspaper. "
And the people that work for me understand that. They know who I want. I want Mr. Manning with the Titans and I will be disappointed if it doesn't happen
."
Adams told the newspaper he has personally reached out to Manning's agent, Tom Condon, and wants the quarterback to visit the Titans.
However, over the last few weeks, Titans' sources have held firm that the club planned on moving forward with their current arrangement at quarterback, with veteran Matt Hasselbeck mentoring 2011 first-round pick Jake Locker. The club likes the budding relationship the two have built, and foresees a smooth transition from one to the other down the line.
The last time Adams forced a quarterback on his brain trust, things didn't pan out so well.
"VY is my guy" wound up causing all sorts of commotion as Vince Young's tenure was an overall failure.
But obviously, luring Manning to Tennessee would be an entirely different scenario and the potential match makes sense on several levels.
First, Manning is a legend in the state, having been named an All-American at the University of Tennessee. Adams is very aware of the marketing opportunities Manning would open up in Nashville and around he entire state.
Second, Manning's wife, Ashley, is also a UT alum and happens to be a Memphis native. While the football part of the equation is important, sources from several involved teams have said one factor that might be tough for teams in the West -- like Arizona, Denver or Seattle -- to overcome is convincing the quarterback to move his young family. That likely won't be a deal-breaker, but it could be a tiebreaker.
Third, the Titans have a head coach in Mike Munchak who was a former player and understands how to handle veterans. Then there is offensive coordinator Chris Palmer, who has a relationship with the Manning family dating back to when he was Eli Manning's position coach from 2007 to 2009 with the New York Giants.
Fourth, Tennessee has some $30 million in cap space to not only pay Manning a handsome salary, but also possibly lure players like Reggie Wayne and/or Dallas Clark to Nashville and turn the Titans into 'Colts-South'.
Fifth, Adams even said he wants Manning to take a position in the front office when he retires from playing.
Last but not least, the Titans play in Manning's familiar environment in the AFC South.
Tennessee might be a dark horse team at best at this point in the Manning sweepstakes, but with Adams publicly announcing his personal interest in acquiring him and with all the things he could get out of the deal -- not only for the last years of his career but also life after he hangs 'em up -- it would make sense not to count the Titans out of it.
Be sure to follow Beard And Stache on Twitter 
@BeardAndStache
, 
and also Adam 
@Adam_Parker43
, Like our Facebook page 
HERE
!