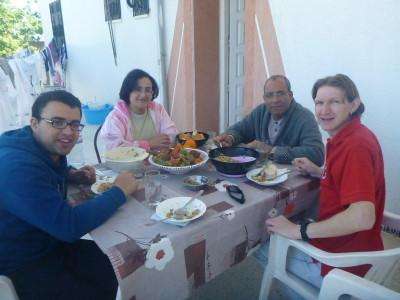 Couchsurfing in Tunisia: Staying with Wicem and Family in Teboulba
We were delighted to be accepted to spend three nights with Wicem and family near the town of Teboulba on the east coast of Tunisia. For my 100th country celebration, we were couchsurfing in Tunisia, firstly with Ayoub in Tunis and then with Wicem in Teboulba. And Wicem's place was more than just a bed to sleep in. It was a tremendous experience!!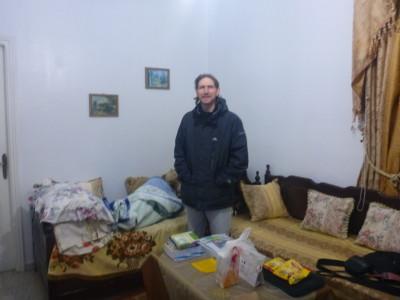 In our cosy room at Wicem's flat
We totally loved it here and could have stayed a lot longer. We were 5-10 minutes walk from the beach and sea, we stayed in a cosy villa, we had good food, a big room, fast internet and best of all – Wicem, a new friend and top guy. His family also treated us like kings for the three nights we spent here.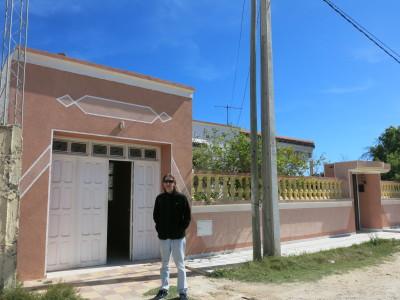 Out the front of Wicem's place
Wicem introduced us to a lot of his friends and his family and went out of his way to ensure we had fun in Tunisia. It was an overwhelming experience for which I am forever grateful for.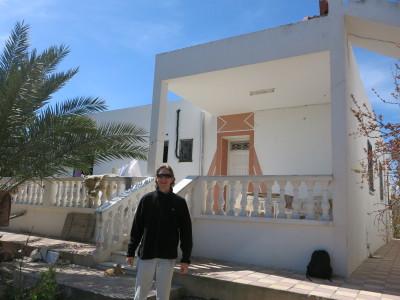 In the back garden at Wicem's place
Wicem's family also prepared a birthday cake, drinks and music for me when I arrived back after a day of touring Sousse as they knew it was my birthday. Neither Panny or I could believe the effort they went to ensure we had a great time.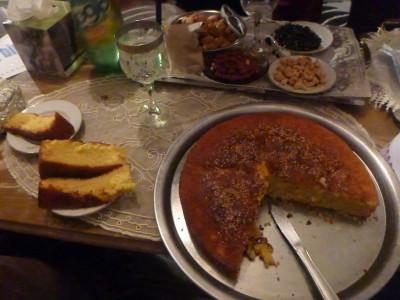 Wow! A Birthday Cake treat courtesy of Wicem's family.
Here are the five best things about our time couchsurfing at Wicem's place.
1. Food at Wicem's
OK so Tunisia food aims to surprise. It is totally unique. There is food here which I never knew existed and food that is famous in Tunisia that you can't get anywhere else.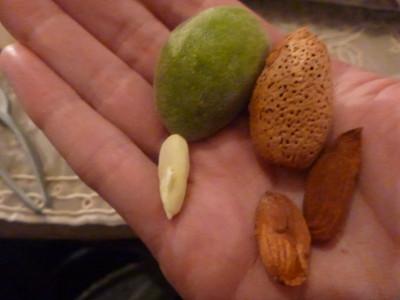 Mixed nuts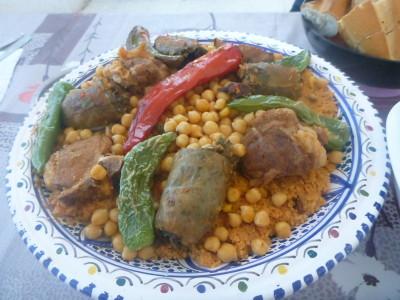 Cous Cous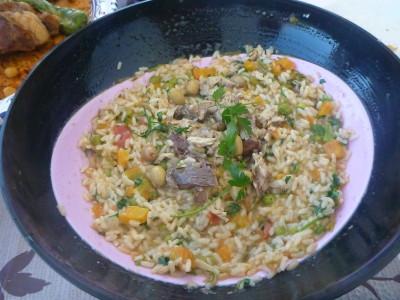 Rice salad
For starters, Tunisian oranges are the best in the world and as a result Tunisian fresh orange juice is top notch. Tunisian olives and consequently olive oil are too. Wicem's family have olive trees in the back garden and their olive oil is the best I've ever tried. Amazing.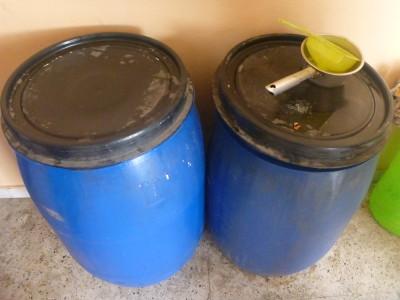 Olive Oil barrels at Wicem's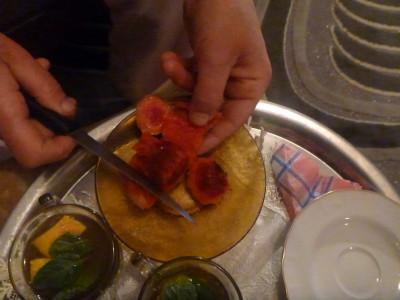 Dream fruit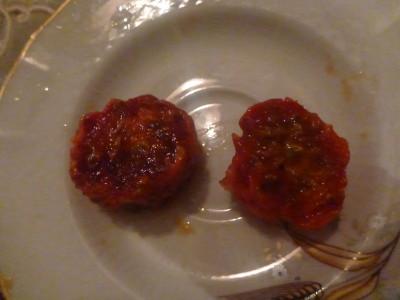 Dream fruit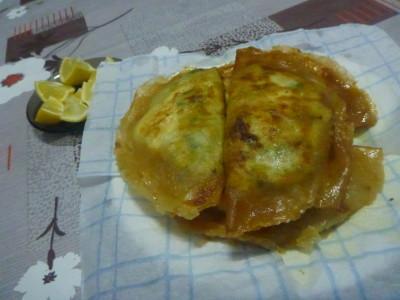 Brix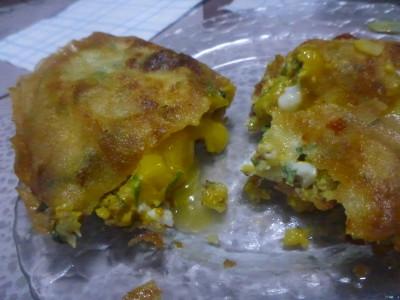 Brix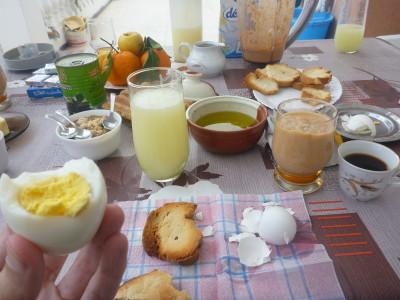 Breakfast
Then there was the food. We tried a lot of different Tunisian food here including a breakfast cereal I hadn't seen before, brix, mixed nuts, dream fruit and lots of new tasty treats, Tunisian style.
2. Relaxing Countryside
Being in a gorgeous countryside town was so relaxing. We had olive trees and fields all around us, yet were still only a 10 minute dander from the beach!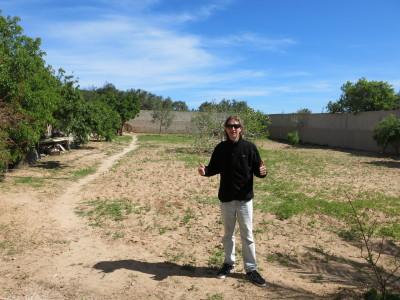 Back garden and countryside dander to the beach
3. Fast WiFi
Wicem works online too – and he works on projects which are on USA time, so he has fast internet. This meant that in the morning and evening when we weren't out and about, I could get some online work done and some blog updates.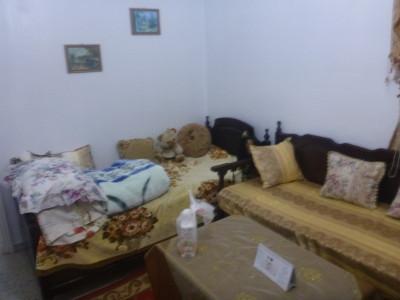 I could finally get some work done here at Wicem's
4. Extreme Hospitality
Wicem's family know a lot about hospitality despite the fact we were their first ever Couchsurfing guests. We were given a tour of the area, driven around, picked up from the train station, my birthday treat, extra food. It was simply incredible hospitality.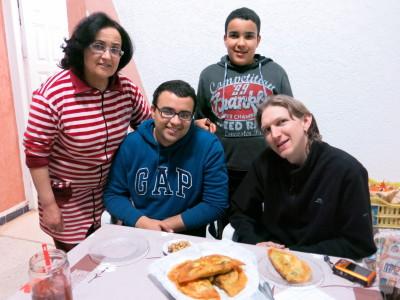 Amazing hospitality with Wicem and family.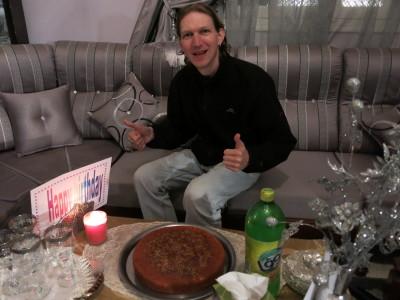 Amazing hospitality with Wicem and family.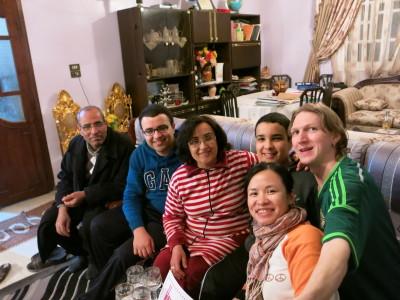 Amazing hospitality with Wicem and family.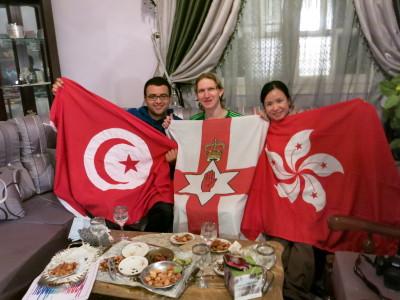 With our flags of Tunisia, Northern Ireland and Hong Kong
5. Touring Tunisia with Wicem
Wicem was just an awesome host as he took time out to show us the sights of Tunisia. He put in a huge effort to make us welcome and went out of his way to organize our three days for us. The first day we toured the town of Monastir, then got a train back to Teboulba to eat in a local kebab shop. The second day we toured Sousse and had some birthday drinks there. The third day we were in Teboulba and then got a train to Mahdia. We packed a lot into three days with Wicem and are forever grateful for his hospitality.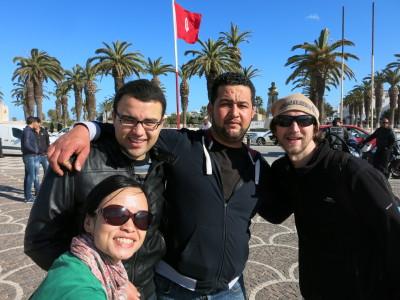 Touring Monastir with Wicem and his cousin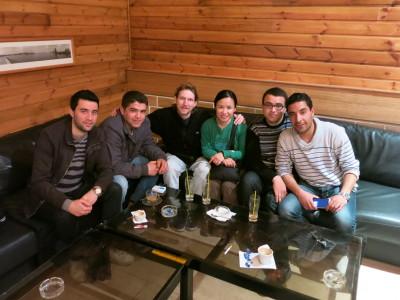 A night out at Amsterdam Bar in Teboulba
Local wraps and pizza in Teboulba
Eternal thanks to the Zrelli family – Wicem, his borther Dhia and sister Wafa and mother Najet and father Noureddine. PLus Wicem's cousin and all his friends that we met in Sousse and Teboulba. We hope to meet again someday soon!
Here are some videos of our time staying with Wicem and family:

Join 15,017 Monthly Readers! If you enjoyed this article and LOVE travel and SAVING money, get e-mail updates from Don't Stop Living – a lifestyle of travel! (It's Free)
Jonny