Episode Summaries (from Wikipedia):
Episode 2, "First Choice" -
Allen faces the first political crisis of her presidency as her selection of a new Vice President is manipulated by Speaker Templeton. Templeton leaks incorrect information to the press regarding the nomination of a Republican former governor of Oklahoma named Tucker Baynes to fill the vacant seat of the Vice President. Meanwhile, the White House is still in disorder after the resignation of several other members of the Bridges administration, including the Press Secretary. Allen appoints her personal speech writer, Kelly Ludlow, to be the new Press Secretary.
Allen's daughter Rebecca is concerned when her personal diary disappeared from her possessions during the family's move to the White House. The Secret Service is summoned to by the President to help find the diary. It turned out the diary was not lost but had been mistakenly placed in Amy's room.
President Allen offers the Vice Presidency to her former political rival Warren Keaton, a former United States Army General and vice presidential candidate on the Democratic ticket that was defeated by the Bridges-Allen ticket. The episode ends with Speaker Templeton watching the announcement of the nomination and commenting that Keaton does not have a chance to be confirmed by Congress.
Episode 3, " First Strike"
President Allen faces her first international crisis when nine undercover DEA agents are killed in the fictitious South Americancountry of San Pasquale (presumably based upon real-life Bolivia or Panama). As she begins to ponder her options on retaliation, the President is distracted when the press begins to follow her son and daughter as they begin their new terms in public school. In the mean time, the First Gentleman begins coaching vice presidential nominee Warren Keaton for his upcoming confirmation hearings.
In a flashback to several months earlier, we see a conversation between the late President Bridges and Nathan Templeton. During which, aboard Air Force One, President Bridges notes his disdain for Allen's activism (presumably liberal-leaning or against Bridges' own philosophy). Bridges informs Templeton that he plans to appoint Allen to a Supreme Court vacancy and that he would like Templeton to become his new Vice President.
The President orders the Air Force and the DEA to destroy coca fields in San Pasquale and calls for the people of the country to ask for the arrest of General Sanchez, the dictator of San Pasquale. Before the attack begins, the military of the country overthrows Sanchez. Juan Duran, San Pasquale's exiled president, is asked to return to power. 
——————————————————————————————————————————
So there was a delay there for awhile thanks to the GRE/family vacation time, but I am back and ready to stick to a legit schedule. Sorry guys!
These two episodes were very intense, and I actually really enjoyed that there was more than just the issues surrounding being the first female president (without pushing it entirely out of the picture).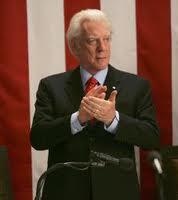 I'm still unbelievably disgusted by the way that Templeton talks about Mac. When he gave Jim the list of names that Republicans would back for VP Nominations, I couldn't believe he had the guts to say "you tell the girl this is just a dance. She steps on people's toes, she sits out" or " Mackenzie Allen: what a piece of work she turned out to be" when she chose Keaton as her first choice for VP. I shouldn't be all that surprise that he has his own agenda in his attempts to advise Mac – he is a politician, after all – but I was shocked at his belittling comments – not just when she was around as a strategy to undermine her, but when she wasn't even within earshot. He clearly thinks less of her as a leader. Also, what is up with Templeton's sexpot secretary? She is sketchy and oddly sexual for an aide to the Speaker of the House. I live in DC. Nobody who works on the Hill is that sexy.
I'm so glad that Kelly was promoted to Press Secretary. Not only because the old Press Secretary was a total douche – I mean, come on. the novelty of her being a woman will "wear off" and then her presidency will collapse!? Screwing her over? So vindictive. I loved that Mac pulled her out of undermining herself and put complete and total faith in her. THAT is why we need more women leaders – because they inspire the other women around them. Anyway, Kelly's line about the Nigerian woman was so fantastic – "the President wasn't acting as a representative of women, she was acting as a representative of the human race." Beautiful.
The issues her kids had made me think alot about the challenges of being a working mother – not just as President, because that's an extreme, but in general. Mac is constantly having to pull sweets off Amy's plate, doesn't have time for heart-to-hearts with her daughter, and has to miss family dinners. All of it is understandable – she's President of the United States – but that doesn't change that she wants to be with her kids and vice versa. What Tommy Bridges said to Amy was so sad – "you'll never see her again." It was dramatic, I'm sure, because his father died while in office; but there was a kernel of truth in that to Amy – she couldn't bring the dog to visit her mother right when she wanted.
Danielle's comment from the first episode,
I think it was very smart to show Mac's husband in the "First Lady" role. When they took him into the kitchen to help plan meals we got a sense that it was absurd for this MAN to be put in that position, and yet it wouldn't be strange for the First LADY to be given the same task. I think that was a comment on how the duties of real-life First Ladies are often quite menial. But even through all that, it was cool to see Mac's husband be so supportive of her. Something about him referring to her by her official title – Vice President and then President – made me love him even more.
really stuck with me during these past two episodes. Rod struggled with reconciling his past role as aide and advisor to Mac with his new one as First Gentleman. Nora is still my favorite character – she's hilarious – but she is clearly frustrated with her inability to reign him in. He says that he has the chance to make this his own, and he doesn't think twice about advising the Vice Presidential nominee on how to handle Congress. Good for him – but a woman could never have this same opportunity. I think that speaks volumes about the way we view the positions of power in a relationship – and the role of the First Lady. it's not at all weird for a man to be thoroughly involved in his woman's work-life, but it's weird for a man to be involved in a woman's. Hmm.
Thoughts? Do you find Templeton as grating as I do? What do you think of the role of "First Gentleman" so far? What did you think about the Diary/Becca situation?