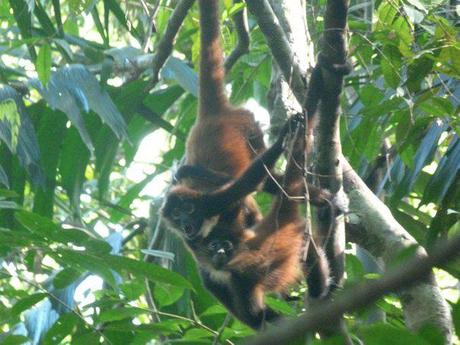 On leaving the homogenised western culture of San Jose it does not take long to begin to feel the real Costa Rica. Prepare for a total contrast between the cosmopolitan hussle-bussle of the city and the purity and calm of the Osa peninsula. An hour out of the city and jungle rapidly begins to replace concrete, invoking an immensely satisfying feeling! By the time you reach Piro you are as likely to come across a monkey as a human being. The Osa peninsula is regarded as the most untouched part of Costa Rica, with pristine rivers and primary forest covering a large percentage of the area.
The weather in Piro is much hotter than in San Jose and with the high humidity it took me around a week to acclimatise. The temperature then continued to rise throughout my stay keeping my body in a state of constant strife! Despite the remoteness of the area, camp is remarkably luxurious, equipped with a flushing toilet and pretty incredible shower. Sleeping arrangements are basic but tiredness eases you past any initial discomfort. Diet on camp is surprisingly sophisticated, with pasta, rice and beans and porridge making up the staple ingredients, but with a weekly resupply you can get hold of almost any item you desire.
The research projects have a sense of importance, and most are well thought out. They are also varied enough that they do not feel too laborious, as is often the case. When I left around a week ago there were active projects involving the monitoring of turtle nests, herpetological transects, primate abundances and a project on wading bird numbers. Although the research is undoubtedly important, equipment is short – Take your own binoculars and a red flashlight for turtle patrols. Electricity and an Internet connection are available in the nearby Osa biodiversity centre, for contact with home and charging batteries etc.
The region really is a tropical paradise, Macaw's and Toucans are both extremely common, as are vast swarms of tropical butterflies. Encounters with at least one of the 4 species of primate occur daily, and all 4 are often spotted in 1 day. However it is also not uncommon to see caiman and venomous snakes during walks, and the jungle can be dangerous. For me the thing I enjoyed most about living in the jungle was the unpredictability, you never know what you may come across. There is always the chance you will spot a Jaguar or Bushmaster! During my stay I saw over 80 species of bird, 20 mammals (including puma and humpback whales), over 50 species of reptile and amphibian and countless butterflies and other insects. You will soon become accustom to ants, spiders and other creepy crawlies!
I can honestly highly recommend the Costa Rica project, I had a great time and have left with lots of amazing memories. The diversity here means that there is something for everyone. Despite an initial disregard, I found that the turtle project was particularly interesting. Vulnerable to a warming climate, domestic dogs and human poaching, one of the oldest life cycles on earth is now more threatened than it has been at any time over the past 100 million years. Living in the jungle is an unforgettable adventure and no doubt leaves a positive imprint on everyone who experiences it. Keep up the good work.