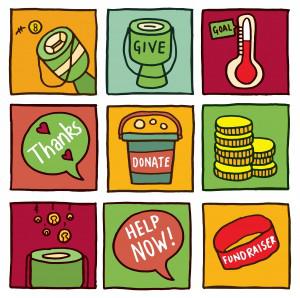 Image source: IOF
A corporate fundraiser faces even more challenges now that companies are focusing most of their efforts on simply staying afloat. Yes, it's tough out there, but it's also a great time to think creatively about maintaining and strengthening current relationships, and developing new ones.
Money+
When I was leading on the corporate relationships work at an animal protection charity my role included raising hard cash, but it was much broader than that. In fact, as a small organisation with limited budgets, we measured the value of working with corporate supporters in terms of how they could help us to reach stakeholders that we could not. With a lot of hard work, persuasion and leveraging all the connections we could muster, our corporate supporters donated a huge amount of PR and media support, in-store promotions, sponsorship and pro bono professional support – all of which meant that we could focus our financial resources on other aspects of the organisation's work.
You say 'corporate fundraiser', I say 'head of partnerships'
I have been at the coal face of corporate partnership development, and I've also recruited plenty of great corporate fundraisers: and it's been interesting to see the change in role descriptions and job titles. There seems to be a shift away from the job title 'Corporate Fundraiser' and towards roles that have been designated 'Head of Partnerships', 'Corporate Relationship Manager', or 'Corporate Account Manager'. If you look beneath the job titles you will still find that corporate roles focus on income generation, but increasingly they reflect the acknowledged value of developing longer-term, broader and deeper relationships with corporate supporters.
Why companies give
If companies all gave for the same reasons it would make the job of a corporate fundraiser so much easier! There are plenty of theories and models of giving that describe the various motivations that influence corporate giving. If you're already working with companies, you'll be familiar with the various versions, but if you're not, the models include:
Ethical or altruistic (provides support out of true philanthropy)
Corporate Performance (support helps the bottom line)
Stakeholder Influence (support helps to reach and influence the company's many internal and external stakeholders)
Political (the company will benefit from a relationship/endorsement from the charity)
Corporate fundraising '101′
If you're thinking about a career in charity corporate fundraising, or your charity is considering corporate fundraising as part of the fundraising mix, then The Office for Civil Society and the Institute of Fundraising have produced a video called 'Corporate Fundraising in Five Minutes'.
National fundraising convention
Charity fundraisers know that the place to be from 2-4 July is the Institute of Fundraising National Convention. It's a great opportunity for networking and for staying up to date with the latest fundraising trends. I'll be heading for the corporate and digital fundraising sessions, so maybe see you there!
Corporate fundraising: jobs and careers advice
Senior corporate fundraisers are always in demand by my clients, so feel free to get in touch if you're thinking about a career move.