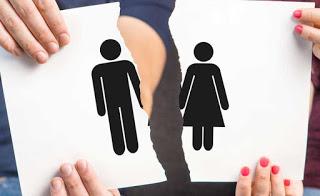 U.S. divorces have increased 34 percent during the coronavirus pandemic, according to
a report at the UK Daily Mail
. Alabama and other Bible Belt states were among the leaders in increased divorce rates. From the report:
The coronavirus pandemic has dealt a serious blow to marriages in the US amid a 34 per cent increase in sales for divorce agreements and revelations that it took just three weeks under quarantine for relationships to crumble, according to a survey.




The outbreak of the coronavirus in January and implementation of lockdown orders in March forced couples to manage a plethora of new challenges.

The combination of quarantine life, wavering finances, mounting unemployment rates, illnesses, deaths of loved ones, mental illness and child care has led Americans lawyers to predict a record number of divorce filings.


In fact, 31 per cent of couples admitted the quarantine caused irreparable damage to their relationships.
Data collected by Legal Templates, a firm the provides legal documents online, outlined just how negatively the pandemic has affected couples.


According to the data, interest in legal separations peaked on April 13, which is 15 to 20 days - or three weeks - into when the majority of states implemented official quarantine protocol in March.




April in the United States saw New York City's emergence as the coronavirus epicenter of the country.

Much of America watched as New York City's morgues overflowed, hospitals became overrun, front line workers pleaded for PPE supplies on social media and one of the most buzzing cities went quiet.


April 6 recorded the highest number of cases in New York City with 6,377, while the highest number of deaths was April 7 with 598.


Newlyweds took the hardest hit during the COVID-19 pandemic with a 20 per cent increase compared to the same time last year. According to data, states along the Bible Belt recorded the highest number of divorce rate during the COVID-19 pandemic, including Arkansas and Alabama.
The pandemic's impact on marriages was severe and immediate:
Increasing corornavirus cases and an unstable job market may have contributed to the high divorce rate during the pandemic.


Of the couples who used Legal Templates services, newlyweds were hit the hardest with divorce blues.




Couples married for five months or less sought divorce at 20 percent during the pandemic compared to the just 11 per cent in 2019 - nearly doubling the rate.

This indicates that couples that got married between January and March were already discussing separation between April and June.


While 20 per cent of couples in 2020 filed for divorce, the number dropped to just 6 percent for those married in 2015.
Children also played a factor into pandemic-era divorce filings and rates.
During the pandemic, 45 per cent of couples that completed Legal Templates divorce agreement had children under the age of 18 - a five percent increase from the same period in 2019.