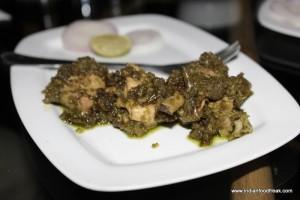 Coringa Chilli Chicken
A recent trip to Bangalore saw me looking for interesting places to eat around the area of Yelahanka. Recommendations from fellow foodies took me to a place called Coringa which apparently served cuisine from the Godavari delta region of coastal Andhra.
The hut like terrace top restaurant lived up to its tribal regional theme and looked quite appealing but the dishes on the menu were quite alien, the server thankfully, was kind enough to explain the dishes and I settled for some of his recommendations.
For lunch I tried Bangaladumpa Cashew Fry which was fried potato cubes with cashew nuts tempered with chillies and curry leaves. This was one of those dishes which are spicy and salty and once you start having them, you can't seem to stop yourself.  It took me back to my college days where we would concoct similar super spicy snacks with peanuts and other random things to accompany our beer sessions.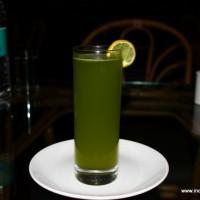 Lemon Mint and Honey Mocktail
For the mains, I had chosen a Chilli and Tangy Spinach based prawn dish called Gongura Royyalu. The tanginess of the spinach was quite unique and I on enquiring, found it to be Sorrel leaves which I have seldom come across in restaurant menus anywhere. The prawns brought certain sweetness to the otherwise tangy spicy sauce. I decided to avoid the rice and polished off both the dishes by themselves.
Kalyan, the COO of the organization, came and introduced himself while I was waiting for my food as he had never seen me at the restaurant before, he was very keen on showcasing more dishes and as I was completely satiated with my two wonderful dishes I promised to go back the next day. The following day I arrived quite early to be greeted by Kalyan and Srinivas, the brains behind the menu. They took great pains in explaining the dishes and we began our culinary journey for the evening pairing it with a very refreshing Fratelli Sparkling.
We started off with a Lemon mint and honey based mocktail which was a prelude to the better things to come and a tur (arhar) daal based rasam which was quite unique in its execution.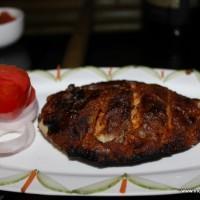 Grilled Pomfret
The Grilled whole pomfret that followed was rubbed with Andhra spices and grilled to perfection to give it a juicy and flaky texture while retaining the spiciness of the dry rub. The fish was served with three unique chutneys, one of them made with ginger, chillies and jaggery was gingery pungent with a sweet aftertaste. The second one a onion, tomato and chilli chutney was a slightly spicier version of the Mexican salsa and paired well with the fish. The last chutney was a Coconut and curry leaves mix which was a salty paste which I didn't really care for much.
Mr. Srinivas, founding partner then brought me a serving of their Keema paratha, which is made with hand pounded mutton instead of store bought mince. This gives it a texture of pulled meat quite similar to American barbecues and very different to the keema or baida parathas found elsewhere.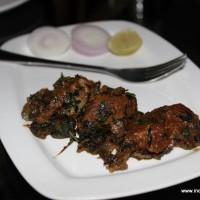 Mutton Kothimiri
Next, three dishes were brought in in quick succession. Chepala Pulusu with Rice which was Seer fish cooked in mild tamarind gravy with chillies and jiggery. A Kobbari Royyalu – Prawns cooked in a Coconut Sauce which was one of the mildest dishes on the table and finally Mutton Kothimiri which was a shallow fried Mutton in Coriander base. Each of the dishes a smart version of their regional counterparts, a bit heavy of the chilli quotient but retaining individual flavours. The seer fish a bit sweet and sour due to tamarind and jaggery, the prawns a bit creamy due to the coconut milk and the mutton had a tender fibrous spicy cilantro flavor.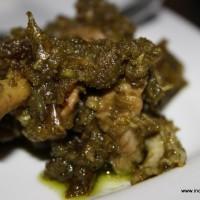 Coringa Chilli Chicken
The piece du resistance were the two dishes which followed thereon. The Coringa Chilli Chicken, which is probably the hottest dish I have tried after the bhoot jholakia loaded dishes in the North East. The chicken made only in chillies, salt and oil attacked my nerves in such a way that despite enjoying the dish thoroughly, I had tears streaming down my cheeks. The awesomeness of the dish was validated by Aalok Wadhwa who also got to try a portion which I carried specially for him from Bangalore and he polished it off craving for more.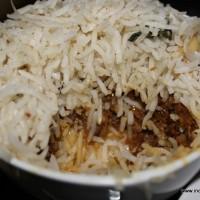 Coringa Keema Biryani
The other dish that really stood out was the Coringa Keema Biryani which is Coringas own version of layered biryani using the same hand pounded mutton used in the Keema paratha giving it a unique combination of textures and flavours.
Coringa also serves good vegetarian fair and I did try an amazing dish called Arati DavvaVepudu which was Banana stems fried with mustard seed seasoning, the banana stem was a interesting dish to me, however, the meats and the fish dishes stood far above the vegetarian fair that I tried at the restaurant.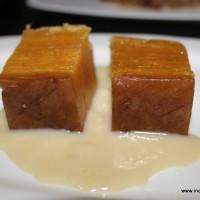 Mamidi Tandra
Desserts was a much welcomed sweet journey with Pootharekulu (Layered Rice paper, stuffed with Jaggery& Cashew) and a Mamidi Tandra (Sun dried Mango, served over a bed of Sweet Condensed Milk) which was filled with Mangoey goodness.
Extremely satiated and with all my senses on fire, I bid adieu to my newly made friends at Coringa with a promise to visit them again and soon, whenever I am in Bangalore!
Ratings out of 5
Food: 3.5 | Ambiance: 3 | Service: 3.5 | Overall: 3.5
Meal for Two without Alcohol: Rs. 800 Approximately plus taxes| Alcohol: Only Wine | Credit Card: Yes|
Timing: 12 pm- 3.30 (lunch) and 7 pm-11 pm (dinner)
Address: 5-6, 4th Floor, Sindhu Building, KHB Colony, Bellary Road,
NH7, Yelahanka, Bangalore-560064
Tel : 08065705016
Keema Paratha
Onion Tomato and Chilli Chutney
Coconut and curry leaves chutney
Ginger Chilli and Jaggery Chutney
With Kalyan and Mr. Srinivas at Coringa
Pootharekulu
Curd Rice
The pounded meat pieces in the Biryani
Coringa Keema Biryani
Chepala Pulusu
Kobbari Royyalu