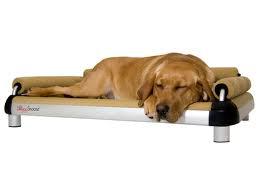 It's sad, and many of us don't like to consider it but eventually, our canine companions will grow old. Like humans, they go through a complete life cycle from birth to death, and also like humans, need a bit of extra comfort in their old age.
Most old dogs are really only interested in gentle walks, having a bite to eat, taking a snooze and spending time with their owners. So why not do your best to make all of these activities as enjoyable as possible?
Walkies
Don't expect your old dog to be as active as he once was. He'll probably enjoy a gentle stroll once or twice a day, and maybe if he's got a little bit of extra energy, will enjoy being thrown a stick once in a while. If he doesn't like jumping about for sticks and balls though, don't force it. Just take his lead and make sure he does get at least one walk – even if he gives you the puppy dog eyes to say 'I don't wanna do it'! Exercise is very important, even for older dogs.
Food
Speak to your vet about which type of dog food is best for your furry friend. Older dogs don't generally need as much food, but what they do get should be of the best quality – as you'll want to treat your old pal while you've still got him/ Alongside their regular food, think about healthy treats you can give him – like scrambled egg, or rice. These are great for doggies' stomachs and help them get a bit of variety.
Sleepy time
Make sure you look at the wide range of dog beds for older canines; as these provide the support, comfort and protection many older dogs need. Some of them have arthritis, or are incontinent, so be sure to get the right bed for him. Also, you might want to consider letting him sleep in the same room as you during the night time, so he feels safe and secure.
Spending time together
Be sure to show your friend how much you love him on a daily basis. Even if it's just sitting for a cuddle at night, or stroking him in his favourite spot behind his ears, your dog will really appreciate it, and it will make him feel calm as he approaches the end of his life.