Whip up a batch of slow cooker coriander/cilantro chicken, stick half of it in the freezer, and you can have these tacos on the table in no time at all. Perfect for those days when everything else goes off the rails.
Total Time Investment: 15 Minutes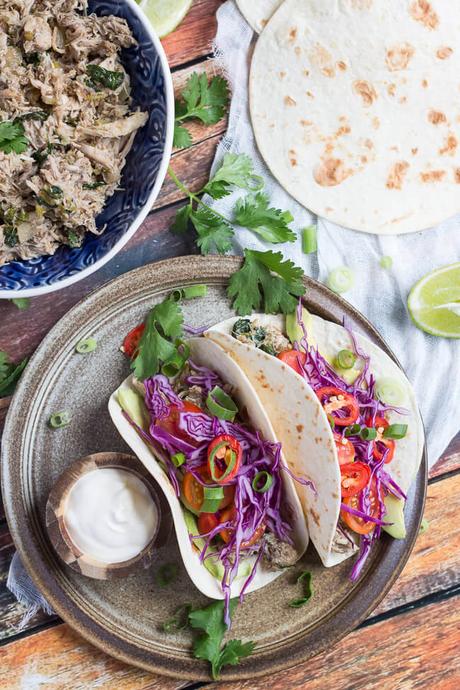 A meal in the freezer is like money in the bank. It is there, waiting, for those nights you cannot be bothered to cook. Or for the days when everything goes pear-shaped, and you are eyeing off that take away menu. With a batch of my slow cooker shredded lime coriander/cilantro chicken in the freezer, you can have these tacos on the table in the time it would take you to unearth the takeout menu of your local favourite.
A few years ago, for some strange reason, I wrote tacos off as a regular meal option. I think I was going through some stringent clean-eating phase, and had lumped tacos in with all the other unhealthy fast food options.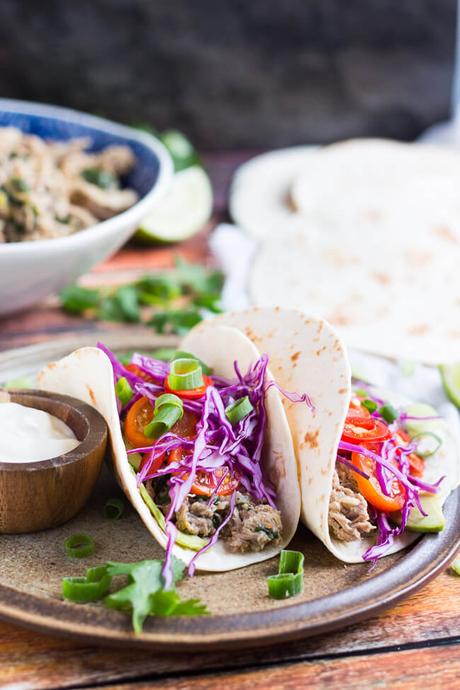 When I stopped to properly think this decision through, I realised that tacos, made well, are actually quite a healthy meal option. Stuffed full of lean protein, and loads of vegetables, I can think of worse things to be feeding my family. Add that to the fact they are quick, and seem to be universally loved, and tacos become an all round dinner winner.
I realise that I am possibly playing fast and loose with my total time investment for this meal, as it does assume you have already stocked your freezer. Even if you haven't though, it will only take an additional 15 minutes to put the slow cooker on at the start of the day, and all you need do when you arrive home is shred the chicken and assemble the taco fillings. So I maintain this is still a super speedy meal.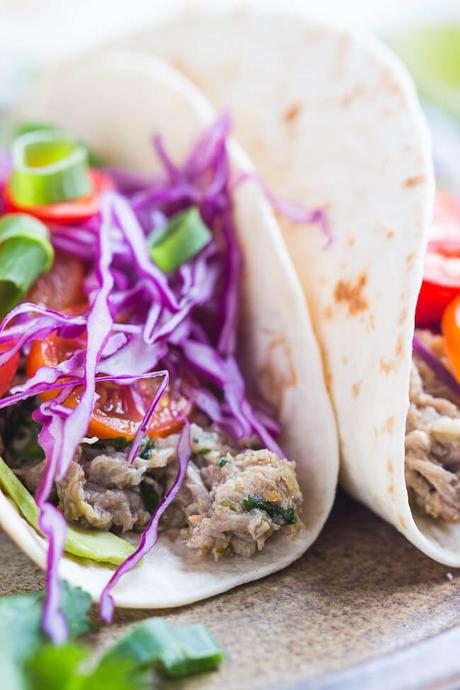 And if you do start these tacos by making a fresh batch of the slow cooker coriander/cilantro chicken, make sure to freeze half of it so you have another meal ready to go in the freezer. I'm telling you, it's like money in the bank.
Ingredient Substitutions
You could replace the shredded coriander/cilantro chicken with plain shredded chicken, but then all you've really made is chicken tacos 😉
Replace the cabbage with shredded lettuce, and use whatever salad fixings you have on hand. Grated carrot would work if you are missing the other vegetables.
Use tacos shells in place of the tortillas. And make sure to purchase corn tortillas if you wish to make this dish gluten free.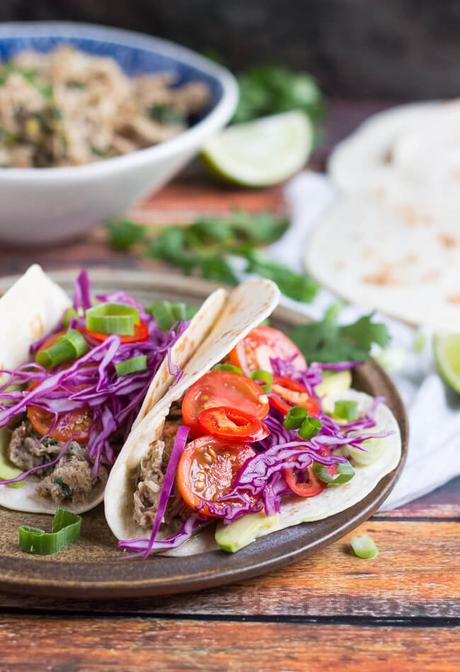 How To get ahead with Slow Cooker Lime Coriander/Cilantro Chicken Tacos
The shredded coriander/cilantro chicken will keep in the fridge for up to two days, so can be made on Sunday for Tuesday Taco Night. Shredded chicken can be frozen for up to three months.
The vegetables and cheese can be prepped in advance, and stored for up to three days in the fridge. Store each vegetable in a separate container to preserve the freshness.

Slow Cooker Lime Coriander/Cilantro Chicken Tacos
---------------
This post forms part of the monthly Recipe Redux link up. This month the theme is Taco Tuesday, so don't forget to check out all of the other great taco ideas.