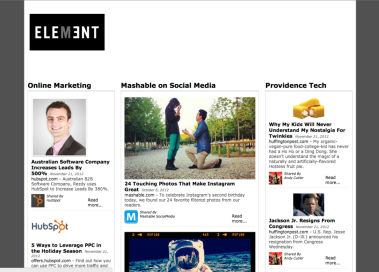 Those who have followed my career for the last two or three years, know how much I love interviewing people behind great ideas.
A few weeks ago, I started noticing that the @Kuratur handle kept sharing my content on Twitter. I decided to check out what it was and discovered a really neat new content curation platform!
I emailed the team and asked them if they would be interested in me sending them a few questions. Kirsten Lambertsen, the CEO and founder, said yes right away.
If you are into content curation and beautiful online magazines, you should definitely check out the interview I published on Examiner.com today. I am quite sure you will love Kuratur.
Kuratur is a content curation platform that lets you easily curate customized automated web "magazines" in minutes. Our users can match their magazines to their existing brand / blog / website, allowing them to keep their curation work inside their own brand. Our magazines are automated, updating as often as every hour. And, we think our magazines are beautiful! They are easy and intuitive to read. Kuratur magazines are a great way to build credibility and boost SEO.
Read the rest of the interview here.
content curation , content curation tools , Kuratur

This article
by
Cendrine Marrouat
is licensed under a Creative Commons Attribution-NonCommercial-NoDerivs 3.0 Unported License.