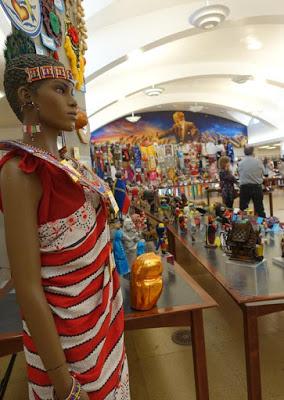 Connecting Cultures Mobile Museum (CCMM) display at RFK Community School, Los Angeles, CA
Last week I went to the annual
Connecting Cultures Mobile Museum (CCMM)
open house held in the library of the Robert F. Kennedy Community School near downtown Los Angeles, CA.  Hundreds of colorful items–clothing, hats, games, toys–displayed on panels and across table tops showed middle school students the multiple everyday connections we share with people from all over the world.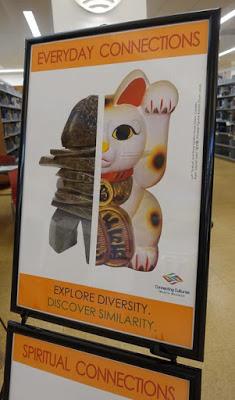 Everyday Connections was this year's theme (the focus rotates on a three-year cycle)
During the school day for the week the exhibits are up, students in grades six through eight come into the library to hear presentations from CCMM volunteers. They then have the opportunity to interact with the exhibits–trying on clothes, playing games, examining toys.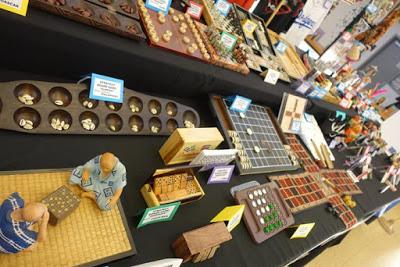 A sample of board games from around the world
Connecting Cultures Mobile Museum has a long history of working with Los Angeles-area schools, having started at Palms Middle School in West Los Angeles in 1995 and expanding to 24 schools by 2015. Since then, CCMM has enriched the cross-cultural education of more than 100,000 student visitors.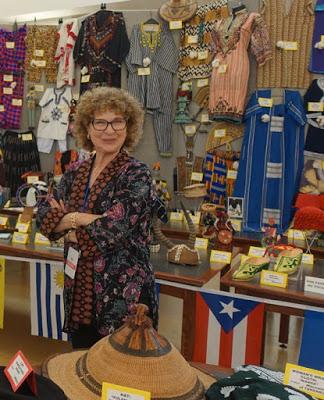 Valerie Lezin, founder of CCMM
Connecting Cultures Mobile Museum believes that exploring our shared human needs, values, and practices will lead to broadened world views. Through its educational programs and resources, CCMM develops awareness and acceptance of the diversity within our increasingly interconnected global communities.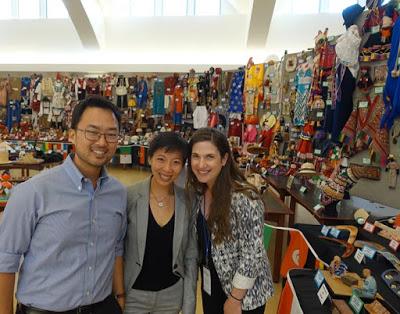 Julia Goldman (right) with Open House visitors
I have been supporting CCMM for many years through participation in their fund raisers and donations of some of the many things I've collected in my years of travel. It is always a pleasure seeing them get a new life in the CCMM displays and to know they are helping to enrich students' lives.