This is the first in a collaborative series by John & Sharlene walking neighborhoods, Connecting: Point A and Point B... with Point B being a neighborhood destination or place to eat!
We belong to Birdsong Community Supported Soup Club and pick up our pint of fresh, chef-created soup every week in the southeast corner of St. Louis Park near Highway 100 and Excelsior Boulevard and Miracle Mile Shopping Center. Edina cuts into this part of The Park, and Morningside is a bordering Edina neighborhood.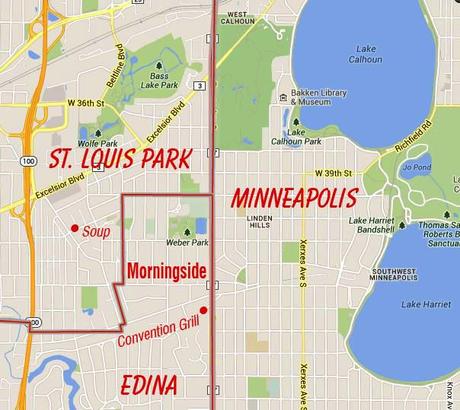 After picking up our Birdsong soup on Friday, we decided to park the car near our soup pickup spot and walk to the Convention Grill in the Morningside neighborhood.  
The trek brought us through a diverse, yet communal, area of houses.  Beautiful homes in a clean and quiet no-thouroughfare residential area.  The houses were very different from one another yet fit well as a community.  As odd as it sounds, I could feel the character of the neighborhood as we walked through it.  Our leisurely meander was completely enjoyable.  Some streets had no outlets, some curved through gentle hills.  
It became evident as we walked that this has been an area of significant redevelopment. In fact, like neighboring SW Minnepaolis Edina has been experiencing an unprecedented increase in the number of homes being torn down and rebuilt... with Morningside experiencing a large portion of the activity. We  saw a FOR SALE sign in front of a home that was being sold by a developer as a tear down for new construction.

The Morningside neighborhood has a wonderful history of development.  Oddly, the community grew up as a place between here and there.  At the turn of the century the Como-Harriet Streetcar line was built to go between the Linden Hills area of south Minneapolis and the town of Edina.  Homes were then built along the line to form this unique village.  The town was platted in 1905.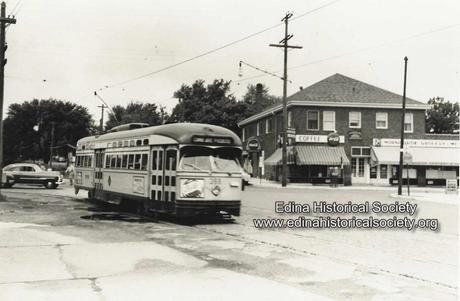 Morningside was its own community for a time, but merged with Edina in 1966. It has a history of strong independance and determination, proud of its place in the growing metropolitan area.The character of Morningside came from the people who strived for a deep sense of community in a growing metropolis. It still has a different feel from the rest of Edina, and still has a strong sense of community involvement.

See homes for sale in Edina and Morningside homes for sale in this community which borders Southwest Minneapolis.
John & Sharlene Hensrud, Twin Cities Neighborhood REALTORS  
RELATED POSTS
Some insights into the housing moratorium in Southwest Minneapolis
ZUMBRO... serving breakfast, lunch and Linden Hills neighborhood spirit
Sunday's Site - Convention Grill, Edina
Soup's on! Birdsong CSS Soup Club delivers fresh, local, chef-created soup each week
St. Louis Park... awesome kid-friendly suburb close to everywhere