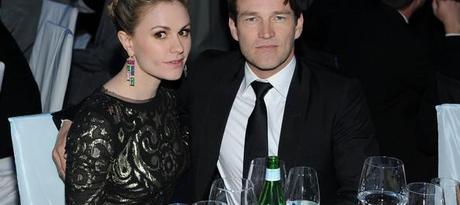 Stephen Moyer and Anna Paquin will be adding to their family this fall! The actors who play Bill Compton and Sookie Stackhouse on True Blood are expecting their first child together according to a report from Entertainment Weekly who received confirmation from their reps.
Stephen and Anna met during 2007 while filming the True Blood pilot and married in August of 2010. The new baby will join Stephen's two children from a previous relationship in the fall while the show is on hiatus. True Blood season 5 premieres June 10th. The show has not yet been renewed for another season. But an announcement either way is expected this summer.
True Blood Fan Source would like to congratulate Stephen and Anna on this wonderful news and wish them all the best going forward!
Source: EW.com-"Anna Paquin and Stephen Moyer Expecting-EXCLUSIVE"
Image Credit: Larry Busacca, Getty Images