Jason Case, President of Boston-based Case Snow Management and Fleetmatics customer, was crowned the winner of CBS' "The Amazing Race" on Sunday, December 8. Case competed alongside girlfriend and teammate, Amy Diaz.
Case Snow has been in exterior maintenance services since 1951 and offers a range of services including plowing, hauling, de-icing and sidewalks. The company is rated #15 of the top 100 snow contractors in North America by the Accredited Snow Contractors Association's Snow Magazine.
Since becoming a customer of Fleetmatics, Case Snow has been able to lower idling times and simplify payroll process. The company has also corrected time card discrepancies that previously would have gone unnoticed. Overall, Case Snow has been able to manage operational costs better thanks to Fleetmatics. "Many small businesses struggle with the ability to manage costs while increasing operational efficiency and maintaining a high standard of service," says Case. "But, commercial fleet intelligence empowers fleet-based businesses like my own to work smarter, not harder, by getting more done without adding resources."
The benefits Case has seen from the solution will become crucial in the winter months, when driving conditions worsen and vehicle breakdowns threaten the safety of employees. Winter conditions can also pose a hazard to customer service, as a stranded vehicle could delay a driver from reaching a job site. GPS tracking helps to pinpoint exactly where the vehicle is broken down. This can help a manager deliver an achievable ETA for the customer's convenience.
Case is encouraged by early results of Fleetmatics and looks forward to the future. "I'm eager to see how Fleetmatics will continue to help Case Snow achieve even greater levels of success in both the near- and long-term," said Case.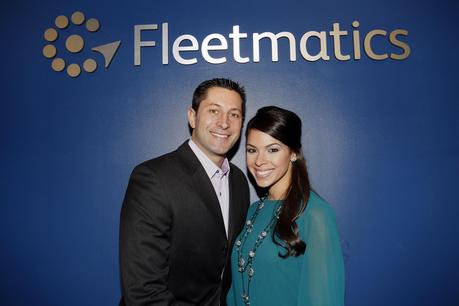 Right: Jason Case and Amy Diaz visited the Fleetmatics office in Charlotte, NC on Thursday, December 19. The winning duo stopped by to mingle with the Fleetmatics team and share their success tips.