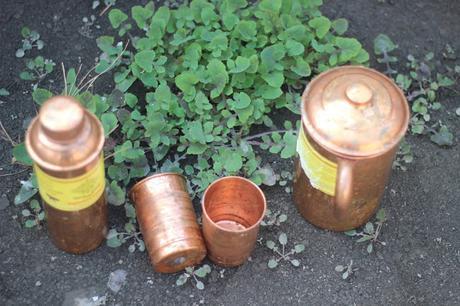 First of all, I know it's "Shopaholic" and not shoppingaholic but this was the only name left to choose from and all types of "shopaholic" was taken at the time of registration. I wanted something that could relate to this "holic". See, Google made me do it! Secondly, I am in my 30s and very much into keeping myself #FitandToned . And this made me choose #CopperUtensils . You must know that our body gets multiple health benefits if we store water in copper pitcher/jug and drink that water. I am no expert in this so I have linked the best article that I read on internet about it. You read away! I also learned a few things about buying copper - asked my mother and also Googled. A few things that I learned was-
Genuine copper utensil will be plain af*. Apparently to make designs and motifs on copper demands mixing other metals that we do not want if we aim to get benefits of copper for our body.

This is from my mom. She lifted the glass and said this is coper and no mixed metal because it is light. If a metal is mixed in copper, it gets really heavy. Okay. I did not do any research on this. I totally believe my mother!
I went by my instincts and selected Amazon to be the provider of my kitchen/health needs. (Read it with a little drama!) and my instincts told me #IndianArtVilla would be the right choice. Okay, a few good reviews on the product helped me too.
So, spent my money.
As always, Amazon seller does a good job in sending the product on time BUT
Jug had a dent. I didn't care much.
Since, then, I've been drinking water in the copper glass from copper jug. But the best thing is the copper-bottle which is a little heavy to carry around but helpful to keep my water intake regular.
A few points to be noted that I would like to tell ya'll after using the product:
Indian ArtVilla gives you a powder to wash the utensils. It did not help me make the product shiny like new.

Copper utensils get dirty, like, really dirty. Dirtier than #50ShadesofGrey. *CrinckledEyesandNose*

If you want to flaunt your copper-wares, ensure they are mixed with some metal so they remain shiny and new when you put some effort to do so.

You might commit suicide if you try to drink acidic beverages like vinegar, cold drink? :-/ I dunno. Let's remember 'acidic'. A bit exaggerated but copper reacts with acidic stuff and might become toxic.
I'd conclude by saying that I've made it to this day - all alive and breathing. I am not running around like a young horse after drinking copper-water but I am content that I have made a healthy choice and it is definitely doing good for me in some or the other way.




Cheers in a copper-glass to our healthy-selves!!


Buy Your Own Indian ArtVilla Copper Jug.Glass and Bottle Set


*This post may contain affiliate links, products sent by brand/PR for consideration, paid contents.



Never miss A Post

  : NEWSLETTER | FACEBOOK | TWITTER |  GOOGLE+ 
Disclosure Policy.