Concert Operetta Theater (COT) of Philadelphia launches its twelfth season this weekend with Two by Victor Herbert, a pair of rarely heard operatic pieces, Madeleine, a one-act opera, and Cyrano de Bergerac, an operetta, by the Irish-born, German-raised American composer.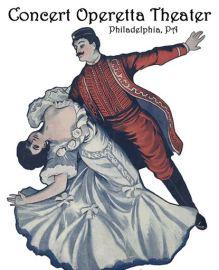 Tim Ribchester will be the music director and pianist with guest violinist Philip Kates of the Philadelphia Orchestra. Performances will be held on Saturday, March 22 and Sunday, March 23 at 4 p.m. in the Helen Corning Warden Theater of The Academy of Vocal Arts, 1920 Spruce Street, Philadelphia.
Madeleine was written in 1914 for The Metropolitan Opera and debuted on January 24, 1914 starring soprano Francis Alda, the wife of the Met's General Director, Giulio Gatti-Casazza. It was the opening opera to Pagliacci starring Enrico Caruso. Herbert was much better known by his operetta and was not accepted as an opera composer. The piece was thought to be too "abstract" by many with touches of Debussy, Delius, and Richard Strauss and reviewers never accepted the piece. It was last heard in Philadelphia on March 3, 1914 when the Metropolitan Opera toured it to the Academy of Music.
Cyrano de Bergerac was written in 1899 with a libretto by Harry B. Smith. It was written as a burlesque of Rostand's famous play for comic Francis Wilson. It wasn't accepted by the audience as a comic piece because the Rostand play was sentimental and touching, and was still touring in the United States. COT presents a pocket-version of this operetta with a new libretto written by Alyce Mott loosely based on the Rostand play.
Madeleine will be performed with piano and violin obbligato. Cyrano de Bergerac will be performed with piano and instrumental ensemble conducted by Mr. Ribchester.
Tickets are $30 General Admission / $20 Senior / $10 Student, free 16 years old and under. Tickets can be purchased at the door, cash and personal checks only. For more information call 215-389-0648 or visit www.concertoperetta.com for a list of upcoming productions.
Look for a review of this production on Operatoonity.com.