GO HERE TO POST NOMINATIONS AND VOTE

Are you an American or Canadian of Welsh descent from the North Wales area? Ever wanted to visit sites of specific American Welsh interest in Snowdonia and Ynys Mon/Anglesey? If so, read on.
This tour which is being organised by 
Celticos
and jointly promoted by Celticos and AmeriCymru has been designed with an American Welsh audience in mind. Here are six highlights from this exciting two day itinerary:-
Where Madoc sailed from to discover America.
Llanberis where there is a stone for President Jefferson
Homes of other prominent Americans
More recent events such as the GI camps in the area and the American sea planes which came across to the Menai Straits.
Fort Belan's interesting story.
The folks at Celticos are making two FREE places available to the winner of our competition. All you need do to secure your place in the competition is nominate your favourite Welsh American or American of Welsh descent. This could be a historical figure, a popular entertainer or an iconic figure of any kind. We will then take a vote on the site and if your nominee wins YOU are the winner of this fabulous prize ( cash value $240 ).
You can claim your prize any time after tours start ( Easter 2013 ) and prizes are transferable SO if you cant get over to Wales for a while you can gift them to family or friends. We are accepting nominations between now and January 31st. Voting will run throughout February and the winner will be announced on March 1st. Post your nominations
HERE
Keep checking back for a series of features on all of the fascinating sites you will visit on this tour. We will be adding one a week between now and St David's Day ( March 1st )
N.B.
Entries from our members in Wales and the UK generally are welcome. Be sure to enter early and pick a likely winner. Pob Lwc :)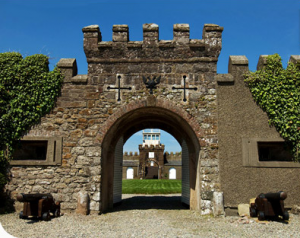 Bonus quiz question:
What is the name of the fort pictured on the left and what is its significance in Welsh and Welsh American history?
Tip:
Search the 
Celticos
website for the answer and post
HERE
No prizes for this I'm afraid.