Credit cards seem to be very common now in Singapore where we can use this as a payment choice almost every where. Credit cards can also be destructive but it is advantageous to those who know how to use it wisely.
As we all know, credit cards have many rewards system and it can be confusing which is a better choice. I personally love cash back options on credit cards which means every dollar I spend, I get a certain % credited back into my bank account or the card itself to use it for other transactions. I even used my card to pay for my university course fees and got a few hundred dollars in cashback.
Regardless if you're going out on a date, watching movies, eating out, buying groceries, travelling, shopping or buying things online, there is always a card which will reward you for your existing spending. This can help to offset some of your expenses.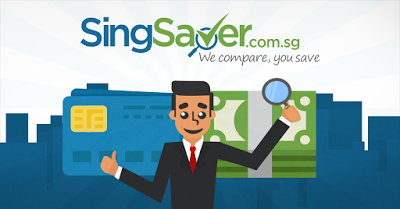 Singsaver helps us compare and see which are the best credit cards available. And for a limited time only, they will be giving away$30* Golden Village or NTUC vouchers when you apply for any of the credit cards now through my blog. Promotion valid for a limited time only. See instructions below on how to get the additional vouchers.
Let's look at some of the best cards below:
ANZ Optimum World MasterCard Credit Card (5% cashback)
($50 NTUC + $30 GV or NTUC vouchers when you apply this month)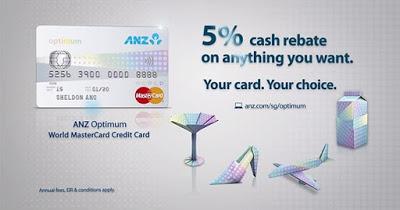 This card gives you on your chosen category per calendar quarter - Dining, Travel, Shopping, Groceries and 1% cashback on all other retail spend. There is no minimum spend required but a minimum of $10 per transaction to earn cash rebate.
This card seems to be a good deal but it is only available for those who earn an annual income of $80,000 or more. If you earn that salary, it is definitely a good card to have. There is also a Online Exclusive until March 17: Up to $168 Cash Rebate + 28" Luggage.

American Express True Cashback Card
($40 Starbucks card + $40 NTUC + $30 GV or NTUC vouchers when you apply this month)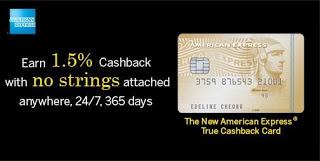 If you do not earn a high income like $80,000 a year, there are still cards which you can get to give you cash back. The American Express True Cashback Card just needs a minimum income of $30,000 and gives for the first 6 months on any spending. There is no minimum spending too. After 6 months, the cash back is 1,5% on any spend. This to me is quite flexible and quite a good way to save on some expenses.
To me, this is the best card for cash back with no strings attached and no minimum spending. You will also get $40 Starbucks card + $40 NTUC + $30 GV or NTUC vouchers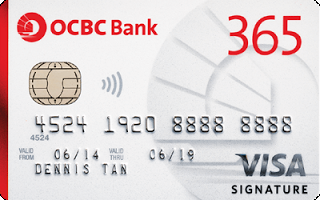 Thinking of going out for a weekday or weekend meal? OCBC 365 credit card gives you6% cashback on weekend dining and 3% cashback on weekday or overseas dining. What's more, it gives 3% cashback on groceries at supermarkets island-wide, recurring telco bills, and all online shopping.
Not enough cashback? Furthermore, there is up to 23.9% and 18.3% of fuel savings all year round at Caltex and Esso stations, respectively plus 5% cashback on petrol on all other petrol stations. This sounds good for all drivers out there who have to pump petrol frequently.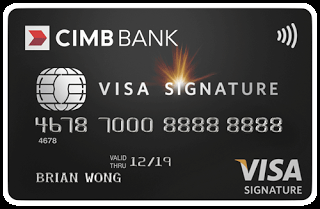 Another card which offers good cashback on dining is the CIMB Visa Signature Card. This gives you an amazing 10% cashback on local dining. The criteria to get the cashback is this: "10% cashback on Wine and Dine and Online Spend in Foreign Currencies. Charge a mininum of $500 with at least 8 transactions of S$30 or more posted within the same statement month. Cashback cap of S$60 per statement month."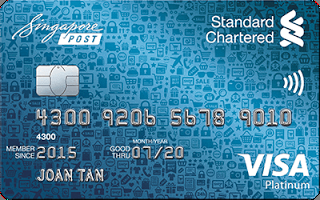 Lastly, how can we miss out cashback on shopping. This is good news for ladies but not only that, for guys who do make purchases online too, you can also get cashback for every online purchases such as air tickets, movie tickets etc.
The Standard Chartered SingPost Platinum Visa Credit Card gives 7% cashback on online purchases and 2% cashback on selected groceries. Just charge a min of S$600 to your card within that statement cycle. I saw that they are also giving out $138 cashback for new customers.
Applying for credit cards can be a good thing as long as we know what we are doing. Problems only come when we overspend without thinking of the consequences. For those who knows what they are doing, credit card is a good tool to earn some cashback and save some money. I've been using it for this purpose all these while.
Besides the above mentioned cards, you can also compare and apply for any credit card of your choice. Apart from getting cashback, you will also get additional GV or NTUC vouchers if you sign up for a credit card and follow the instructions below:
Steps on how to redeem your GV or NTUC vouchers
You can simply refer to this page here and follow the steps to apply for the credit card of your choice and redeem the additional vouchers. It simple, just 3 steps to apply for your card.
Remember you should fill in this last page after applying for your credit card to get the additional vouchers: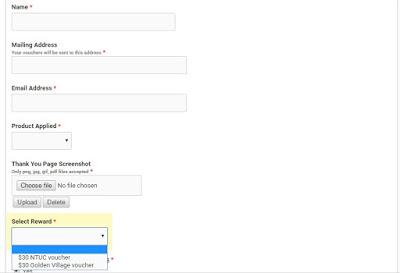 Personally, I would be applying for the American Express True Cashback Card which has good cashback with no strings attached. I can also get the $40 Starbucks card and the various $70 worth of vouchers. Sounds like a good deal to me.
Credit Bureau Singapore also provides credit report for individuals like us to know where we stand in the world of credit. This is important as banks look into the report when evaluating if we can take on more loans or if we are eligible for credit cards. Look out for the next post where I will share how we can get a free credit report for ourselves.