In April, our Community Services Chair was contacted by the American Cancer Society's North Shore Regional Office to help provide some basic needs for breast cancer patients. American Sewing Guild members can help by sewing breast forms, "ditty" bags to hold the fabric breast inserts, pillows and Anti-Ouch pouches.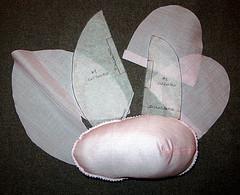 The breast inserts, pillow and bags are used in the American Cancer Society's Reach to Recovery program, in which a recently-diagnosed breast cancer patient is matched with a trained volunteer who has been through the same situation. After meeting with the American Cancer Society Reach to Recovery volunteer, the patient is provided a kit with literature, a breast form (if needed) and a small pillow.
The small pillow is used the help alleviate the arm/shoulder area after the patient has had his/her surgery.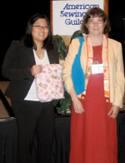 The Anti-Ouch Pouch is a pillow that hangs from the shoulder, fitting snugly under the arm to cushion the area after breast surgery or during radiation treatment.The wedge shape gently holds the arm away from the body when the user is standing. The strap holds the pillow in place without having to use sore arm muscles to "clutch" it. The Anti-Ouch Pouch was also a previous national American Sewing Guild community service.
Links to patterns for all requested items are available online and free to download. When making the breast forms, please use soft, cotton fabrics in neutral shades. The forms and pillows are filled with Polyfill stuffing.
American Cancer Society Breast Form pattern
American Cancer Society Breast Form "Ditty" Tote Bag pattern
American Cancer Society Pillow and Case pattern
American Cancer Society Anti-Ouch Pouch pattern
There's no correlation between the numbers of ditty bags and inserts; they are not "sets". They are all given as separate items to whomever needs them. So, feel free to make just one type of item if it suits your fabric stash or comfort level. To coordinate delivery of completed items, please contact Marge D., Community Services Chair, via 
email
. Additional information can be found on the ASG Chicago main website.
Join Us For A Community Service Sew-In: July 16
Join the Arlington Heights Neighborhood Group on July 16 for a day of community service sewing. They will be sewing Adult Bibs, Pillowcases, American Cancer Society Ditty Bags and Pillows. All fabric will be supplied. You supply the fun! Location and contact information can be found on our ASG Chicago main website's Upcoming Events page. We hope to see you there!