As a jewelry designer and collector it is a real challenge for me to find creative ways to store and display the jewelry that I love to wear. When there are so many choices available to you, it makes it hard to remember what all of your choices really are if they are thrown together in a cramped space.
I am certain that many of you have the same problem, so I thought it would be a great discussion topic for us. I am anxious to read your comments and suggestions on ways that you have discovered for storing jewelry that works best for you.
There is no need to wait to get started organizing. Now that it is the start of fall you can get your favorite pieces ready and on display with some of the following tips.
Look around the house or attic to see what you might already own that will help you get started. Shop for something special and unique, take a look at the fabric covered corkboards at QuirkyGirlz.com and in a couple of days you will have the perfect storage solution at your fingertips.
http://www.quirkygirlz.com/catalog/index.php?main_page=product_info&cPath=1_107&products_id=567&zenid=4b63a1583bdb43f6418612beaec535f9
Storing jewelry can become a real art, but you must remember that some jewelry requires protection. For instance, I store all of my sterling silver jewelry in anti-tarnish bags. This makes it easier for my necklace, earrings or bracelet of choice to be ready-to-go, without taking out the time to remove tarnish that may have occurred since I last wore it. One only has space for a certain amount of chests and ordinary jewelry boxes.
There are do-it-yourself less expensive ways to obtain the same goals. One of the ways that I prefer to store some of my necklaces is to utilize fabric-covered corkboards. It is easy to rearrange thumbtacks to fit the length of the necklaces that I choose to display. It is a decorative way to do so because you can choose the fabric that fits best with your décor. It keeps your finer chains from becoming tangled and your favorite jewelry is ready to wear at your fingertips.
Another technique you may find helpful is to use a belt hanger that makes your necklaces easily accessible and near your clothing. Chunky necklaces don't easily fit into a standard jewelry box and a belt hanger is the perfect choice for these types of jewelry. This method makes it easy to choose your clothing and accessories all in the same place.
You can dangle or hang a necklace from virtually anything you can think of. A straight bar such as a decorative towel rack works great. You can hang the necklace over the bar or use shower hooks to suspend them from individually. It becomes a little jewelry closet! You are able to mount this rack in a portion of your room that works best for accessibility and that fits best with your decorative desires.
If you have the space, and care for a little vintage allure, you can always find an old wooden ladder, paint it in fun colors and use it to display your jewelry. Another option is to choose an attractive photo frame and fill it with cork, chicken wire, chain, ribbon or anything attractive you may discover that will easily allow you to hang from it.
A simple and pretty way to store wire fishhook earrings is by hanging them from the rim of a pretty vase. You can put decorative glass bits or attractive rocks in the bottom of the vase and instantly becomes functional and attractive on the top of your vanity or chest. This also keeps your earrings matched together, and prevented from tangling.
I have heard that some ladies like to use ice cube trays in a drawer to store post earrings. This is an inexpensive way to keep them together and easy to find. Some choose to use antique dishes such as teacups, but office organizers can also work well for this purpose.
You must remember though that anything that is strung on silk thread (such as pearls) will stretch and are best stored flat. Keep them in boxes or bags, and if they contain sterling silver components, use an anti-tarnish bag. My pearl necklace designs are strung on silk thread, but all of my other necklaces are strung on a strong coated wire and do store well when they are hung.
There are many fun display and storage solutions for bracelets. A decorative bottle, perhaps a wine bottle that was shared on a special occasion, works great to display bracelets on. This works especially well for bangles, but not for bracelets that are fine chain and might easily get tangled with others.
I have a special drawer that I store heirloom and gifted pieces. I like to store them in their original boxes. Of course if they contain sterling silver I place them in an anti-tarnish bag first.
Just remember that your pretty jewelry is designed to be displayed, if you are not wearing it, show it off in a decorative way in your home. It is certain that if you can see what you have you will wear it more. Spend more of your budget on the jewelry itself, not in the containers to store it.
For more jewelry storage ideas, visit the following links:
Bravegirlsclub.com
Smartandsassywithsprinkles.blogspot.com
Brokenandhealthy.com
Onewomanshaven.blogspot.com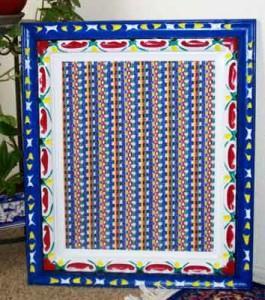 Fabric covered cork board from QuirkyGirlz.com makes an easy way to display your jewelry.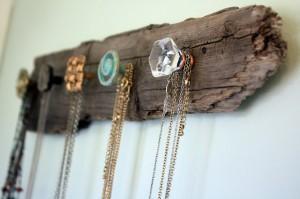 A rustic and interesting jewelry display idea.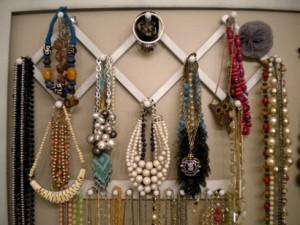 This accordion solution is an inexpensive idea for jewelry storage.