The clasp is everything! How to choose the perfect necklace clasp when buying or making handmade jewelry; necklace or bracelet.
You may be searching for the perfect clasp for your handmade jewelry design, or looking to buy jewelry. Either way you should know that the clasp that is used is important for many reasons.
Clasps are more than functional components; they are an integral piece in every design. It's true, they are used to connect two ends together and make it possible to fit easily around your neckline. But, the ease of use should be considered too. Have you ever tried to put a necklace on by yourself that has one of those tiny spring clasps and given up on the idea of wearing it because it was just too difficult to fasten?
It is my opinion that the clasp used in the jewelry design can tell you much about the quality of the piece. There is nothing I despise more than a pretty piece of jewelry with a poor quality clasp. If you are creating beaded handmade necklace designs, I encourage you to choose a quality clasp. You will thank me later!
I like to choose a clasp based on the beads used within my semi-precious stone jewelry. Most often you will choose a clasp that resembles the diameter of the main beads you have chosen for your design. If you are using large, semi-precious stone beads you will want to choose a sturdier clasp that will hold a heavier necklace securely.  A decorative clasp may be an important element in your overall design, or you may choose a subdued design that will keep it from overpowering the jewelry. If you are creating a handmade women's necklace or bracelet, remember that the length of the clasp must be factored into the length of the finished piece.
Clasps are available in a variety of materials to include; gunmetal plated, copper plated, silver plated, gold-plated, rhodium plated, nickel-plated, sterling silver, sterling silver filled, gold filled, 14 and 18 KT gold, vermeil, pewter, stainless steel, solid gemstone, and bone.
To follow are some types of clasps available to utilize for custom jewelry designs, or that you may find utilized in mass-produced jewelry.
Hook and Eye
These are the oldest style clasps on the market. They can be purchased in a wide variety of designs, styles and patterns. It is an easy-open clasp and works well for necklaces. These clasps will often come with an attached length of chain so that they may be easily adjusted for length. Often you will find these in decorative and plain designs.
Toggle clasp
This type of clasp works well for both bracelets and necklaces. It consists of two pieces, a bar and a ring. One of the pieces can be a variety of quirky shapes but often it is a simple circle while the second piece is a bar shaped into a "T". To fasten the clasp, you feed the "T" shaped bar through the ring. This clasp holds securely and has an elegant look.
Lobster Claw Clasp
This type of clasp will often be used in fashion jewelry, and works well for a basic, light to medium weight necklace or bracelet design. This type of clasp features a spring-loaded design and come in a variety of shapes, sizes and styles.
Follow this link for an example of a lobster claw clasp that is used in a necklace design:
http://www.quirkygirlz.com/catalog/index.php?main_page=product_info&cPath=76_98&products_id=208&zenid=4b63a1583bdb43f6418612beaec535f9
Magnetic Clasps
Just like it sounds, these clasps use two pieces with magnets enclosed.  These types of clasps are very secure and come in small and large sizes. Women love this type of clasp because they are so easy to open and close and hold jewelry securely. There is also healing properties associated with magnets, which make them an attractive choice. I use magnetic clasps in many of my handmade jewelry designs.
S-Hook Clasp
Two jump rings are used to attached an "S" hook clasp, which bears the shape of an S. They come in many size choices and often have a decorative element. It is simple and easy to pinch one half of the "S" hook closed to hold it securely and pull it open again so this is another great choice when seeking a clasp that will make it easy to put on and take off necklaces. This type of clasp is another one of my favorites that I have used often in my jewelry designs. They are both hardy and pretty.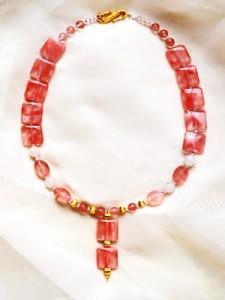 Cherry Quartz necklace by QuirkyGirlz.com featuring an S-hook clasp.
Swivel Clasp
This type of clasp is a sister to the lobster claw clasp except it contains a swivel on the bottom that will allow it to twist 360 degrees while still allowing the clasp to stay in place. This type of clasp is perfect for ankle and wrist bracelets.
When making handmade jewelry or buying another designer's piece, remember that the clasp is important. I hope this post has been helpful in guiding you when choosing the perfect clasp.
I look forward to your comments. Do you have a favorite type of clasp?
Until next time,
Quirky Girl
http://www.QuirkyGirlz.com