As a jewelry designer I often look to history for inspiration. What better place to begin but with Hollywood? Motion Pictures have been setting trends in necklaces, bracelets and earrings since the beginning of the big screen. Television actresses and movie stars still set trends for the jewelry many women desire today.
If you are a fan of classic movies you may notice how much magnificent jewelry was worn and how important it was to fashion trends of the time. What you may not know is that most of the glamorous pieces that you view in the movies are costume jewelry, made of glass, and base metals.
Costume jewelry can be characterized into three periods, the Art Deco period (1920's-1930's) the Retro period (1935-1950) and the Art Modern period (1945-1960).
The Art Deco movement was sensitive to design and art, even though it was mass-produced. Jewelry from this period had a more symmetrical and geometric theme. Pendants were especially long, large cocktail rings and bangle bracelets were popular and this was the era where plastics were introduced. Jewelry produced in art deco would often showcase bows, sunburst designs, and flowers with a distinct Hollywood flair.
The Modern Art period (1945-1960) was a time when more traditional and understated jewelry was all the rage. This is when designs would utilize many rhinestone, poodle pins, and charm bracelets.
Jump forward to the 1980's when television began to influence costume jewelry design. The popularity of Dallas and Dynasty brought into popularity large bejeweled pieces, which were later frowned upon in the 1990's.
One of the earliest and most popular costume jewelry designers was Joseff of Hollywood. When he appeared on the Hollywood scene in the 1930's more elaborate jewelry began appearing in the movies. He was responsible for approximately ninety percent of the jewelry that was worn in the movies in the 1930's and 1940's. Before his arrival, starlets would wear their personal jewelry or stylists might pick up pieces from a retail store. . Stars such as Elizabeth Taylor, Bette Davis, Vivien Leigh, and Jane Russel wear Joseff designs. Before Joseff, jewelry worn in the movies might not match the era that they were trying to depict.
Joseff of Hollywood was a wise businessman, he kept all of the pieces he designed and rented them out, thus more easily covering the cost of the original piece. He was famous for using a bezel set in his jewelry designs because he stayed true to the older period pieces that he was emulating. I found this interesting because the sterling silver that I design and make today is bezel set utilizing the same hand techniques that Joseff used. http://www.quirkygirlz.com/catalog/index.php?main_page=product_info&cPath=113&products_id=686&zenid=4b63a1583bdb43f6418612beaec535f9
Joseff began getting requests from actresses for copies of the pieces that they had worn in their films. Then women would see famous actresses wearing this jewelry in photos that were featured in popular magazines of the time. Women would desire to be able to afford something like this for themselves. In 1937 Joseff realized that he could expand his business to retail and began selling his pieces in popular department stores such as Macy's, Neiman Marcus, Woolworth's and Nordstrom's.
Another popular designer was Coco Chanel who after a long career died in 1971. She was a fashion designer who made it popular to wear costume jewelry. She was honored as the only fashion designer on Time magazine's list of the most influential women of the twentieth century, and her designs are still popular today.
Coco's jewelry often used the look of gold metal with pearls. Coco often wore multiple strands of pearls and championed costume jewelry that were made of beads, glass and chain. She wanted to make jewelry more affordable so that women could easily accessorize all of their outfits and felt that costume fashion jewelry was provocative.
In the 1960's Detroit, Michigan born Kenneth Jay Lane created unique designs for Audrey Hepburn, Jackie Onassis, and Diana Vreeland. He was originally a shoe designer for Christian Dior but made jewelry in his spare time. He became famous when Jackie Kennedy wore a three-strand faux pearl necklace he designed when her husband was president, and Barbara Bush later wore a version of this necklace to the George Bush inaugural ball.
Fashion costume jewelry is still popular today, and the choices in ladies fashion accessories abound. I enjoy taking a look into the past and I often incorporate early ideas into my handmade semi-precious jewelry designs. This is a way that women can support handmade while affordably obtaining fashion trends. Handmade jewelry offers a woman the opportunity to look like a star while wearing real semi-precious stones and metals instead of mass-produced designs of plastic and questionable metals that could be harmful.
I admire the work of the designers that changed the look of fashion through Hollywood Movies. Do you remember or desire a piece of jewelry you saw an actress wear in a recent movie? Do you remember a piece from history worn by a favorite actress that you always loved? Let's talk! For more interesting facts about Hollywood jewelry you can check out this link.
http://www.collectorsweekly.com/articles/lost-hollywood-jewelry-trove-uncovered/
Till next time,
Quirky Girl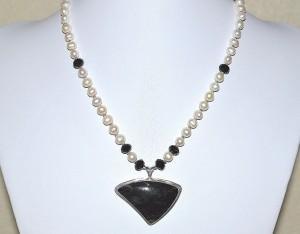 Bezel set stone, Pearl, obsidian, sterling silver pendant necklace by QuirkyGirlz.com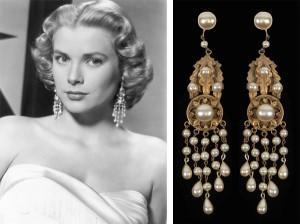 Earrings worn by Grace Kelly in 1956 movie High Society