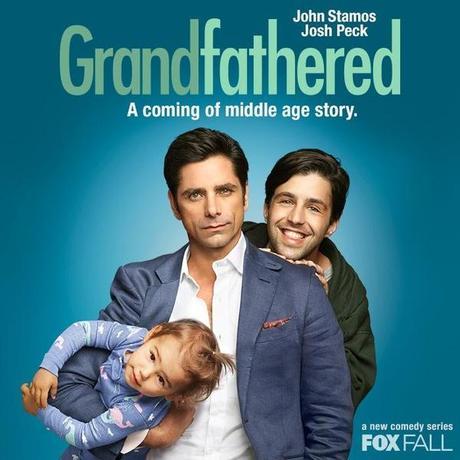 One of the fun things I did at the BlogHer conference was attend a preview screening of the FOX sitcom, GRANDFATHERED. This series will premier Tuesday, September 29th at 8/7c, but a few of us attendees got to hang out in a conference room and watch it early on the big screen. John Stamos plays Jimmy Martino, a successful restaurateur and ultimate bachelor. The show starts with Jimmy plucking a gray hair and admiring his reflection in the mirror. He's used to being the most suave and good looking single guy in a room, who charms every woman he meets. All of this changes when Jimmy finds out that not only does he have a son (Gerald, played by Josh Peck), but his son has a little daughter named Edie.

I was already happy to chill out, drink some wine and watch me some dashing John Stamos, but I was really entertained by the show. Many times I whipped out my phone to jot down a hysterical line from it. One of my favorites was, "Parenthood is an endless stream of moments when you think you killed your kid." Another was when Gerald's mom says, "I'm cool, I watch Portlandia." Stamos' character is a stylish man, and there were many funny lines about fashion (and Peck's character's lack of style). There were also some amazing celebrity cameos; I won't ruin it for you but it's quite a variety (nope, no Beach Boys you Stamos/Full House fans!). I must say I liked all the characters in the show, the attention to detail, how it was a cute feel-good sitcom without being too cheesy or syrupy.
After the show, Josh Peck joined us and answered all of our questions. Not surprisingly, many of the questions from the women in the audience were about John Stamos. He said Stamos is a great guy, and gives great advice. One thing John Stamos told Josh Peck was, "Don't be trendy. Trendy will bite you in the ass in five years." Great advice for a grown-up child star trying to make a fresh name for himself, but also for the rest of us! I was impressed with Josh Peck, who was charming, funny, and able to be completely off the cuff.
Don't miss the series premiere of GRANDFATHERED Tuesday Sept 29 at 8/7c on FOX. To learn more about GRANDFATHERED, check it out on Facebook, Twitter, Instagram, Google+ and join the conversation on social media with the hashtag #Grandfathered.