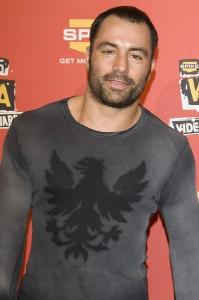 Comedian Joe Rogan
Comedian Joe Rogan will perform at the Thomas Wolfe Auditorium Saturday.  You can now get $10 off the ticket price at Ticket Master, with the discount code EXPERIENCE. Just be warned with all the fees it is probably still cheaper to just buy them directly from the box office.
You may know Joe Rogan from NBC's Fear Factor or his ringside job with UFC. Hell you may even know him as Gale in the best zoo movie ever made, which of course is Zookeeper.
But for those that listen to his podcast The Joe Rogan Experience, know there is quite a bit more to Rogan than some guy, who hosts a TV show where idiots vomit after eating gross stuff. In fact Rogan admits to being baked during the majority of Fear Factor tapings.
From Rogan's Bio:
 Rogan's other true love is standup comedy. As a standup comedian for nearly 20 years Joe Rogan has honed an inquisitive and intense comedic style. He exudes a mad joy for life in all its insanity and revels in the art of standup comedy to explore the world with raw honesty. This has made him a national headliner, a favorite performer at the prestigious Just For Laughs Festival in Montreal and a guest on "The Tonight Show with Jay Leno," "Late Night with Conan O'Brien" and "Jimmy Kimmel Live." In 2000, Rogan released his debut comedy album, "I'm Gonna Be Dead Someday," on Warner Bros. Records. In April of 2007 he released a follow-up CD, "Shiny Happy Jihad" on Comedy Central Records. Rogan's debut DVD "Joe Rogan Live" aired on Showtime in the spring of 2007.

Rogan resides in Los Angeles and regularly performs stand-up locally and nationally.
It should be a good show. I just wish shows at Thomas Wolfe were a little cheaper.
Here are some clips of Rogan performing: