Colourpop Ultra Matte Liquid Lipstick Bumble and More Better are two of the four liquid lipsticks I have from Colourpop. I shall do another blog post reviewing Mars and First Class as I didnt want it to be a very picture heavy blog post.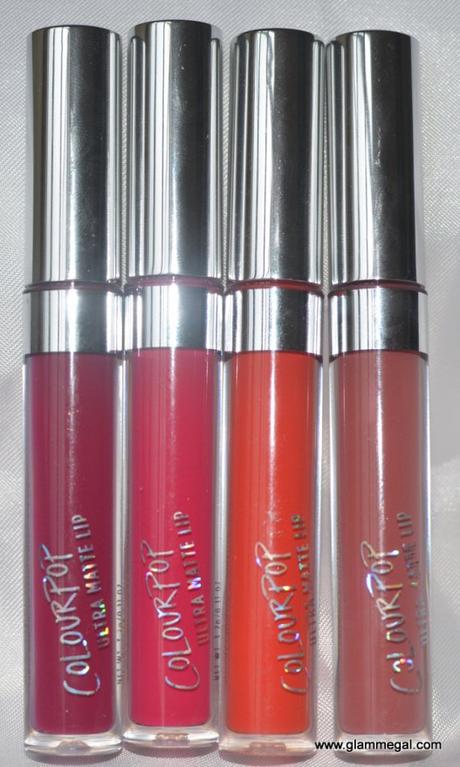 colourpop ultra matte liquid lipstick in more better, mars, first class, bumble
Priced at $6 these are very budget friendly and the affordable provided they start worldwide shipping. i do not know why they do not start worldwide shipping. Anyway that is not in our hands but there are resellers on Instagram thank goodness and you can get these beauties for around 700 INR. I know that is double the price but even then its a good deal I would say, given that we do not have many liquid lipsticks on the Indian Drugstore market.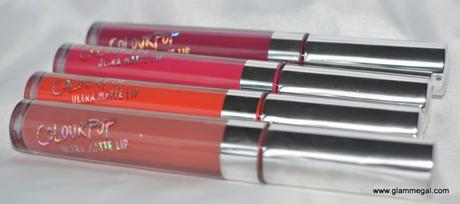 Colourpop Ultra Matte Liquid Lipstick
Coming back to these, the first thing I would like to say is the color variety Colourpop offers is simply amazing. i had such a hard time picking up the colors I wanted them all. Bumble and More better what I shall review in this post.
Liquid Lipsticks are DRY AF..pardon my language though but that is what they are extremely dry. The one good thing that has happened though is that I regularly exfoliate my lips now because if you want to use liquid lipstick you have to exfoliate your lips else these will cling to your dry patches like nobody's business.
I found Bumble to be a bit more drying than More Better. But that being said I love Bumble the most. Its such a flattering shade and I always get asked when I am wearing Bumble what is on my lips. Bumble is a soft dusty mauve rose kind of a liquid lipstick, its a very wearable everyday kind of lipstick. Bumble also happens to be my current favorite lipstick.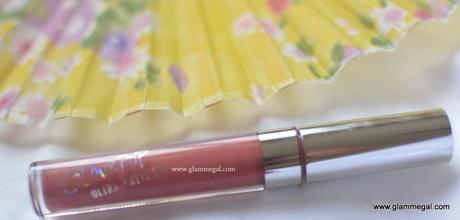 Colourpop Ultra Matte Lipstick Bumble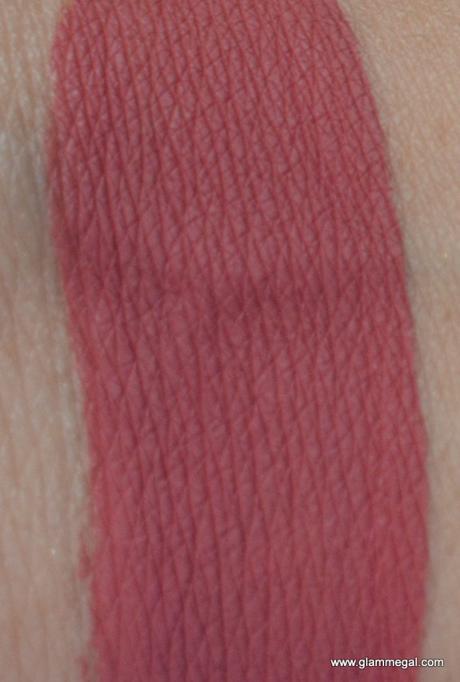 Colourpop Ultra Matte Lipstick Bmmble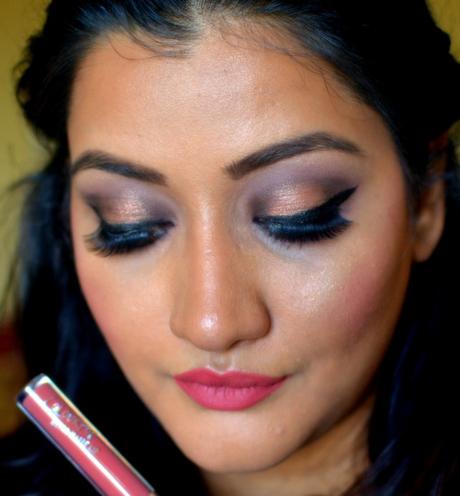 Colourpop Ultra Matte Lipstick Bumble
More Better is a rich mid tone  (is that a thing?) berry colour, it is a bit dark but not so dark as to come in the goth category, still very wearable. I used this lipstick in my valentine's video. In case you are interested you may check the video here.
So staying power wise these are pretty long staying but again drying; so apply a lip balm or thin layer of vaseline underneath is really recommended to make it a bit less drying. And again as I mentioned exfoliating is a must otherwise they will appear very very dry on the lips and that my girlfriends is not a pretty site. Bumble and More better both glide on the lips very smoothly and you really dont need a whole lot of product to cover the lips, if you however wish to get a darker look wait for the first layer to dry and then apply the next coat.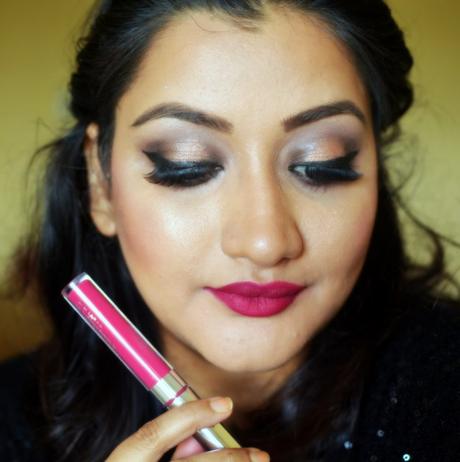 Colourpop More Better Lipstick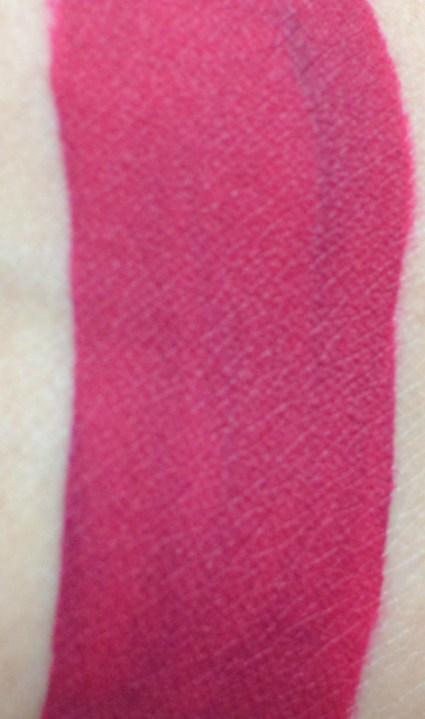 Colourpop Ultra Matte Liquid Lipstick More Better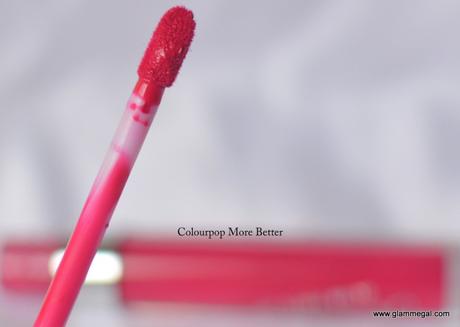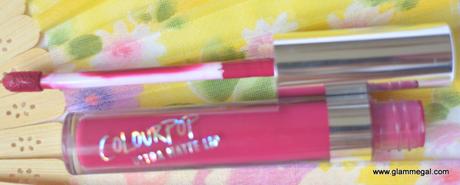 Colourpop Ultra Matte Liquid Lipstick More Better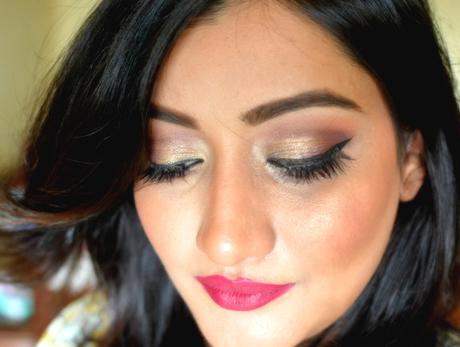 Colourpop More Better Review
Removing these pigmented liquid lipsticks can be a task too. So apply a generous amount of vaseline on your lips and it will help break the product and removing it would be a piece of cake.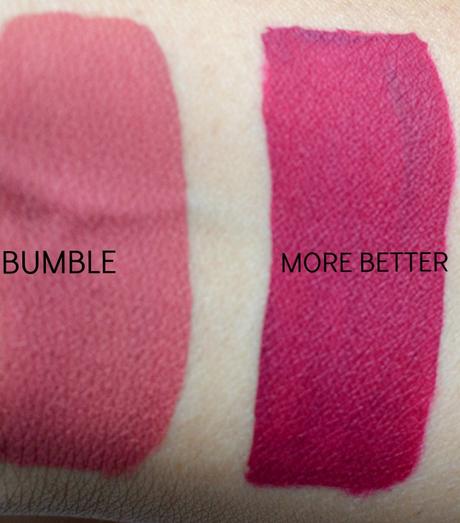 Colourpop Ultra Matte Lipstick Bumble & More Better
I love love love these Colourpop Hydra Matte Liquid Lipsticks because the colors are fabulous and price point is just great. Only thing is it is drying, so I always apply a lip liner or lip balm or a thin coat of vaseline and then its all good.
One big question is that where to buy Colourpop makeup in India.
There are many Instagram resellers you can check on the Instagram app and also they have Facebook pages where you can check them out.
Nowandwowchennai
Beautytales.in
La Makeupaffair
I have done a video review on the Colourpop Ultra Matte Liquid Lipstick.
Check it out here
Related
You Might Also Like
MAYBELLINE PARK AVE PEACH LIPSTICK : MLBB LIPSTICK
NYX Liquid Suede Cream Lipstick Vintage Review
Maybelline Baby Skin Instant Pore Eraser review | How to reduce the appearance of pores
Sleek Blush by 3 Pumpkin Review
Bourjois Rouge Edition Velvet Lipstick Nudeist 07
Faces Metaliglow Eye Primer Review
COLORBAR VELVET MATTE LIPSTICK PEACH CRUSH REVIEW, SWATCHES
GIA BATH AND BODY WORKS OATMEAL MILK AND HONEY SOAP REVIEW
Tags:
budget liquid lipstick, colourpop more better, colourpop ultra matte first class, colourpop ultra matte lipstick bumble, colourpop ultra matte lipstick swatches, colourpop ultra matte liquid lipstick, colourpop ultra matte mars, drugstore liquid lipstick, glammegal, Indian beauty blogger, liquid lipstick, more better review, where to buy colourpop, where to buy colourpop in India