Hello hello! This post is going to be on Colourpop Cheerio Super Shock Cheek blush. But first things first. Colourpop oh Colourpop why art thou so hard to obtain. Anyway, hey everyone. So we all know Colourpop we all love Colourpop and we all HATE  Colourpop. Well just a teeny tiny bit of hate because they are so damn hard to get your hands on, because they dont provide worldwide shipping. My sweet friend from US sent me some Colourpop goodies along with other makeup stuff I ordered a while back. You can check the video here.
Moving on to this blog post which is about the Colourpop Cheerio Super Shock Cheek review. Lets get going
Coloupop Cheerio Price: $8
Colourpop now does worldwide international shipping.
Coloupop Cheerio is described as a deep cranberry satin finish blush. I quiet liked the color because I dont have any such color in my blush collection and I am glad I got this unusual color of blush. Cheerio has  gold and fuchsia micro glitters which was so unexpected and it adds such a pretty sheen to the look. It gives such a warm flush of color to the cheeks its just very pretty.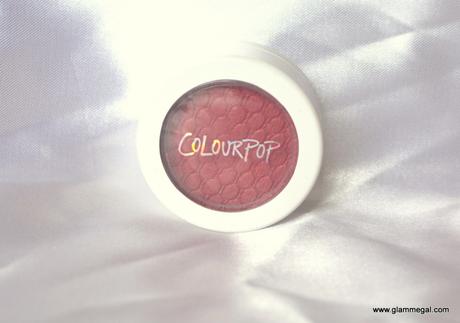 Colourpop Cheerio Super Shock Cheek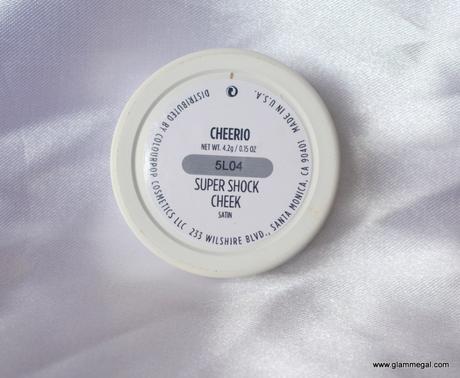 Colourpop Cheerio Super Shock Cheek
Texture and Application:
Colourpop products ( eyeshadows, highlighters, blush) are an unusual cross between cream and powder. They are not quiet as creamy as the NYX cream blushes and once applied they blend as a powder blush. These are best applied with your fingers, but if you are like me and dont like using your fingers the best way to apply these blush (es) are using a stippling blush, especially for this deep colour, it gives good control for the blush application. The stippling blush is your best bet for Colourpop blushes and highlighters.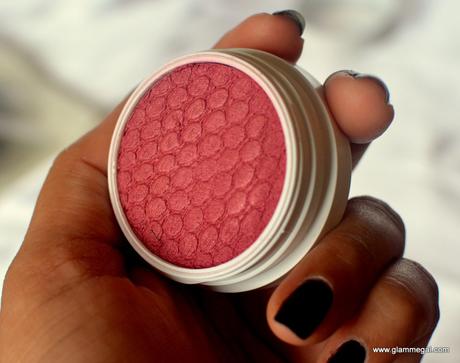 Colourpop Cheerio Blush Super Shock
Pigmentation:
Colourpop Cheerio Super Shock – blush is a deep berry color which is not overly pigmented blush but sufficiently so, if that makes sense and because of that its suitable for a wide range of skin tones. Its not super opaque but definitely buildable.  The blush feels very light weight on the skin. This blush is perfect for light to medium to even deeper skin tones.
Final thoughts: I really do like and enjoy this blush a lot. The color is very rich deep berry which is not your regular pink and coral blush.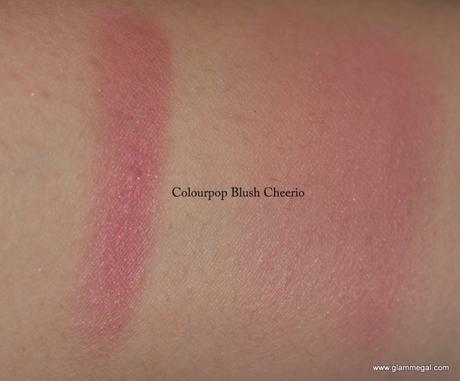 Colourpop Super Shock Cheek Cheerio
Related
You Might Also Like
Morphe Brushes 35 W Eyeshadow Palette Swatches Review
Makeupgeek Cocoa Bear Review, Swatches and Makeup look
Maybelline Baby Skin Instant Pore Eraser review | How to reduce the appearance of pores
The Balm Instain Blush Toile Review
Estee Lauder Dominant 430 Pure Color Envy Sculpting Lipstick Review Swatches
Faces Metaliglow Eye Primer Review
LOREAL COLOR RICHE LIPSTICK 290PLUM PASSION REVIEW, SWATCHES AND FOTD
GIA BATH AND BODY WORKS OATMEAL MILK AND HONEY SOAP REVIEW
Tags:
blush for deeper skintone, cheerio colourpop blush, colourpop blush cheerio review, colourpop blush review, colourpop cheerio review swatches, colourpop super shock cheek cheerio