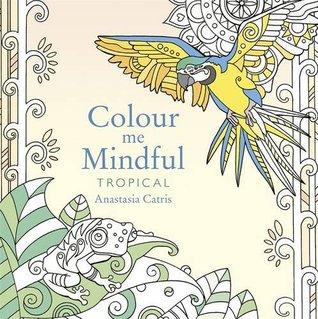 These intricate and beautifully detailed line drawings of tropical scenes are ready for you to bring to life. Relieve stress, practice your mindfulness, and discover your creative side as you unplug and slow down by filling these exquisite pages with color.
No matter our age, useful mindfulness techniques can help re-center us amidst a world of noisy stimuli constantly vying for our attention. Coloring can act like a tranquil meditation—relax and unwind with this calming coloring book for adults featuring beautifully detailed line drawings and designs of this tropical paradise.
Make your mark—inside or outside the lines—with these fifty beautiful black and white illustrations of exotic lizards, breathtaking birds, and other amazing jungle life just waiting for your gentle touch to bring the soothing cadence of the tropics to life.
Don't miss the other adult coloring books in the Color Me Mindful series: Color Me Mindful: Underwater and Color Me Mindful: Birds. Join the coloring craze!
MY REVIEW:

Color Me Mindful: Tropical by Anastasia Catris
My rating: 5 of 5 stars
Color Me Mindful – Tropical- by Anatasia Catris is a 2015 Gallery Books publication. I was provided a copy of this book as an XOXpert- The official street team of XOXO After Dark.
I have, like many others, fallen in love with the Adult Coloring Book phenomena. I never realized until I tried it, how relaxing coloring in all these wonderful patterns could be.
I love the patterns in the 'Color Me Mindful- Tropical' coloring book. There are 64 pages and 50 tropical themed intricate patterns. Adult coloring has helped me maintain focus and concentration, as well, as coordination skills, which is especially important at this stage in my life. Sticking with a tropical theme, the shapes including frogs, butterflies, surfboards, palm trees, and seahorses, just to name a few.
This book offers hours and hours of entertainment, fun, and stress relief. I have also had fun with other family members as sit down as a group to color, providing a relaxed atmosphere to visit, and enjoy the company of others.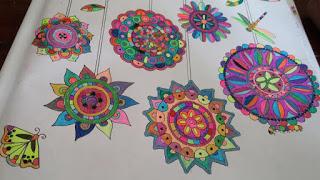 Map colors, felt markers, or gel pens all work great, but I would advise against certain markers due to the possibility of bleeding through to the next page.
I am really enjoying this adult coloring book which as large shapes and less time consuming sections mixed in with smaller, more intricate patterns and shapes that take longer to complete and require a bit more concentration.
If you are into Adult coloring books, then you know how much fun they are and you will want to add this book to your collection. If you haven't joined in the Adult Coloring Book community yet, this book is an excellent choice to start with since it provides both simple and more challenging patterns. Once you've tried it, you will find yourself feeling more creative, feeling less stress, and will feel much more relaxed as a result.
GET YOUR COPY HERE:
http://www.amazon.com/Color-Me-Mindful-Anastasia-Catris/dp/1501130897/ref=sr_1_2?ie=UTF8&qid=1442781159&sr=8-2&keywords=color+me+mindful-tropical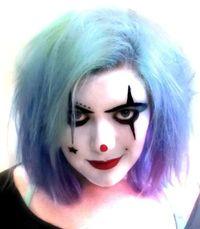 http://xoxoafterdark.com/