The Canali spring/summer 2014 menswear collection was an extremely pleasant surprise to us, as it showcased  elements we were long waiting to see. Bright colors, slim shapes, and well-chosen accessories were the marks of this collection.
Even though Canali surprised us with choosing to tuck cardigans into double-pleated trousers, a situation you won't see much in real life, the collection still worked well. At first, it appears that the collection is designed for older man, but seeing how great it works on young models, we can conclude that the collections is designed for mature men. And maturity can come at any age.
The main colors of the collection were blue, greys and occasionally reds and other warmer colors. There are many interesting patterns to be found, mixed with both pale and strong solid-color pieces.
The people at Canali claimed the collection was "designed for a multi-faceted man of the world" and in a way we can say that they have reached that goal. The details, such as the shoes, were absolutely incredible and work for any many who wishes to be under the spotlight, the center of attention.
The collection is subtle yet powerful in terms of accessories and colors and is a hallmark of quality the modern man should regard as a staple. We loved the tie pins worn under jacket breast pockets or on lapels.
The fine tailoring of the clothes has a certain sense of humor to it, featuring dreamlike colors and shapes and outstanding fabrics. From crocodile belts to deerskin bags, we can see it all and it's a rather outstanding picture.
To conclude, we can say that this collection is a very youthful yet refined addition to the SS 2014 season in men's fashion.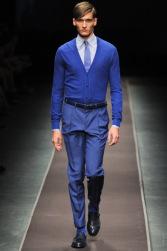 This look is very intriguing, as you would probably not attract much positive feedback on the street wearing a sweater in your pants, bu Canali makes it work. Also, love the shirt and tie combination!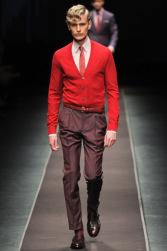 If this model can work red so greatly, so can you!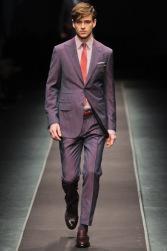 This is one of our favorite outfits. The overall suit is subtle, but the tie supports it and makes it all glow.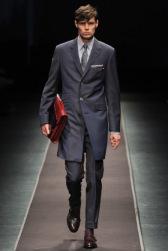 Even though this outfit is all grey, it absolutely stands out because of the amazing accessories: the bag, the tie, the chain and the pocket square.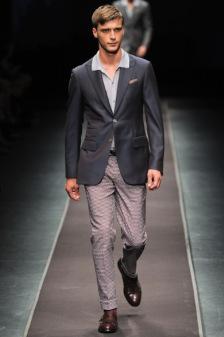 A more casual look, showcasing an open shirt and fantastic pants.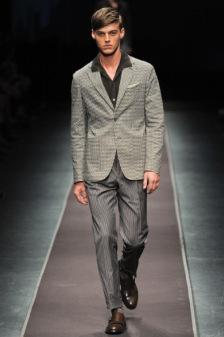 Two prints mixed well.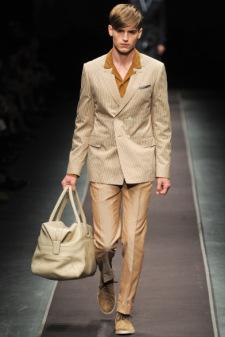 Adding different shades of the same color is the ultimate sublimity. An outfit that works in a surprising way!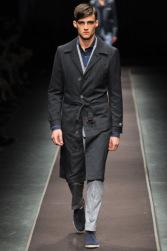 A wonderful outfit, sustained by it's layers and choice of fabrics and cut.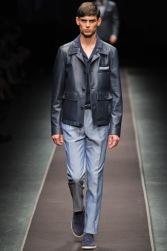 The reason we love this outfit is because it basically brings a new breath to the concept of the leather jacket. It's a new type of leather jacket, perfect for the spring.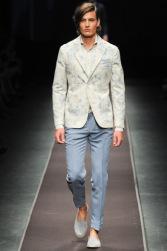 The lesson from we learn from this outfit: wear a nice pattern and match it to a solid-color piece in one of the colors of your pattern.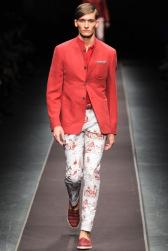 Styled to the extreme: a very bright outfit for brave men. Amazing combination of jacket and pants.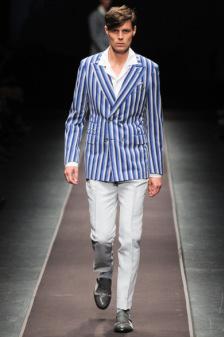 It looks like stripes can be redefined! Just when we thought we had seen it all, along came this jacket. Absolutely amazing and proper for the modern man!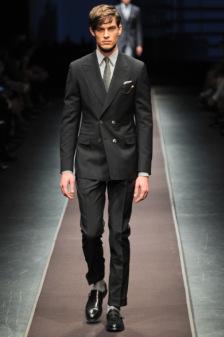 A slim double-breasted, well-accessorized suit for the modern man.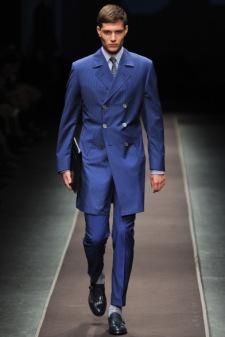 Blue was one of the main colors we've seen in this collection and it was always done right!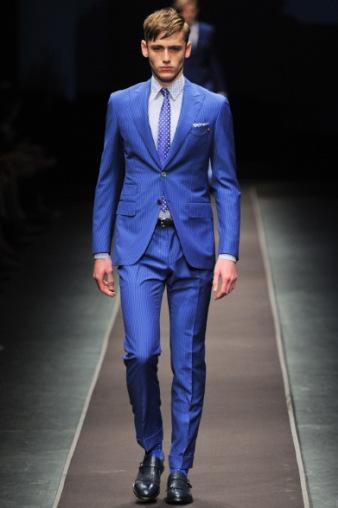 Subtle patterns, nice accessories and a slim cut is all you can ask from a suit.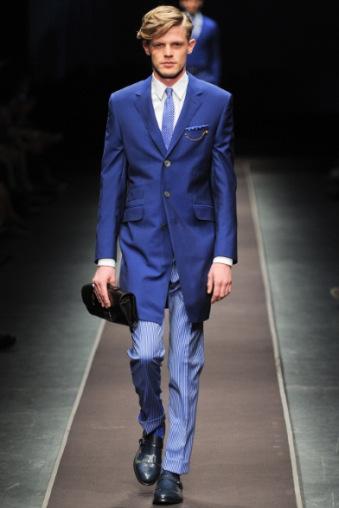 Canali proposes a new approach to classic pieces, accessorizing them and going a step further. A male clutch? Who would have thought?
Fraquoh and Franchomme
P.S. What do you think of the collection? Share your comments below!
Share on Tumblr
0