Earlier this year, I purchased a 1930's Dionne Quintuplet on eBay. (My second of the year– see the first here.) Made from 1935-1939, the Dionne Quintuplet dolls were big business for Madame Alexander and other doll brands of the time. For me, I've always loved their adorable hand painted faces. This particular auction listing tugged at my heartstrings. The seller said that this beloved Dionne Quintuplet was a prized possession of her elderly friend. Because she had no one to pass this Quint on to, she had decided to sell it to help with medical bills and the like.  The Quint had clearly been loved by this lady and I'm a sucker for a good story, especially when they throw in that they have no one to pass such a treasured item on to within the family.
I didn't ask many questions about the quality of this quint, because the price was low enough that I could get her restored. On arrival, I noticed that she was definitely in need of a few more repairs than I thought. She was completely unstrung and needed some of her composition repaired around her hip and on her foot. She needed to have some work done around her eyes, too, because some of her paint had rubbed off. (That, of course, I knew from photos.) Here's a shot of her taken after she arrived to my house. Notice she's missing eye brows and eye lashes.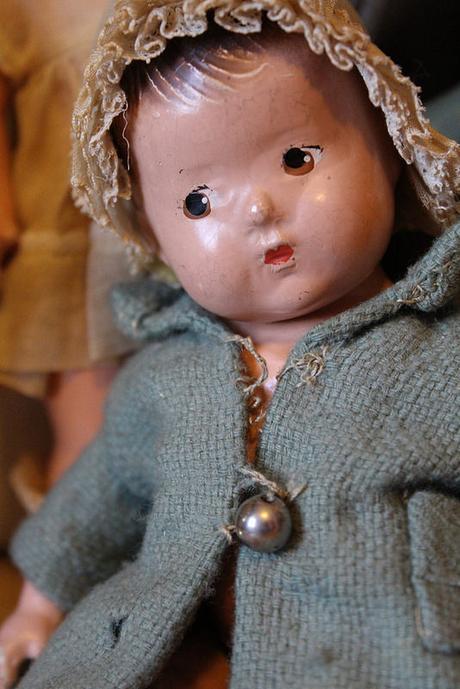 So, in search of a doll doctor I went. Dr. Noreen had been on my radar because of the work she'd done in the past restoring dolls under the Tonner umbrella. She recently left Tonner's doll hospital and is now working out of her own storefront. (See her in action during her Tonner days in the video below!)
Dr. Noreen was amazing. She restored my Quint in record time and kept me in the loop on the restoration through e-mail and facebook updates. Not only that, her price for the work was much better than I anticipated. At no time during the process did I ever feel worried about my doll, which says a lot! More on where you can find Dr. Noreen below. But first, are you ready to see the newly restored Dionne Quintuplet?  Here she is!
She was restored beautifully! Look at this darling little face. Both Dionne's in this post are composition. Prior to collecting hard plastic dolls, I had assumed composition dolls were super fragile. After handling a few, though, I'm amazed at how solid they are! Think about it– these two dolls have survived 80 years with only minimal damage. Think of everything that's happened between now and 1930. This doll has literally seen it all. That's one of the reasons I love this kind of doll. They carry so much history with them. (If only they could tell us all about it!)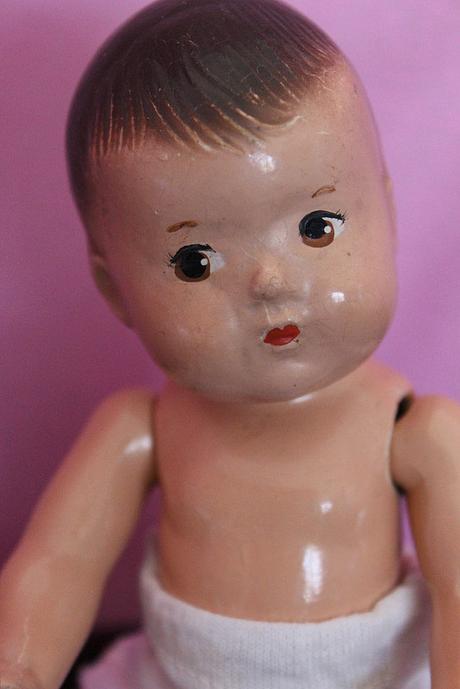 Here she is with her sister, a Dionne with real hair. (And when I say real, I mean it. This doll is usually listed as having a human hair wig!) While the doll with painted hair is meant to sit, the real hair version has legs that welcome standing. Adding these two dolls to my collection means I have successfully acquired another item on my grail list!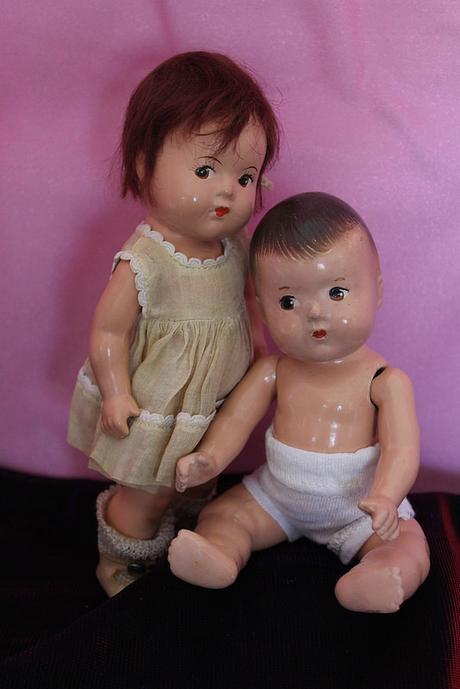 Because I was so impressed with her passion and professionalism, I asked Dr. Noreen if she'd do a spotlight here on the blog and she agreed. Below is a quick Q and A I did with her over email. If you're looking for a doll restoration artist in the US with talent and experience, visit her website! She did an amazing job on my Quint and is highly recommended!
Question: Tell us a bit about yourself and how you become interested in doll restoration.
Answer: I owned my own doll shop and doll hospital years ago and found that all my enjoyment came from the repair and restoration side of the business. Since I was very young, I always loved to rescue dolls (dogs and cats, too)!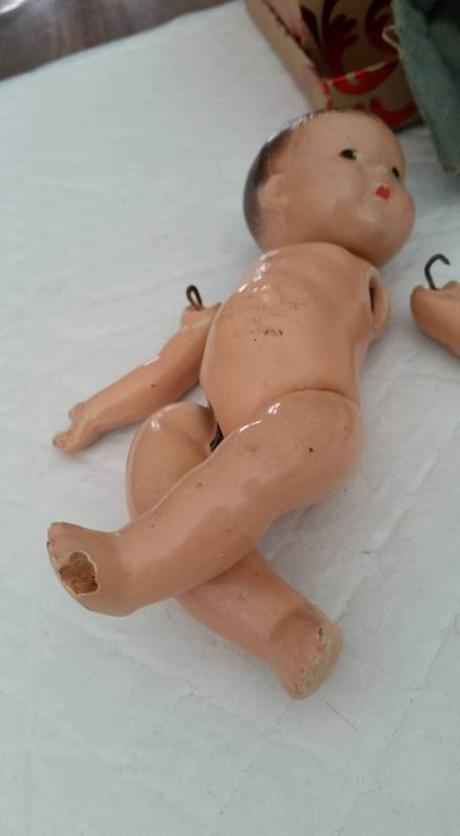 Dr. Norren's Photo– My Doll's Before Shot. Notice her leg damage.
Question: How long have you been restoring dolls?
Answer: I have been restoring dolls for about 30 years.
Question: What kinds of dolls do you restore?
Answer: Antique bisque to vintage and modern. I do not work on Barbies or the smaller fashion dolls at all. Sadly, I also do not sew–so cloth dolls are not something I am comfortable with restoring. My favorite are probably the 50's hard plastics.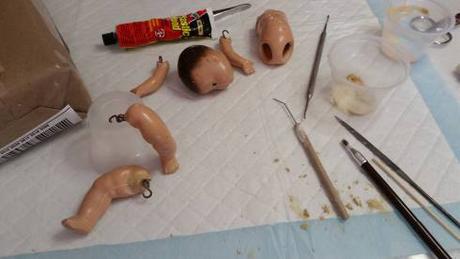 Dr. Noreen's Photo– Operation fix Dionne's foot and hip is on!
Question: What is your favorite part of the process?
Answer: The before and after shots–I love! But the part I find rewarding is the look on the customers face when they see their beloved doll back the way they remember it!
Question: If someone sends a doll to your hospital, what should they expect?
Answer: When a doll arrives, I spend about 20 minutes checking her completely and take many photos of exactly how she arrived. Then, I usually start within a week or two, depending on how many [dolls] are waiting for the dolly O.R. Generally, they are finished within a few weeks. I show the dolls restoration process by photographing and posting [on facebook].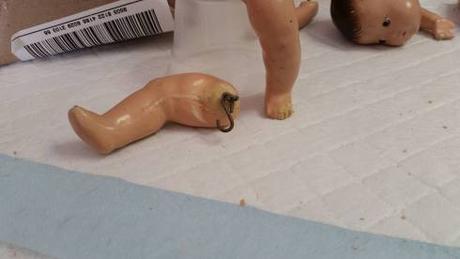 Dr. Noreen's Photo– You can hardly tell there was a comp issue!
Question: Do you collect dolls? If so, what kinds?
Answer: Yes! I do have a bit of an eclectic collection ranging from late 1800 China Heads to modern ball jointed dolls. Of course, after working for 14 years as the doll doc for Tonner Doll, I have quite a few of those, too.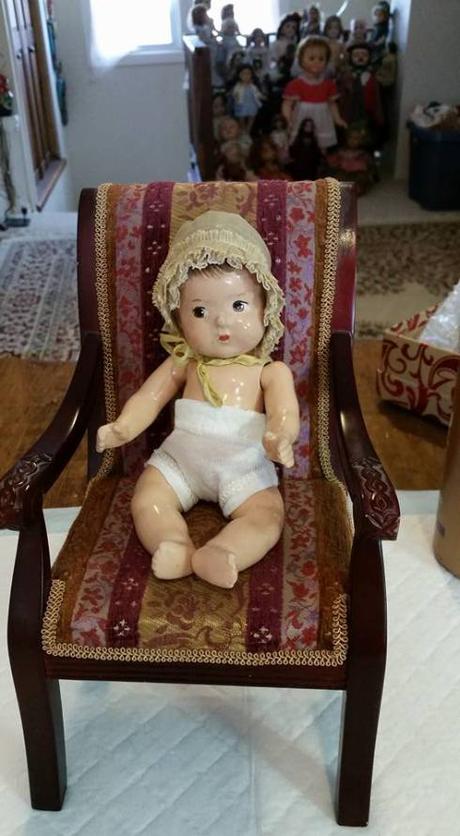 Dr. Noreen's Photo– Her 'after' photo!
Question: Where can they find out more information about your services?
Answer: On Facebook and my website, Dr. Noreen's Doll Hospital.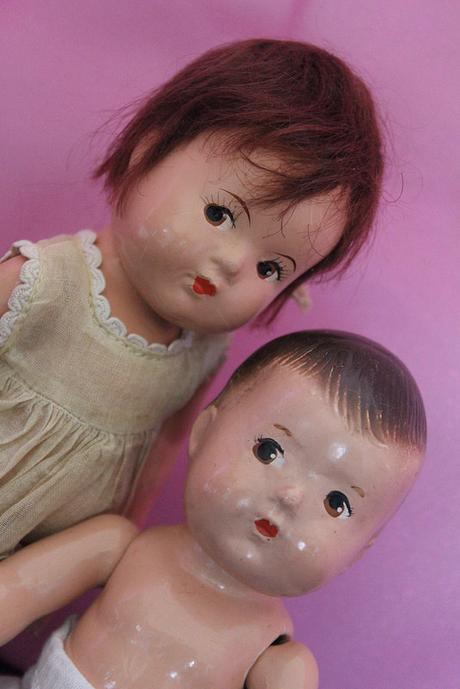 I encourage you to check out Dr. Noreen's site and facebook page for more information on her services. She did an excellent job on this 1930's Quint and has become my go-to doll doctor for whatever dolls come my way in the future that are in need of a little TLC.
Have you picked up a grail item recently? Do you own a Dionne Quintuplet? Have you ever worked with Dr. Noreen? Share your thoughts in the comment area!
March 16, 2016. Tags: madame alexander, spotlight. Introductions & Reviews, Uncategorized.