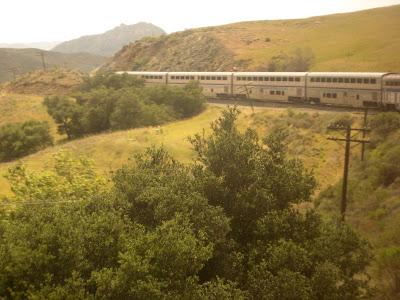 Around the bend with the Coast Starlight train, California
My friend and fellow children's book writer Gretchen Woelfle recently took the train from Oakland to Los Angeles, a scenic trip and opportunity to see parts of California not available any other way. Here is her report.
My son and daughter had been urging me for years to take the train from the San Francisco Bay Area to Los Angeles, but chained to my car as I am, I never did. Then, a few months ago I got a ride north, and finally took their advice for the trip south. Amtrak offers several options involving train/bus links and but I chose the non-stop train from Jack London Square in Oakland to Union Station in Los Angeles.This is the Coast Starlight – such nostalgic names trains still have.Somehow "flight #xxx" doesn't have the same ring.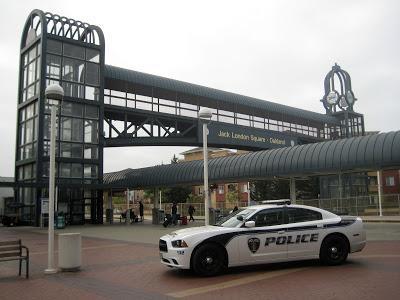 Amtrak Station, Jack London Square, Oakland, CA
We left on time at 8:50 a.m. The conductor steered me toward the end carriages, assuring me that they were "cleaned up."The middle was full of passengers still asleep or just waking up from the long journey that began in Seattle or Portland.Wide-awake in a rear carriage, I peeked into the backyards of working class and industrial Oakland, before we finally left the urban scene and reached the country.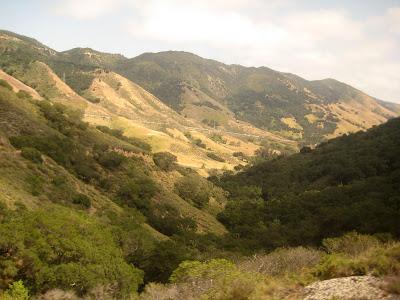 California coastal hills
The twelve-hour ride should be seen as an excursion, certainly not the quickest way to get to Los Angeles. Driving on Interstate 5 takes about half the time, but most of those hours are certainly not scenic.Route 101 is prettier, and Route 1, through Big Sur, prettiest of all. (Though if you're driving you keep your eyes on the road to avoid plunging off cliffs.)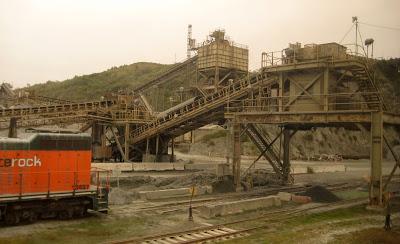 Quarry along the tracks
The Coast Starlight takes you into country not seen from a highway. We passed a vast quarrying operation and oil wells that loomed up in the middle of golden hill country. We rode right up against some of those hills, so close I could almost touch them if the windows opened
.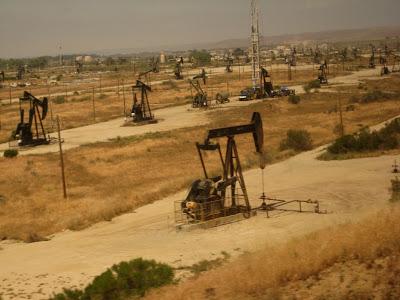 Oil Wells
The train itself was sleek and pristine. Double decker cars offered great views, and an observation car with skylights opened up the sky as well as the land. I struck up a conversation with two people in the seats in front of me, since I was curious about the huge video camera he was hauling around. Turns out he was an advance scout for a British television series for ITV, Billy Connolly's Tracks Across America, with the Scottish actor traveling 6000 miles through twenty-six states. I don't know when it will air, but a book is due out in September, 2016.
A stop at San Luis Obispo was long enough to stretch my legs and take a shot of The Iron Road Pioneers, a sculpture honoring the Chinese who helped to build the railroad. Then back on the train for the final run to the coast.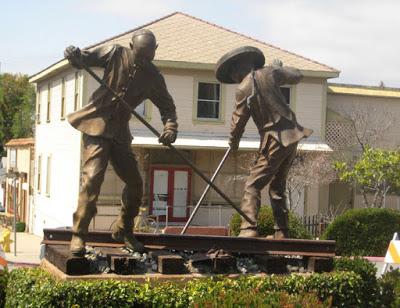 Sculpture of Chinese railroad workers, San Luis Obispo
When it came time for an afternoon cup of tea, I discovered that the snack bar wasn't up to much more than a cup of tea, but come dinnertime, the service was lovely. Conductors took reservations and since I was traveling alone, I was seated with a young mother and her son, who travel the route twice a month. The food was excellent. During dinner I watched the sun set in the Pacific near Santa Barbara, and we pulled into the grand and glorious Union Station at 9:00 p.m.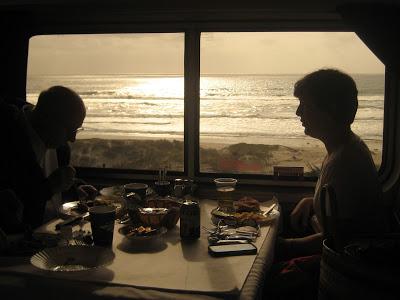 Sunset over the Pacific from the dining car
Many of the old train stations around the country have been renovated to their original elegance, but Los Angeles's Union Station, with its Spanish-inspired tile work and landscaped courtyards, remains my favorite.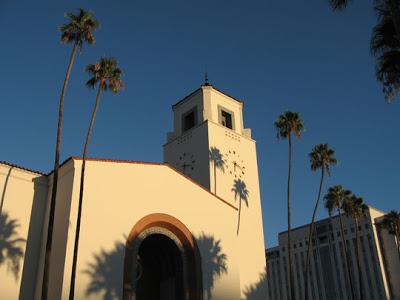 Union Station, Los Angeles
To keep my carbon footprint as small as possible, I took the local bus home, landing within a block of my house, at 11:00. It was a leisurely excursion indeed.
For more information:
Amtrak Coast Starlight:
https://www.amtrak.com/coast-starlight-train
The Iron Road Pioneers:
http://www.discover-central-california.com/iron-road-pioneers-sculpture.html
Billy Connolly's Tracks Across America:
http://www.indiebound.org/book/9780751564136
More from Caroline about riding the Coast Starlight:
Last summer, Art's brother and his wife, enthusiastic train aficionados, took the Coast Starlight as a round trip from Oakland to Los Angeles and loved every minute of it. (They stayed overnight at a hotel in downtown Los Angeles before returning the next day.) They told us that one of the things they liked best was the talks by Trails and Rails National Park volunteers about the various sights along the way.