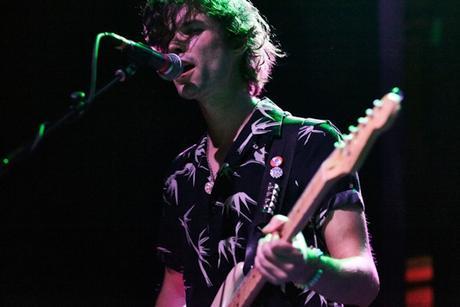 Photos by Maeghan Donohue
A humble Ryan Egan started the night off at Rough Trade with his impassioned lyrics and high falsettos. Songs like "Easy to Lose" proved catchy yet haunting and his latest single, "Finest Hour," filled the venue with electronic synths and hypnotic beats. Ryan ended his set with the upbeat song "Watercolor," which set the mood for the rest of the night.
Strange Names brought fire to the stage with their playful and vivacious music. Heart-thumping numbers such as "Ricochet" and "Neighborhood" permeated the crowd, who then voraciously fed off that energy. Briefly referencing the recent tragedy in Orlando, lead singer Liam Benzvi noted, "It's been a shitty week, and it's nice to have this sanctuary. Let's perpetuate the ones that exist." Collectively, Strange Names performed with such arresting stage presence it gave everyone in the audience permission to throw their hands up and just get lost in the music.
For their first-ever headlining show, Coast Modern did not disappoint. Originally from Los Angeles, they brought along a piece of the West Coast with easy-going attitudes and beach balls in tow. They commanded the stage with fun tropical beats, while mega-fans in the crowd sang along to every word. Hits such as "Guru" and "Animals" had every person on their feet, and they even surprised the crowd with a handful of never before played songs. Coast Modern performed their hearts out, captivated their audience and left everyone with a glow only California could bring.