Go here to sign the petition.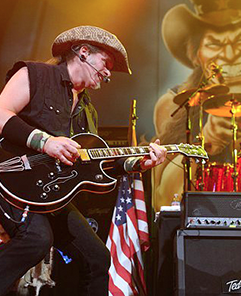 Ted Nugent has been making news for years with his angry, racist rhetoric. And throughout it all, he has sat on the National Rifle Association (NRA) Board of Directors, helping to lead the nation's premier gun lobby organization.
In recent weeks, however, Nugent has sunk to a new low with a series of statements that are so overtly racist they call into question why the NRA is continuing to allow him to represent their organization:
Speaking to conspiracy theorist Alex Jones, Nugent said, "Blacks can fix the black problem tonight if they just admit they can do anything I can do…anything that any American can do if you put your heart and soul into being honest, law abiding…" He then claimed, "Racism against blacks was gone by the time I started touring the nation in the late '60s."
During a paid appearance before an association of entrepreneurs, Nugent bragged about shooting and killing 450 feral hogs with a machine gun in Texas and added, "And now if they would just take me to South Central [Los Angeles]."
Nugent described Trayvon Martin as a "dope smoking, racist gangsta wannabe" and said the slain teen's parents should be sued and held "liable for the emotional pain and suffering [George] Zimmerman has been put through for the past 18 months."
The NRA likes to bill itself as the "oldest civil rights organization in the United States." If they want to wear that mantle it's time for them to walk the walk and end their relationship with Ted Nugent immediately.
Tell the National Rifle Association: Enough is enough. Publicly repudiate Ted Nugent's racist rhetoric and remove him from your Board of Directors.